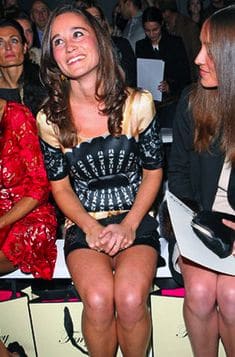 My hero Pippa Middleton got her knickers in a knot today…
Kids, let's be upfront about it. Being a celeb is hard work, especially when all you do is sit in front row fashion seats, fast cars and fast planes. Of course who else gets to sit in all those fancy places is the friendly man we like to call the paparazzo who's sole designated purpose in life is to capture our celebrities at their most vulnerable- because nothing delights normal boors like us than the knowledge that our heroes are as equally complicit in that thing called fragility.
That said, feast your eyes on these bevy of images and just imagine for a moment the feeling of resignation you too would feel when you finally got round to opening the morning papers and seeing your twat vagina square and all for public consumption?
Isn't it time you also applied to be a very famous person too?
ps Pippa you  know where to send the letters of complaints, just have your publicist send them to the same email address as before…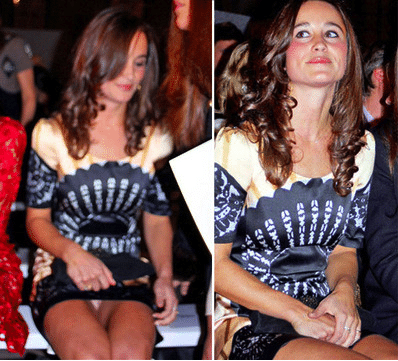 images source; bauer griffin
PIPPA MIDDLETON, HAWT BIXCH TAKES HER RIGHTFUL PLACE FRONT ROW AT LONDON FASHION WEEK.
PIPPA MIDDLETON WILL ALWAYS BE A HAWT BIXCH ON THE CRICKET FIELD.
PIPPA MIDDLETON AND HER RE UNITED BOYFRIEND ALEX LOUDON TURN UP TO WIMBLEDON WIDE EYE SMILING.
PIPPA MIDDLETON WOULD LIKE TO ANNOUNCE SHE'S FINALLY SINGLE.
PIPPA MIDDLETON IS NOW ALSO A TRIATHLETE.
WHO IS THE DASHING FRENCH ADMIRER ACCOMPANYING PIPPA MIDDLETON AT THE FRENCH OPEN?
Pippa Middleton wants to let you know at this year's French Open she is where all the action is.
PIPPA MIDDLETON WOULD LIKE TO EXPLAIN HOW SHE GOT HER FIGURE.
PIPPA MIDDLETON CONTINUES TO LIVE THE HIGH LIFE WITH EX, DUKE GEORGE PERCY.
Pippa Middleton travels to Madrid with her ex, with current boyfriend nowhere in sight.
Can Pippa Middleton get away with suing the press?
Pippa Middleton wants to reassure you, you can still find her topless on the web.
Now it's Pippa Middleton's turn to strip down.
Have you had a chance to see James Middleton (Kate Middleton's brother) in the buff yet?
Grazia Magazine is playing games with Kate Middleton's figure on its covers.
The Dizzy Ascent of Pippa Middleton.
Guess where the royal couple will be honeymooning?
Who was that little bridesmaid in the royal wedding's best photo?