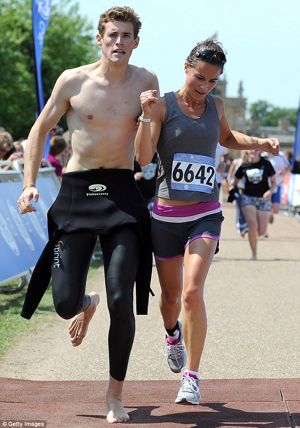 The whole world can't stop swooning.
dailymail.co.uk: She won a sports scholarship to Marlborough College and yesterday Pippa Middleton showed she had lost none of her athletic prowess.
Despite soaring temperatures, Kate's younger sister earned a well-deserved medal after completing a 5km race in the GE Blenheim Triathlon, which takes place every year at Blenheim Palace in Oxfordshire.
Pippa was joined by two male friends and opted to do the running part of the competition while the boys completed tough swimming and cycling sections.
Kids- I don't know about you, but I'm getting cramps just thinking about putting on some running shoes. But that's nothing that should sway our collective 'hotness' who keeps proving to us collective nobodys that she in fact has got what it takes to be our collective sunbeam in the universe.
Dressed in a pink and grey vest, matching shorts, a £270 pair of Bulgari sunglasses and with an ankle tag to time her, Pippa breezed through her race, completing it in a time of 25 minutes and 30 seconds.
According to friends she had been training daily to get in shape for the event and seeing a physiotherapist to make sure she was in tip-top condition.
Psychologist physiotherapist?  £270 pair of Bulgari sunglasses? One could imagine how that helped Pippa shave precious seconds off her time…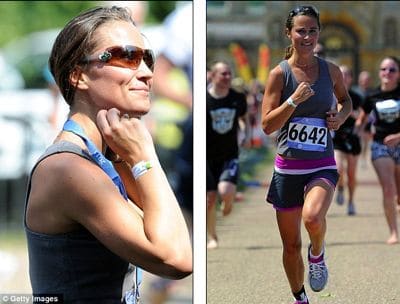 'People were excited to see her,' said Alex Coulson, an organiser of the event which attracted 6,000 spectators.
'The boys completed their courses in good time and joined Pippa to run across the finishing line together.'
Personally me and the chipmunks don't think it will be that long before Pippa begins attending morning meetings with her team mates, seductively sweating over crumpets and a flute of champagne.
Shouldn't you grab yourself a pair of  £270 Bulgari sunglasses and a form fitting designer vest next time you head out to run your morning triathlon?
WHO IS THE DASHING FRENCH ADMIRER ACCOMPANYING PIPPA MIDDLETON AT THE FRENCH OPEN?
Pippa Middleton wants to let you know at this year's French Open she is where all the action is.
PIPPA MIDDLETON WOULD LIKE TO EXPLAIN HOW SHE GOT HER FIGURE.
PIPPA MIDDLETON CONTINUES TO LIVE THE HIGH LIFE WITH EX, DUKE GEORGE PERCY.
Pippa Middleton travels to Madrid with her ex, with current boyfriend nowhere in sight.
Can Pippa Middleton get away with suing the press?
Pippa Middleton wants to reassure you, you can still find her topless on the web.
Now it's Pippa Middleton's turn to strip down.
Have you had a chance to see James Middleton (Kate Middleton's brother) in the buff yet?
Grazia Magazine is playing games with Kate Middleton's figure on its covers.
The Dizzy Ascent of Pippa Middleton.
Guess where the royal couple will be honeymooning?
Who was that little bridesmaid in the royal wedding's best photo?