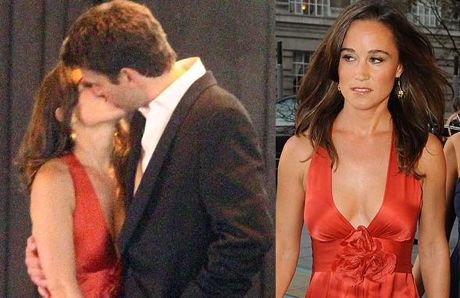 Reports have surfaced claiming that Pippa Middleton has sought refuge with her sister, the Duchess of Cambridge after allegations that she has split with her boyfriend of 3 years, hawt bixch Alex Loudon.
According to reliable sources the couple reached breaking point when at one event it was reported Alex Loudon was visibly outraged when an ex boyfriend of Pippa Middleton's  picked her up and began twirling her on an open dance floor. The couple are later said to have had an open confrontation in front of guests. One of many according to our source who has been privy to such ongoing confrontations in high end social gatherings (oh dear Pippa…). That of course did not stop the couple staging a high profile kiss the night of the event to deflect attention from the fracas.
Over the summer the couple it was said took a brief break from each other after it was alleged the sudden 24×7 media whoredom high profiling of his then girl girlfriend caused strain between the two. The break was subsequently followed by trips to Madrid with an ex flame, Duke George Percy, and trips to the French Open with a mystery man by her constant side before the couple once again reunited late summer. As of this time it has been asserted our heroine has refused any communications with her ex.
But perhaps the demise of the relationship can be best captured by the following comments courtesy of the dailymail:
Who cares?? she's dumped him because she is golddigging and wants something bigger and better. Mummy has probably told her to move in on of the other single royals.
Isn't it comforting for millions of men to know that a women they will never have a chance with is now single?
Our 5 top picks going forward for Pippa:
1/ Andre Balazs– no longer dating Chelsea Handler. Used to date Uma Thurman is very at ease dating high profile women and is quite loaded which should please Pippa.
2/ Prince Harry– although said just to be friends, there has always been wild card speculation that the constant flirting between the two could lead to something. In Harry's favor he is a direct descendant for the throne. Something that ought to be catching Pippa's eye. On the down side he is too much of a lovable drunk…
3/ Michael Lohan– nothing can please Pippa more than closer proximity to smut figure and constant media whore, than Michael Lohan's daughter Lindsay Lohan. One could imagine the three going out on the town and being sufficiently depraved and doing her own Playboy cover in no time. And of course there is the good news that Milo is also now single too…
4/ Leonardo DiCaprio– cause nothing could bring sunshine into our collective hearts than a stiff Upper English lass marrying a Hollywood heart throb well acquainted with dating high profile supermodels and actresses and now royals in waiting. One could imagine Leo sending her commiseration SMS texts right now- 'Pippa, you are a hawt bixch, let's become a proper media whore item- love Leo 🙂
5/Ashton Kutcher– because at least he is more beautiful than anything Pippa could ever happen to land and of course now that Demi is getting rid of him he's free, never mind he's way beyond loaded and well nuanced to media whore tactics that he will over time help Pippa finesse her skill set with- twitter anyone?
PIPPA MIDDLETON CAUGHT IN A PUBLIC DISPLAY OF PASSIONATE KISSING.
ISN'T IT TIME YOU GOT A 'PIPPA MIDDLETON' BUTT LOOK ALIKE PLASTIC OPERATION TOO?
PIPPA MIDDLETON HAS FINALLY AGREED TO BARE HER KNICKERS…
PIPPA MIDDLETON, HAWT BIXCH TAKES HER RIGHTFUL PLACE FRONT ROW AT LONDON FASHION WEEK.
PIPPA MIDDLETON WILL ALWAYS BE A HAWT BIXCH ON THE CRICKET FIELD.
PIPPA MIDDLETON AND HER RE UNITED BOYFRIEND ALEX LOUDON TURN UP TO WIMBLEDON WIDE EYE SMILING.
PIPPA MIDDLETON WOULD LIKE TO ANNOUNCE SHE'S FINALLY SINGLE.
PIPPA MIDDLETON IS NOW ALSO A TRIATHLETE.
WHO IS THE DASHING FRENCH ADMIRER ACCOMPANYING PIPPA MIDDLETON AT THE FRENCH OPEN?
Pippa Middleton wants to let you know at this year's French Open she is where all the action is.
PIPPA MIDDLETON WOULD LIKE TO EXPLAIN HOW SHE GOT HER FIGURE.
PIPPA MIDDLETON CONTINUES TO LIVE THE HIGH LIFE WITH EX, DUKE GEORGE PERCY.
Pippa Middleton travels to Madrid with her ex, with current boyfriend nowhere in sight.
Can Pippa Middleton get away with suing the press?
Pippa Middleton wants to reassure you, you can still find her topless on the web.
Now it's Pippa Middleton's turn to strip down.
Have you had a chance to see James Middleton (Kate Middleton's brother) in the buff yet?
Grazia Magazine is playing games with Kate Middleton's figure on its covers.
The Dizzy Ascent of Pippa Middleton.
Guess where the royal couple will be honeymooning?
Who was that little bridesmaid in the royal wedding's best photo?