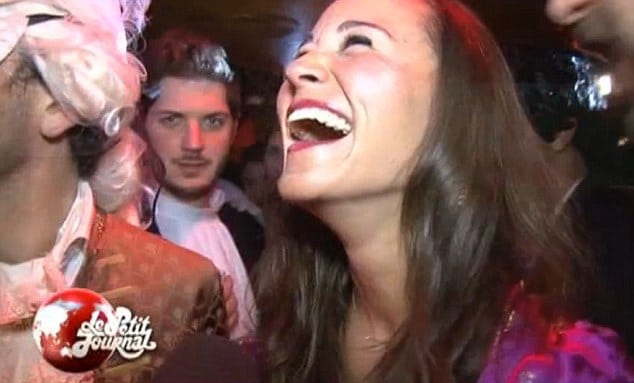 Hookers, dwarves, starlets, models, artistocrats, hawt bixches and of course Pippa too…
French television channel Canal+ has just released new images of  Viscomte Arthur de Soulrain's lavish birthday party this past Friday night. The footage clearly shows a party that is full well on its way with a high end cache of guests who seem to be sporting good genes, high cheekbones, compelling attire and a patina of savoir faire. Amongst them is a giddy Pippa Middleton who on the one hand is obviously having a grand time but is obviously conflicted about being seen having too much of a good time…oh well (yes decorum kids goes a long way….).
Asked by Le Petit Journal what she thinks of 'French flair' our Pippa replies, 'Amazing.' But then things get a little tricky when she's approached for further commentary.
Telling Vicomte Marcy (Viscomte Arthur's brother) 'I don't want to speak in front of the cameras,' as the blue blood implores her to tell the interviewer what she thinks of the party. He responds by telling television viewers that our Pippa is his new girlfriend (over our dead bodies sir) causing Pippa to nervously laugh. Finally the hawt bixch is asked if she speaks French before demurely responding 'un petit peu,' before scampering back to the dance floor.
Little did Ms Middleton anticipate that later on that morning she would unwittingly be involved in an incident involving a gun that would bring into focus her excesses and the notion that she's been seen once again taking too much off the dinner plate for the Blue Blood's back in Blighty who must be chaffed at the collar as their Pippa causes another mess for them to sweep away…
(for the video, scenes from the party and Pippa begin circa 17.30 minute mark).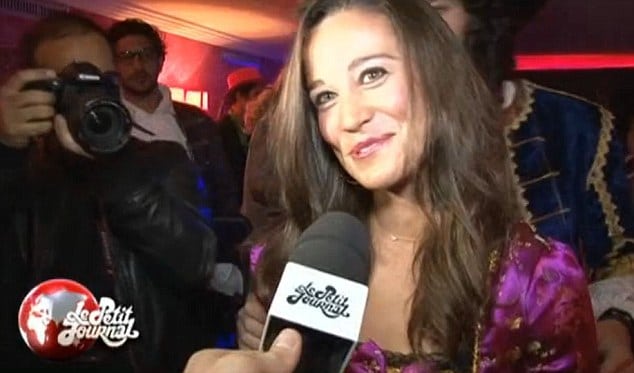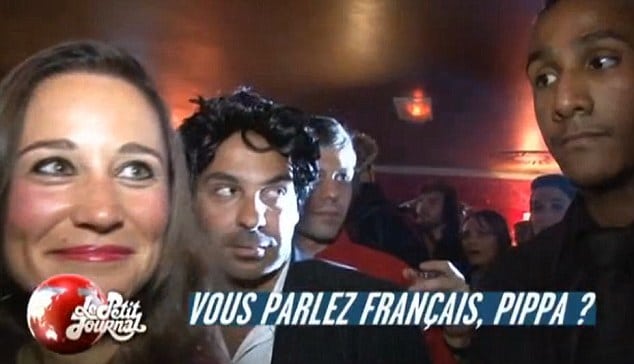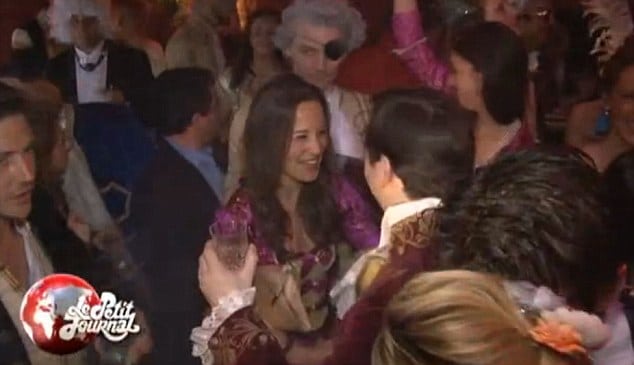 Pippa Middleton gun photo: Police will not investigate this incident any further…
Pippa Middleton would like to show you pictures of her in party mode.
Pippa Middleton gun photo unlikely to lead to jail, but quickly wipes her smirk off.
Will a smirking Pippa Middleton cop criminal charges in gun case?
Oh no! Who's the creep trying to make out with Pippa?
Surprise! Pippa Middleton is now dating her ex, the heir to the Duchy of Northumberland.
Oh my God! Who will snag Pippa as Oprah and Barbara now bid $500K for a live interview?
Sales of new padded pants have sky rocketed as women flock to achieve bottoms that resemble Pippa Middleton's.
My hero Pippa splits from Alex. Who will Pippa love now? A run down list…
PIPPA MIDDLETON CAUGHT IN A PUBLIC DISPLAY OF PASSIONATE KISSING.
ISN'T IT TIME YOU GOT A 'PIPPA MIDDLETON' BUTT LOOK ALIKE PLASTIC OPERATION TOO?
PIPPA MIDDLETON HAS FINALLY AGREED TO BARE HER KNICKERS…
PIPPA MIDDLETON, HAWT BIXCH TAKES HER RIGHTFUL PLACE FRONT ROW AT LONDON FASHION WEEK.
PIPPA MIDDLETON WILL ALWAYS BE A HAWT BIXCH ON THE CRICKET FIELD.
PIPPA MIDDLETON AND HER RE UNITED BOYFRIEND ALEX LOUDON TURN UP TO WIMBLEDON WIDE EYE SMILING.
PIPPA MIDDLETON WOULD LIKE TO ANNOUNCE SHE'S FINALLY SINGLE.
PIPPA MIDDLETON IS NOW ALSO A TRIATHLETE.
WHO IS THE DASHING FRENCH ADMIRER ACCOMPANYING PIPPA MIDDLETON AT THE FRENCH OPEN?
Pippa Middleton wants to let you know at this year's French Open she is where all the action is.
PIPPA MIDDLETON WOULD LIKE TO EXPLAIN HOW SHE GOT HER FIGURE.
PIPPA MIDDLETON CONTINUES TO LIVE THE HIGH LIFE WITH EX, DUKE GEORGE PERCY.
Pippa Middleton travels to Madrid with her ex, with current boyfriend nowhere in sight.
Can Pippa Middleton get away with suing the press?
Pippa Middleton wants to reassure you, you can still find her topless on the web.
Now it's Pippa Middleton's turn to strip down.
Have you had a chance to see James Middleton (Kate Middleton's brother) in the buff yet?
Grazia Magazine is playing games with Kate Middleton's figure on its covers.
The Dizzy Ascent of Pippa Middleton.
Guess where the royal couple will be honeymooning?
Who was that little bridesmaid in the royal wedding's best photo?