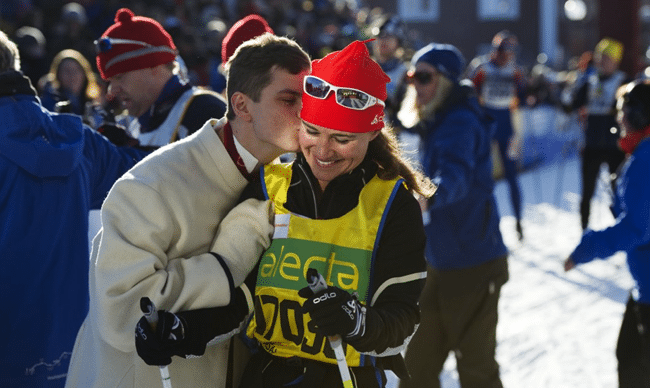 It seems our resident media whore Pippa Middleton found herself on the receiving end of an unsuspecting fan whose gesture of unyielding adulation didn't necessarily sit so well with our collective hawt bixch. Or did it…?
styleite: Yesterday Pippa Middleton completed the 56-mile Vasaloppet cross-country ski race. Her prize? An unsolicited kiss by some stranger dude. UNCOOL, STRANGER DUDE.
Eriks Smedh is the 20-year-old guy who thought it would be okay to greet some woman he's never met with a kiss at the end of her 7-hour ski trek. Middleton was sweet and smiley about it, but the Styleite consensus is that we would have punched the guy in the face.
With all due respect styleite, and understanding proper male female protocol this scoundrel is of the opinion that our collective hawt bixch lives for such moments. It is in fact what has defined her, sweeping wet kisses from the void looking to find transcendence by planting themselves on holier superior. The mock gushing is just that, pure camera play as anyone can imagine our Pippa will forever refuse to wipe away our lothario's blush planted puckered lips away….
Said the young man who only did what every red blooded mammal has desired to do since our Pippa entered our collective consciousness:
"It was totally spontaneous, really innocent, just a cheek kiss…I just thought it would be funny with all the commotion around her. I told her that we have a tradition here in Mora when you reach the goal and then I kissed her. It actually is a tradition, but just for the winner of the race."
Oh dear such are the the vagrant inconveniences in a hawt bixch's life…
also via dailybeast
Surprise! Pippa Middleton is now dating her ex, the heir to the Duchy of Northumberland.
Oh my God! Who will snag Pippa as Oprah and Barbara now bid $500K for a live interview?
Sales of new padded pants have sky rocketed as women flock to achieve bottoms that resemble Pippa Middleton's.
My hero Pippa splits from Alex. Who will Pippa love now? A run down list…
PIPPA MIDDLETON CAUGHT IN A PUBLIC DISPLAY OF PASSIONATE KISSING.
ISN'T IT TIME YOU GOT A 'PIPPA MIDDLETON' BUTT LOOK ALIKE PLASTIC OPERATION TOO?
PIPPA MIDDLETON HAS FINALLY AGREED TO BARE HER KNICKERS…
PIPPA MIDDLETON, HAWT BIXCH TAKES HER RIGHTFUL PLACE FRONT ROW AT LONDON FASHION WEEK.
PIPPA MIDDLETON WILL ALWAYS BE A HAWT BIXCH ON THE CRICKET FIELD.
PIPPA MIDDLETON AND HER RE UNITED BOYFRIEND ALEX LOUDON TURN UP TO WIMBLEDON WIDE EYE SMILING.
PIPPA MIDDLETON WOULD LIKE TO ANNOUNCE SHE'S FINALLY SINGLE.
PIPPA MIDDLETON IS NOW ALSO A TRIATHLETE.
WHO IS THE DASHING FRENCH ADMIRER ACCOMPANYING PIPPA MIDDLETON AT THE FRENCH OPEN?
Pippa Middleton wants to let you know at this year's French Open she is where all the action is.
PIPPA MIDDLETON WOULD LIKE TO EXPLAIN HOW SHE GOT HER FIGURE.
PIPPA MIDDLETON CONTINUES TO LIVE THE HIGH LIFE WITH EX, DUKE GEORGE PERCY.
Pippa Middleton travels to Madrid with her ex, with current boyfriend nowhere in sight.
Can Pippa Middleton get away with suing the press?
Pippa Middleton wants to reassure you, you can still find her topless on the web.
Now it's Pippa Middleton's turn to strip down.
Have you had a chance to see James Middleton (Kate Middleton's brother) in the buff yet?
Grazia Magazine is playing games with Kate Middleton's figure on its covers.
The Dizzy Ascent of Pippa Middleton.
Guess where the royal couple will be honeymooning?
Who was that little bridesmaid in the royal wedding's best photo?