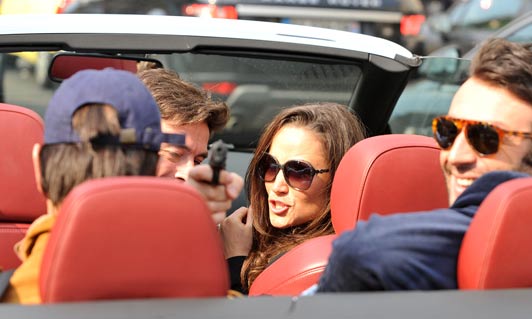 Video: More pictures of Pippa partying emerge. Can barely speak French!
Pippa Middleton gun photo: Police will not investigate this incident any further…
Pippa Middleton would like to show you pictures of her in party mode.
Pippa Middleton apparently likes to keep company with gangsters…
Seems like Pippa Middleton has found herself in some new controversy, and this time it has nothing to do with her knickers, her boyfriends or the shape of her bottom, rather it has everything to do with her keeping company with a male companion who was photographed brandishing a gun at a photographer following the pair in Paris.
The incident happened this weekend whilst Pippa was in the passenger seat with three male friends, one of whom was Paris fashion entrepreneur Arthur de Soultrait for whom's 29th birthday party the quartet  had just attended and had left at 6am that morning, (he is seen wearing a blue baseball cap in the back) when suddenly without provocation the male driver pulls out a semi automatic gun and begins brandishing it a photographer following in pursuit. In the image captured by the photographer, Pippa can be seen noticeably smirking, having the time of her life.
At present  the Paris Judicial Police are set to launch a probe and the quartet now risk serious legal consequences.
thesun.co.uk: "If the evidence points to her involvement, she will be prosecuted. Anybody involved in the illegal use of a handgun in public is liable to arrest and interrogation."
The source confirmed that if the gun was REAL, brandishing it in a public place is punishable by up to seven years' jail "for all parties involved".
Even if it was FAKE the maximum jail term is two years. The source said: "Certainly if you were in a car and knew somebody was using a gun to warn people off you'd be liable to arrest."
In the end what are we to think? Pippa in the space of one evening has been able to sully the Royal's image that they have worked so long and hard to cultivate and ingratiate with a public who one suspects wants to like them very much but must now be somewhat circumspect as more evidence emerges that shows them off as caricatures and presumptive charlatans who are prone to misbehavior and casting questions who really wants to be involved with a 'celebrity' figure type when her and her 'thug' mates are now pointing guns at camera people who in essence help keep them famous and flush to begin with. Sod off Pippa!
Visit msnbc.com for breaking news, world news, and news about the economy
Pippa Middleton gun photo unlikely to lead to jail.
Oh no! Who's the creep trying to make out with Pippa?
Surprise! Pippa Middleton is now dating her ex, the heir to the Duchy of Northumberland.
Oh my God! Who will snag Pippa as Oprah and Barbara now bid $500K for a live interview?
Sales of new padded pants have sky rocketed as women flock to achieve bottoms that resemble Pippa Middleton's.
My hero Pippa splits from Alex. Who will Pippa love now? A run down list…
PIPPA MIDDLETON CAUGHT IN A PUBLIC DISPLAY OF PASSIONATE KISSING.
ISN'T IT TIME YOU GOT A 'PIPPA MIDDLETON' BUTT LOOK ALIKE PLASTIC OPERATION TOO?
PIPPA MIDDLETON HAS FINALLY AGREED TO BARE HER KNICKERS…
PIPPA MIDDLETON, HAWT BIXCH TAKES HER RIGHTFUL PLACE FRONT ROW AT LONDON FASHION WEEK.
PIPPA MIDDLETON WILL ALWAYS BE A HAWT BIXCH ON THE CRICKET FIELD.
PIPPA MIDDLETON AND HER RE UNITED BOYFRIEND ALEX LOUDON TURN UP TO WIMBLEDON WIDE EYE SMILING.
PIPPA MIDDLETON WOULD LIKE TO ANNOUNCE SHE'S FINALLY SINGLE.
PIPPA MIDDLETON IS NOW ALSO A TRIATHLETE.
WHO IS THE DASHING FRENCH ADMIRER ACCOMPANYING PIPPA MIDDLETON AT THE FRENCH OPEN?
Pippa Middleton wants to let you know at this year's French Open she is where all the action is.
PIPPA MIDDLETON WOULD LIKE TO EXPLAIN HOW SHE GOT HER FIGURE.
PIPPA MIDDLETON CONTINUES TO LIVE THE HIGH LIFE WITH EX, DUKE GEORGE PERCY.
Pippa Middleton travels to Madrid with her ex, with current boyfriend nowhere in sight.
Can Pippa Middleton get away with suing the press?
Pippa Middleton wants to reassure you, you can still find her topless on the web.
Now it's Pippa Middleton's turn to strip down.
Have you had a chance to see James Middleton (Kate Middleton's brother) in the buff yet?
Grazia Magazine is playing games with Kate Middleton's figure on its covers.
The Dizzy Ascent of Pippa Middleton.
Guess where the royal couple will be honeymooning?
Who was that little bridesmaid in the royal wedding's best photo?