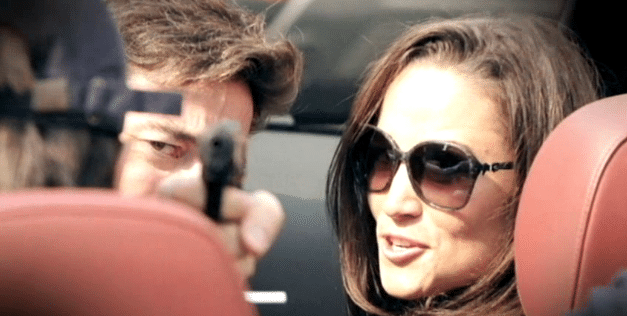 French police don't give a damn about the Pippa Middleton gun photo.
The above could in a round about way sum up the attitude of French authorities who at present have been very slow off their feet in launching an investigation into an incident over the weekend which saw Pippa Middleton one of 3 passengers present when the driver took out a gun (it has been established to be a fake one).
At present authorities are using the line that no witnesses have turned up and that the photo itself doesn't count as evidence (which strikes this author as fascinating, of course how much would that go out the window if the passengers were French locals or even better French Muslims- better not to go there….).
What though has been offered is that hypothetically a charge could be obtained against Ms Middleton in the event it was shown that she was aiding or abetting the perpetrator. Under French law the person needs to willfully act in order to help the perpetrator. Someone can also be an accomplice if they direct someone to act a certain way or if they make a promise to the perpetrator regarding the criminal act.
Of course with no one coming forward with evidence (cause now the paparazzo are in it too, so we are told) and the fact that Pippa Middleton is too good looking to go to jail (so I have been advised) and that the fact we're also dealing with an aristocrat, Viscount Arthur de Soutrait, one can safely assume that life will carry on as usual. Royal brats and blue blood literally getting away with murder, metaphorically speaking that is….
Pippa Middleton would like to show you pictures of her in party mode.
Pippa Middleton gun photo unlikely to lead to jail, but quickly wipes her smirk off.
Will a smirking Pippa Middleton cop criminal charges in gun case?
Oh no! Who's the creep trying to make out with Pippa?
Surprise! Pippa Middleton is now dating her ex, the heir to the Duchy of Northumberland.
Oh my God! Who will snag Pippa as Oprah and Barbara now bid $500K for a live interview?
Sales of new padded pants have sky rocketed as women flock to achieve bottoms that resemble Pippa Middleton's.
My hero Pippa splits from Alex. Who will Pippa love now? A run down list…
PIPPA MIDDLETON CAUGHT IN A PUBLIC DISPLAY OF PASSIONATE KISSING.
ISN'T IT TIME YOU GOT A 'PIPPA MIDDLETON' BUTT LOOK ALIKE PLASTIC OPERATION TOO?
PIPPA MIDDLETON HAS FINALLY AGREED TO BARE HER KNICKERS…
PIPPA MIDDLETON, HAWT BIXCH TAKES HER RIGHTFUL PLACE FRONT ROW AT LONDON FASHION WEEK.
PIPPA MIDDLETON WILL ALWAYS BE A HAWT BIXCH ON THE CRICKET FIELD.
PIPPA MIDDLETON AND HER RE UNITED BOYFRIEND ALEX LOUDON TURN UP TO WIMBLEDON WIDE EYE SMILING.
PIPPA MIDDLETON WOULD LIKE TO ANNOUNCE SHE'S FINALLY SINGLE.
PIPPA MIDDLETON IS NOW ALSO A TRIATHLETE.
WHO IS THE DASHING FRENCH ADMIRER ACCOMPANYING PIPPA MIDDLETON AT THE FRENCH OPEN?
Pippa Middleton wants to let you know at this year's French Open she is where all the action is.
PIPPA MIDDLETON WOULD LIKE TO EXPLAIN HOW SHE GOT HER FIGURE.
PIPPA MIDDLETON CONTINUES TO LIVE THE HIGH LIFE WITH EX, DUKE GEORGE PERCY.
Pippa Middleton travels to Madrid with her ex, with current boyfriend nowhere in sight.
Can Pippa Middleton get away with suing the press?
Pippa Middleton wants to reassure you, you can still find her topless on the web.
Now it's Pippa Middleton's turn to strip down.
Have you had a chance to see James Middleton (Kate Middleton's brother) in the buff yet?
Grazia Magazine is playing games with Kate Middleton's figure on its covers.
The Dizzy Ascent of Pippa Middleton.
Guess where the royal couple will be honeymooning?
Who was that little bridesmaid in the royal wedding's best photo?