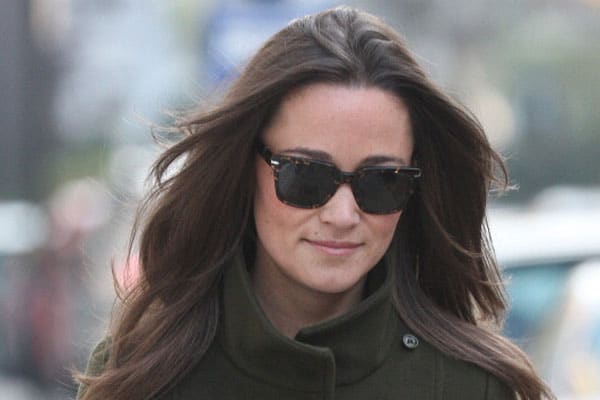 Pippa Middleton is in desperate need to resurrect her horrid party reputation.
It's been reported today that her royal hotness, more commonly known as her faux royal scoundrel has set her sights on living abroad, (quite possibly NYC) this after her latest affair in Paris which saw her reputation take a great fall. At the time she was seen partying excessively and at one point smirking uncontrollably whilst sitting in the front seat of a speeding car whilst the driver, Romain Rabillard, a Frenchie blue blood pointed what turned out to be purportedly a mock gun at a paparazzo. The resultant image of her nonchalantly smirking hardly did her any favors, not least of all with the British royal court who it is said were not at all pleased with the royal hotness' outlandish ways and her propensity to curry 'splashy' press.
At the time Ms Middleton was exceedingly lucky that she nor the driver or other passengers (including Arthur de Soultrait) were brought in for questioning and possibly face charges that could have seen them facing jail time
Having returned to London ashen faced, she promptly quit her position at London catering firm Table Talk (why?- did they demand her resignation) keeping a low profile until recently hiring public relations guru outlet, Pelham Bell Pottinger, whereby Ms Middleton began direct talks with the firm's president, David Wynne-Morgan who has handled high octane accounts (and not for cheap either mind you) such as the Prince of Wales and has a reputation as one of the best spinners in media.
At present feelers are being put out about the possible relocation of Ms Middleton to NYC (surely she can find a rich husband in London?) with the towed line that her soon to be released party planning guide, 'Celebrate,' in October will require her undivided attention in the Big Apple. Interesting.
Either way it will be interesting to have Ms Middleton amongst us here in NYC, as there will hardly be a shortage of paparazzi willing and ready to court her and that's not including all the wonderful socialites and celebrities that Ms Middleton will have ample opportunity to find herself in yet another spot of bother….
via dailymail.co.uk
Video: More pictures of Pippa partying emerge. Can barely speak French!
Pippa Middleton gun photo: Police will not investigate this incident any further…
Pippa Middleton would like to show you pictures of her in party mode.
Pippa Middleton gun photo unlikely to lead to jail, but quickly wipes her smirk off.
Will a smirking Pippa Middleton cop criminal charges in gun case?
Oh no! Who's the creep trying to make out with Pippa?
Surprise! Pippa Middleton is now dating her ex, the heir to the Duchy of Northumberland.
Oh my God! Who will snag Pippa as Oprah and Barbara now bid $500K for a live interview?
Sales of new padded pants have sky rocketed as women flock to achieve bottoms that resemble Pippa Middleton's.
My hero Pippa splits from Alex. Who will Pippa love now? A run down list…
PIPPA MIDDLETON CAUGHT IN A PUBLIC DISPLAY OF PASSIONATE KISSING.
ISN'T IT TIME YOU GOT A 'PIPPA MIDDLETON' BUTT LOOK ALIKE PLASTIC OPERATION TOO?
PIPPA MIDDLETON HAS FINALLY AGREED TO BARE HER KNICKERS…
PIPPA MIDDLETON, HAWT BIXCH TAKES HER RIGHTFUL PLACE FRONT ROW AT LONDON FASHION WEEK.
PIPPA MIDDLETON WILL ALWAYS BE A HAWT BIXCH ON THE CRICKET FIELD.
PIPPA MIDDLETON AND HER RE UNITED BOYFRIEND ALEX LOUDON TURN UP TO WIMBLEDON WIDE EYE SMILING.
PIPPA MIDDLETON WOULD LIKE TO ANNOUNCE SHE'S FINALLY SINGLE.
PIPPA MIDDLETON IS NOW ALSO A TRIATHLETE.
WHO IS THE DASHING FRENCH ADMIRER ACCOMPANYING PIPPA MIDDLETON AT THE FRENCH OPEN?
Pippa Middleton wants to let you know at this year's French Open she is where all the action is.
PIPPA MIDDLETON WOULD LIKE TO EXPLAIN HOW SHE GOT HER FIGURE.
PIPPA MIDDLETON CONTINUES TO LIVE THE HIGH LIFE WITH EX, DUKE GEORGE PERCY.
Pippa Middleton travels to Madrid with her ex, with current boyfriend nowhere in sight.
Can Pippa Middleton get away with suing the press?
Pippa Middleton wants to reassure you, you can still find her topless on the web.
Now it's Pippa Middleton's turn to strip down.
Have you had a chance to see James Middleton (Kate Middleton's brother) in the buff yet?
Grazia Magazine is playing games with Kate Middleton's figure on its covers.
The Dizzy Ascent of Pippa Middleton.
Guess where the royal couple will be honeymooning?
Who was that little bridesmaid in the royal wedding's best photo?