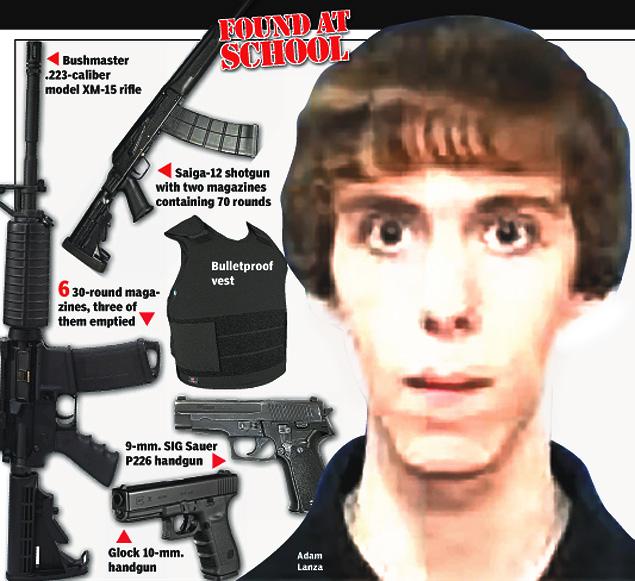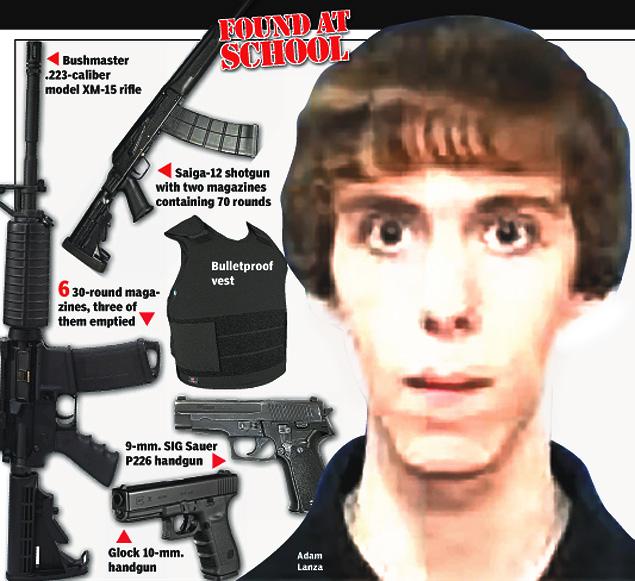 In an ongoing attempt to clarify the state of mind that led to Sandy Hook gunman Adam Lanza exacting his horrific crime late last year which saw the callous deaths of 20 children and 4 adults including his mother, Nancy authorities have uncovered new details that may point to the nature and motivation of the gunman.
Investigators have now been able to reference Adam Lanza to a series of posts and editing within Wikipedia which referenced mass killings, indicating a predilection to such affairs and one wonders the culmination to affect such a horrendous act. Interestingly the posts also go on to show a kind of mastery of knowledge and comfort in a virtual world that Lanza lacked in the real world.
The Courant goes on to detail posts that were made between April 2009 and February 2010, which it suspects were made by the gunman when he was then 17.
Some of the posts question gun laws in Connecticut and include recommendations on the best rifles to buy.
In one post, the person believed to be Lanza, questions whether a ban on semiautomatic pistols will be extended and is advised by other users to contact Connecticut State Police.
He responds: 'I always prefer asking through proxy when I can avoid speaking to someone directly. I was just wondering if anyone knew because I have a fetish for .32 ACP'.'
Using the same username, the person also corrected details on 12 Wikipedia entries about mass shootings around the world.
They included changing the weapon used in the Dawson College shooting in Montreal in 2006, in which one student was killed and 19 others wounded.
Entries on the shopper center shootings at the Sello Mall near Helsinki, Finland, in 2009, and the Omaha Westroads mall shooting in 2007 were also edited.
Lanza is already known to have harboured an interest in mass shootings and police have previously found a New York Times cut out in his room about the murder of five people at Northern Illinois University.
Articles about Anders Breivik, who killed 77 people in 2011 in Norway, were also recovered.
The Courant goes on to note that  investigators believe the online persona believed to be that of Lanza's exposes a different dimension from what evidence suggests was an isolated lifestyle from age 17 on. The poster seems engaged with others online and is often helpful when comfortable with the topic, such as suggesting a particular firearm for someone in the chat room who said he was 18 and looking for a rifle as a gift. The poster recommends a semiautomatic rifle that "can be found for under $650."
In the virtual world, the poster appears to have some stature. On the gun websites, the poster believed to be Lanza operates as an equal with others on the website who appear to be older, seasoned firearms experts.
The poster also was not shy about starting a debate online, asking in chat rooms on glocktalk.com in April 2009 whether adding RAM to a computer increases its speed.
"Am I just an inattentive philistine or has additional RAM in a computer which was not already deprived of it never helped any of you?" the poster asks.
The posts suspected to be Lanza's stop abruptly in late February 2010.
above image found here
Adam Lanza was beaten at school and mother Nancy considered lawsuit.
Adam Lanza carried a chilling cache of arsenal search warrant reveals.
Did Adam Lanza copy a scene from a video game in the Sandy Hook massacre?
Adam Lanza said to have died a day before Sandy Hook shooting. Conspiracy?
Adam Lanza Sandy Hook school shooting conspiracy theory escalates.
Adam Lanza's mother took him to psychiatrist which then led to his sudden breakdown.
Adam Lanza's father Peter claims son's body. At last!
Adam Lanza's body finally collected. Doubts remain if his father Peter claimed body…
Geneticists hope to uncover secret motive to Adam Lanza shoot out.
Adam Lanza's father Peter Lanza still can't understand why his son snapped.
Adam Lanza and the culture of violence. Why it will continue to live on.
Adam Lanza's body remains unclaimed. But why Peter Lanza?
Adam Lanza vented for three days whilst his mother Nancy left him all alone. He killed her when she returned.
Adam Lanza wanted to join the military. Nancy Lanza forbid him.
Adam Lanza fought violently with his mother Nancy three days before her death. What caused their fall out?
Adam Lanza's mother Nancy fought with school.
Adam Lanza said to have worshipped the devil insists former classmate.
Source disputes claim that Adam Lanza was about to be committed. 'Story should never have run…
Did Adam Lanza's fear of being imminently 'committed' lead him to taking revenge on children who Nancy loved more than him?
Adam Lanza spent hours in windowless basement playing violent video games and fantasizing about guns.
Adam Lanza's mother Nancy held secret that caused her to worry time was running out.
New report argues Adam Lanza had cut off all communications with his father Peter.
Adam Lanza's smashed computer hard drive may still yield answers say experts.
Adam Lanza victims are now beginning to be buried. Six year old Noah Pozner has funeral.
Adam Lanza shooting leads to idiotic belief that it could have been stopped if only teachers were allowed to carry concealed weapons.
Still no sign of Adam Lanza's father, Peter Lanza. Media comes looking for him but he is no where to be found.
Adam Lanza's mother begged his baby sitter to 'never turn your back.'
Adam Lanza's mother 'is not alone' blogger sparks outrage and reconciliation.
Adam Lanza. Has the media failed in its coverage?
Did Adam Lanza's mother Nancy cause him to revolt?
Adam Lanza was getting worse. Burning himself with lighter. Nancy Lanza feared losing him.
Adam Lanza. Why did he target Sandy Hook Elementary school?
Adam Lanza's mother Nancy would encourage him to join her for shooting target practice.
Adam Lanza names of victims released in revenge attack after fight with teachers the day before.
Adam Lanza tried to buy rifle days before but declined background check.
Breaking: Adam Lanza had 'wild argument' with four teachers at school a day before.
Adam Lanza was nerd and honors student but very weird. Shunned by the community.