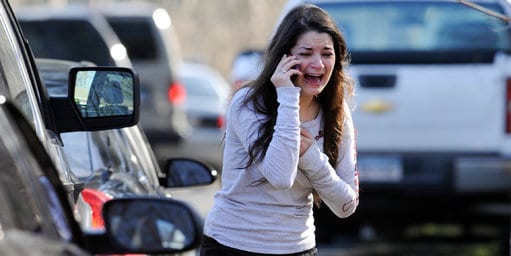 Source disputes claim that Adam Lanza was about to be committed. 'Story should never have run…
Did Adam Lanza's fear of being imminently 'committed' lead him to taking revenge on children who Nancy loved more than him?
Adam Lanza spent hours in windowless basement playing violent video games and fantasizing about guns.
Adam Lanza's mother Nancy held secret that caused her to worry time was running out.
New report argues Adam Lanza had cut off all communications with his father Peter.
Adam Lanza's smashed computer hard drive may still yield answers say experts.
Adam Lanza victims are now beginning to be buried. Six year old Noah Pozner has funeral.
Adam Lanza shooting leads to idiotic belief that it could have been stopped if only teachers were allowed to carry concealed weapons.
Still no sign of Adam Lanza's father, Peter Lanza. Media comes looking for him but he is no where to be found.
Adam Lanza's mother begged his baby sitter to 'never turn your back.'
Adam Lanza's mother 'is not alone' blogger sparks outrage and reconciliation.
Adam Lanza. Has the media failed in its coverage?
Did Adam Lanza's mother Nancy cause him to revolt?
Adam Lanza was getting worse. Burning himself with lighter. Nancy Lanza feared losing him.
Adam Lanza. Why did he target Sandy Hook Elementary school?
Adam Lanza's mother Nancy would encourage him to join her for shooting target practice.
Adam Lanza tried to buy rifle days before but declined background check.
Breaking: Adam Lanza had 'wild argument' with four teachers at school a day before.
Adam Lanza was nerd and honors student but very weird. Shunned by the community.
Adam Lanza. What set the Sandy Hook Elementary School gunman off?
Authorities have this afternoon released the identities of all those who were killed yesterday in the shoot out at Sandy Hook Elementary school. What remains obvious is that many of the victims, a total of 20 in all were children either aged 6 or 7 (all names released below) who had been repeatedly shot at callously by  Adam Lanza. Also shot and killed were 6 adults at the school as well as Adam Lanza's mother, Nancy at their well to do family home, bringing to a total count of 28 deceased, including Adam Lanza himself.
Chief Connecticut Medical Examiner H Wayne Carver said his team of four doctors, 10 technicians and a medical student were at Sandy Hook Elementary until about 12:30am on Saturday morning to identify and photograph the victims.
By 1am, the bodies – eight boys and 12 girls all between the ages of 6 and 7 – were removed from the school.
Carver went on to say that two of the victims were shot at extremely close range and that each child had been shot between three and eleven times.
Offered Carver: 'I think everybody was hit more than once.'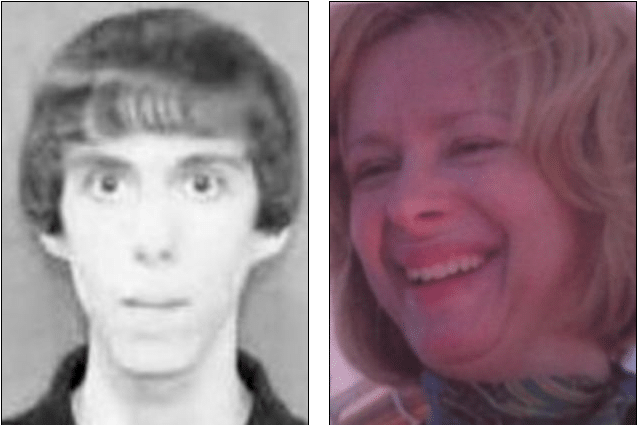 Carver's description of the deaths ought to perhaps be telling of how vehemently Adam Lanza intended to cause distress and to the nature of the day's before altercation which had only increased the young man's resolve to come back the next day to issue the ultimate punishment.
Of note is the fact that Lanza had attempted to acquire a rifle on Tuesday earlier that week but was in the end declined because he refused a background check or to wait a two week clearance period. Something which may hint at how carefully planned the carnage at the school in the end really was, with Thursday's altercations with teachers only affirming his resolve the following morning to unleash all his pent up rage. Yet sadly authorities to date have not come any closer to understanding what ultimately led to the young man to feel so much hostility, although clues are now beginning to make their way.
As an another aside, yesterday's carnage, the second in one week in a public forum, has reinvigorated debate about gun-control in a nation with a flourishing firearms culture and a strong lobby that has discouraged most politicians from any major efforts to address the easy availability of guns and ammunition. Mounting disillusion may soon force politician's hand. Conspicuously missing from the public discussion is the National Rifle Association (NRA) which has interestingly chosen this time to keep silent. Can anyone guess why?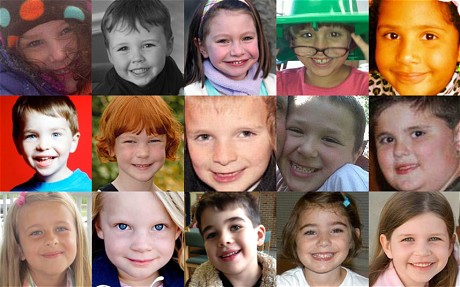 CHILDREN:
Charlotte Bacon, 6
Daniel Barden, 7
Olivia Engel, 6
Josephine Gay, 7
Ana Marquez-Greene, 6
Dylan Hockley, 6
Madeleine Hsu, 6
Catherine Hubbard, 6
Chase Kowalski, 7
Jesse Lewis, 6
James Mattioli, 6
Grace McDonnell, 7
Emilie Parker, 6
Jack Pinto, 6
Noah Pozner, 6
Caroline Previdi, 6
Jessica Rekos, 6
Avielle Richman, 6
Benjamin Wheeler, 6
Allison N. Wyatt, 6
ADULTS:
Rachel Davino, 29
Dawn Hochsprung, 47
Anne Marie Murphy, 52
Lauren Russeau, 20
Mary Sherlach, 56
Victoria Soto, 27