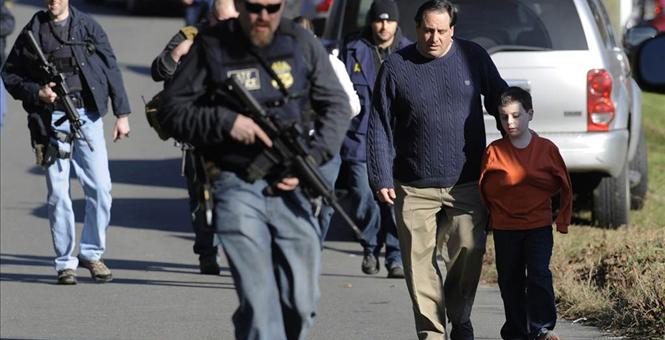 Source disputes claim that Adam Lanza was about to be committed. 'Story should never have run…
Did Adam Lanza's fear of being imminently 'committed' lead him to taking revenge on children who Nancy loved more than him?
Adam Lanza spent hours in windowless basement playing violent video games and fantasizing about guns.
Adam Lanza's mother Nancy held secret that caused her to worry time was running out.
New report argues Adam Lanza had cut off all communications with his father Peter.
Adam Lanza's smashed computer hard drive may still yield answers say experts.
Adam Lanza victims are now beginning to be buried. Six year old Noah Pozner has funeral.
Adam Lanza shooting leads to idiotic belief that it could have been stopped if only teachers were allowed to carry concealed weapons.
Still no sign of Adam Lanza's father, Peter Lanza. Media comes looking for him but he is no where to be found.
Adam Lanza's mother begged his baby sitter to 'never turn your back.'
Adam Lanza's mother 'is not alone' blogger sparks outrage and reconciliation.
Adam Lanza. Has the media failed in its coverage?
Did Adam Lanza's mother Nancy cause him to revolt?
Adam Lanza was getting worse. Burning himself with lighter. Nancy Lanza feared losing him.
Adam Lanza. Why did he target Sandy Hook Elementary school?
Adam Lanza's mother Nancy would encourage him to join her for shooting target practice.
Adam Lanza names of victims released in revenge attack after fight with teachers the day before.
Breaking: Adam Lanza had 'wild argument' with four teachers at school a day before.
Adam Lanza was nerd and honors student but very weird. Shunned by the community.
Adam Lanza. What set the Sandy Hook Elementary School gunman off?
Eerie reports are beginning to make way round that not only had Adam Lanza the troubled Sandy Hook Elementary school gunman have a rancorous altercation with 4 of the school's teachers a day before he charged back at the school but the fact that in the end he had planned all along to affect carnage when days before the carnage he had unsuccessfully applied to buy rifles at a local outlet.
The above would to some degree put a pall on many commentators who have been beseeching lawmakers for more stiffer gun controls (it seems in the end present gun laws inhibited the young man on acquiring guns) given the fact that Lanza was ultimately so resolved to commit carnage he just simply took to stealing his mother's guns when he chose to act out his murderous plot.
nbc: Adam Lanza, 20, went to a Dick's Sporting Goods store in Danbury, Conn., on Tuesday to buy the weapon, but was turned down because he didn't want to undergo a background check or abide by the state's waiting period for gun sales, the officials said.
To date officials have yet to publicly disclose what the motive for Lanza's murdering spree was or even the nature of an altercation that he had with 4 school teachers on Thursday which prompted him to return the following day in which he shot 3 out of the 4 teachers involved dead whilst the 4th escaped with their life only because they had not come to school that day.
Visit NBCNews.com for breaking news, world news, and news about the economy