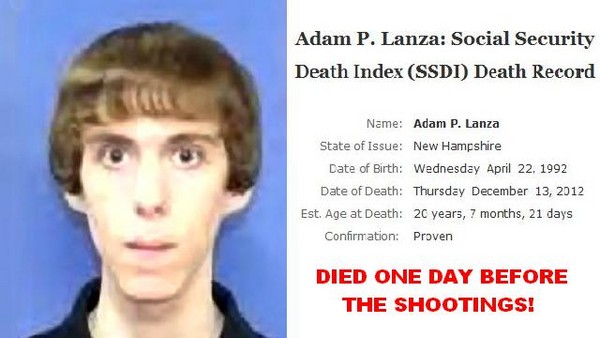 Adam Lanza was obsessed with correcting Wikipedia articles about mass killers.
Adam Lanza carried a chilling cache of arsenal search warrant reveals.
Adam Lanza chose Sandy Hook because it offered more targets and more sensation says report.
Did Adam Lanza copy a scene from a video game in the Sandy Hook massacre?
Adam Lanza Sandy Hook school shooting conspiracy theory escalates.
Adding confusion and fire to the contention that some are now making that the Sandy Hook school shooting may be all part of a cover up is the report that Adam Lanza officially died a whole day prior to the Sandy Hook shootings taking place.
The official death report has once again thrown into the mix to what degree Adam Lanza was involved in the shooting and or whether other individuals were involved and to what extent? Questions which are being increasingly asked as new evidence keeps opening up that throws into question the mainstream media's assertion that the shooting was simply the work of one individual.
At stake conspiracy theorists are arguing that the massacre may have been prompted to assuage fear in the community so as to foster easier passing of legislation that would lead to the curtailing of gun ownership and eventually other rights that could possibly serve authorities' best interests. Something that conspiracy theorists have been arguing ever since 9/11 which has seen an increasing array of new legislation and curtailing of freedoms purportedly designed to ensure our collective safety…
Reflects the examiner with respect to the mainstream media's handling of events and reporting of news or the lack of reporting certain news or developments:
The mainstream media is either the most incompetent it's ever been and has mistakenly overlooked almost every detail of every mass shooting that has occurred in the US over the past six months, or is purposely leaving out details that would ultimately change the face of the events and how they appear to the public.
Which raises the question, why has the mainstream media not made an effort to report the anomaly regarding Lanza's purported death a whole day prior to the massacre taking place? Let's assume it's all a clerical error, and if so shouldn't the media go out of its way given the heightened interest the case has already generated and mention this? Or would that be risking the clean lone psyhco shooter story that has become the adopted and preferred view? And what if for a moment Lanza actually did die a full day before the day of the massacre, what then, what can we really say is going on then?
Reflected one commentator yesterday:
Although history is replete with examples of these elements perpetrating hoaxes and conspiracies, some are frightened by the possibility that they have been deceived. Despite all the emotional turmoil and hostilities in these comment section, nobody…..and I do mean nobody can provide the surveillance video of AL. (Its does not exist) Nor can they provide anything substantial on the 3 men detained and released. The only "facts" that Ken has is what he heard from his television. The only thing the truthers have are the "lack of facts" that are always prevalent in such instances. So what do any of us have?
So where does that leave us then? At this point it almost hardly matters who was behind the massacre in one sense as the impetus to clamp down on weapons and who knows what other legislations are being considered sold to the public gain muster. Of course I am not advocating more guns, or the inability of one not to bear arms as the constitution allows but a consideration of how the massacre and its confusion and open ended questions has in some way allowed society once again accepting the view that government knows best. Frankly for most of us that is simply a scary proposition as government knows best is usually a metaphor for the government will take and give as needed according to its own needs (and those whom it represents) as opposed to the individual's needs.
Opines playwright David Mamet this morning for the dailybeast:
As rules by the Government are one-size-fits-all, any governmental determination of an individual's abilities must be based on a bureaucratic assessment of the lowest possible denominator. The government, for example, has determined that black people (somehow) have fewer abilities than white people, and, so, must be given certain preferences. Anyone acquainted with both black and white people knows this assessment is not only absurd but monstrous. And yet it is the law.
And then there's this ominous reflection courtesy of the examiner:
When one actually dares to dive into all of the evidence that exists surrounding these events, it's obvious none of them were the work of a single individual and all of them have the telltale signs of a sophisticated operation that likely requires a trained team of individuals working in concert. Unfortunately, that team also includes members of the media, at the highest levels, that are ultimately responsible for what the rest of us are fed as perceived "reality." Local and lesser news agencies merely parrot and support the information that emerges.
So whilst Adam Lanza may have died a full day before the massacre or on the day of the massacre that fact it seems hardly matters anymore as authorities with the tacit cooperation of the media go on to install their next mantra of efforts that serve the state's needs. Assuming you don't mind your liberty being curtailed at the expense of diabolical events that now take on new meanings that may or may not have resonance…
Adam Lanza's mother took him to psychiatrist which then led to his sudden breakdown.
Adam Lanza's father Peter claims son's body. At last!
Adam Lanza's body finally collected. Doubts remain if his father Peter claimed body…
Geneticists hope to uncover secret motive to Adam Lanza shoot out.
Adam Lanza's father Peter Lanza still can't understand why his son snapped.
Adam Lanza and the culture of violence. Why it will continue to live on.
Adam Lanza's body remains unclaimed. But why Peter Lanza?
Adam Lanza vented for three days whilst his mother Nancy left him all alone. He killed her when she returned.
Adam Lanza wanted to join the military. Nancy Lanza forbid him.
Adam Lanza fought violently with his mother Nancy three days before her death. What caused their fall out?
Adam Lanza's mother Nancy fought with school.
Adam Lanza said to have worshipped the devil insists former classmate.
Source disputes claim that Adam Lanza was about to be committed. 'Story should never have run…
Did Adam Lanza's fear of being imminently 'committed' lead him to taking revenge on children who Nancy loved more than him?
Adam Lanza spent hours in windowless basement playing violent video games and fantasizing about guns.
Adam Lanza's mother Nancy held secret that caused her to worry time was running out.
New report argues Adam Lanza had cut off all communications with his father Peter.
Adam Lanza's smashed computer hard drive may still yield answers say experts.
Adam Lanza victims are now beginning to be buried. Six year old Noah Pozner has funeral.
Adam Lanza shooting leads to idiotic belief that it could have been stopped if only teachers were allowed to carry concealed weapons.
Still no sign of Adam Lanza's father, Peter Lanza. Media comes looking for him but he is no where to be found.
Adam Lanza's mother begged his baby sitter to 'never turn your back.'
Adam Lanza's mother 'is not alone' blogger sparks outrage and reconciliation.
Adam Lanza. Has the media failed in its coverage?
Did Adam Lanza's mother Nancy cause him to revolt?
Adam Lanza was getting worse. Burning himself with lighter. Nancy Lanza feared losing him.
Adam Lanza. Why did he target Sandy Hook Elementary school?
Adam Lanza's mother Nancy would encourage him to join her for shooting target practice.
Adam Lanza names of victims released in revenge attack after fight with teachers the day before.
Adam Lanza tried to buy rifle days before but declined background check.
Breaking: Adam Lanza had 'wild argument' with four teachers at school a day before.
Adam Lanza was nerd and honors student but very weird. Shunned by the community.