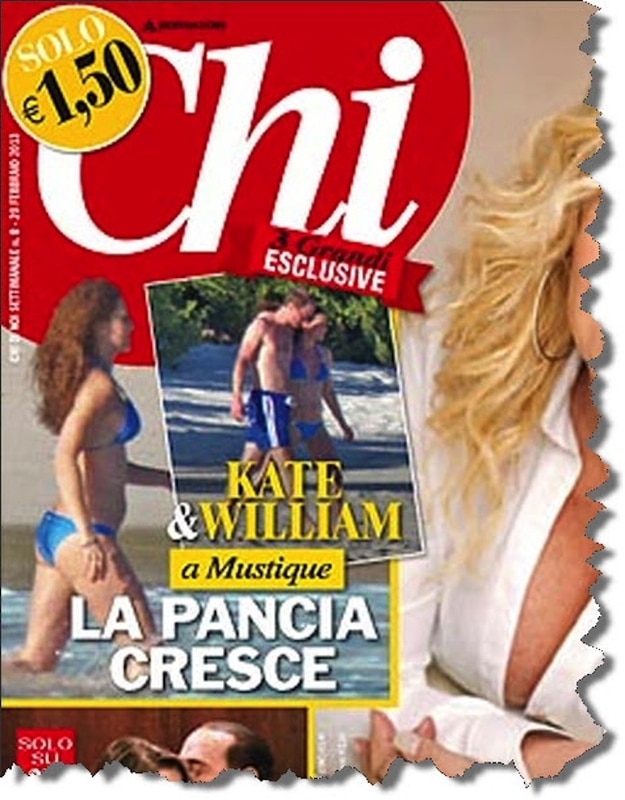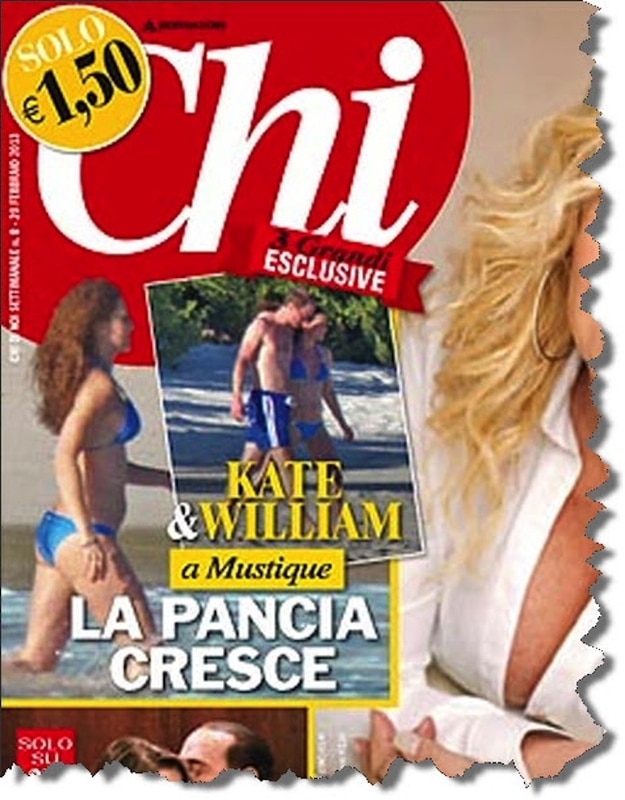 Kate Middleton: The absurdity of the British media refusing to publish pregnant bikini pictures.
Kate Middleton pregnant bikini pictures defended by Chi editor: 'Can't compare it to Diana!'
Kate Middleton pregnant bikini pictures now published by America's Star magazine.
Kate Middleton: Should Italy's Chi magazine have published pregnant bikini pictures?
Kate Middleton pregnant bikini pictures to be published by Australian mag. 'Not intrusive at all.'
Welcome to the newest scandal starring Kate Middleton.
The royal house is up in arms after Italian magazine Chi chose to publish new images of a pregnant Kate Middleton on its covers. The revealing image shows the royal donning a bikini as she vacationed on the exclusive  Caribbean island of Mustique.
Like the last scandal which also saw Kate Middleton appearing on the tabloid's front cover the new images have once again antagonized the house of Windsor.
Offered a royal spokesperson: 'We are disappointed that photographs of the Duke and Duchess on a private holiday look likely to be published overseas.'
Tells the UK's dailymail: The pictures show the 31-year-old Duchess strolling on the private beach with William. In one shot he is seen with an arm protectively around her back. Both look relaxed and Catherine is seen smiling happily.
It is understood that the magazine has also run pictures of Kate's sister Pippa who is on holiday with the Royal couple and the rest of the Middleton family including her parents Carole and Michael.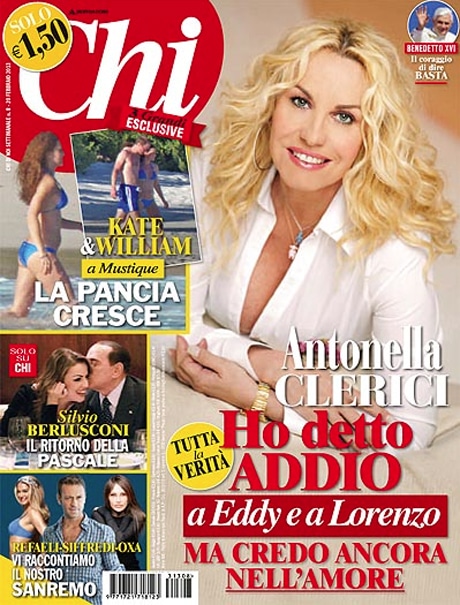 What makes the pictures particularly beguiling is the fact that the island which is private forbids paparazzi from taking pictures of its guests, raising questions as to who took the new images?
In fact the island's strict privacy laws have made it a favorite getaway destination for celebrities who eschew constant media attention and simply want to unwind without the presence of glaring eyes.
The latest scandal follows off the back of an incident late last year which saw two Australian dj's Mel Grieg and Michael Christian from Sydney radio outlet 2Day FM prank call the hospital where Kate Middleton was staying after she became ill as a result of her pregnancy.
At the time King Edward VII hospital nurse, Jacintha Saldanha who took the prank call ended her life in suicide apparently in the throes of humiliation of being caught out by the dj's. Despite threats of repercussion the dj's after world wide condemnation and being pulled off the airwaves by their owners have once again resumed broadcasting. This plus the light repercussion suffered by Chi's owners, Italian giant Mondadori as owned by flamboyant and controversial Silivio Berlusconi with respect to the last batch of topless images of Kate Middleton is thought to have once again underscored the media's dogged pursuit of the royals even in their most private sensitive moments. A topic which to date has led to widespread contemplation and debate as to whether the media is crossing ethical lines of privacy of its celebrated subjects.
The recent pictures appear to have been taken from a boat offshore.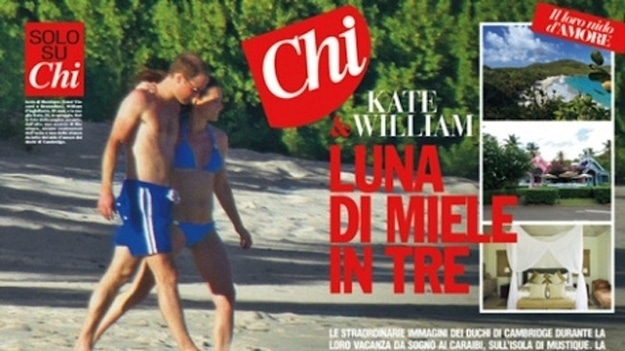 Paparazzo who took nude topless Kate Middleton photos identified. To be imminently arrested….
Kate Middleton topless pictures now leads to Irish Daily Star editor resigning.
Breaking: Danish mag now denies new Kate Middleton bottomless photos will appear.
NSFW: Kate Middleton bottomless and topless photos here. Will the royal house pursue legal action?
NSFW: Here are Kate Middleton topless and now bottomless pictures courtesy of Danish magazine Se og Hør.
Kate Middleton topless: Only one in five Brits have seen the photos…
Kate Middleton nude images lead to police raid on Closer mag offices. Overkill?
Danish magazine now set to publish Kate Middleton topless pictures. Suck it up Kate…
Kate Middleton topless pictures. Spoiled, presumptuous and simply asking for it…?
So what! Kate Middleton wins hollow court victory.
Kate Middleton pictures. Court to order criminal investigation against Closer magazine and photographer.
Court rules Kate Middleton topless pictures must be handed to her within 24 hours.
Kate Middleton nude pictures were sparked by animosity towards royal house by Silvio Berlusconi.
Valerie Suau is now suspected of taking Kate Middleton topless pictures.
The bastardization of Kate Middleton…
Court will decide tomorrow on Kate Middleton pictures. Closer mag defiant.
Oh my! Kate Middleton naked pictures: Here they are courtesy of Chi magazine Italy….
Kate Middleton topless pictures published on Italy's Chi magazine. Sales sluggish…
Kate Middleton is greeted by topless dancers and she barely winces. Sort of…
NSFW: Kate Middleton topless pictures. Royals to seek criminal charges against Closer and Italy's Chi magazine.
Kate Middleton topless. Porn company now wants to run sexual pictures said to exist.
Kate Middleton topless. Photographer Valerie Suau said to have taken pictures…
Kate Middleton topless. Italy's Chi magazine plans to run 50 new intimate pictures.
Kate Middleton topless photos now published on Irish Daily Star and Italian gossip site Chi.
NSFW. Kate Middleton topless photos removed from Closer magazine's website. But should they have to?
NSFW: Kate Middleton topless nude photos stir privacy and royal debate.