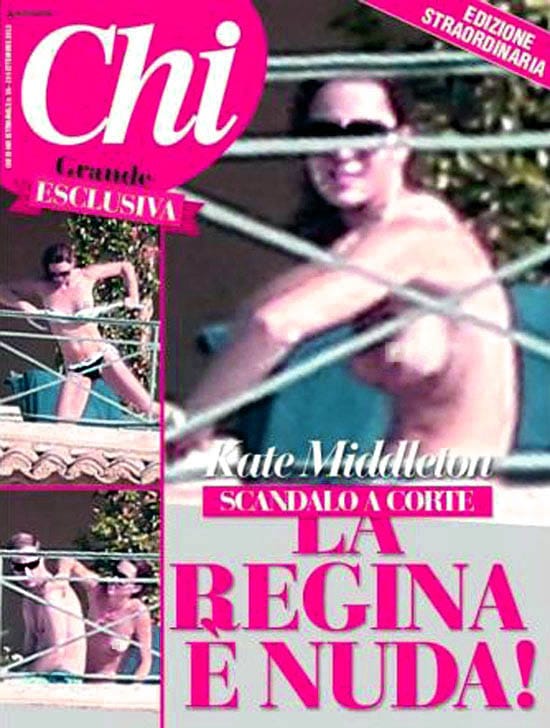 Kate Middleton nude images lead to police raid on Closer mag offices. Overkill?
Danish magazine now set to publish Kate Middleton topless pictures. Suck it up Kate…
Kate Middleton topless pictures. Spoiled, presumptuous and simply asking for it…?
So what! Kate Middleton wins hollow court victory.
Kate Middleton pictures. Court to order criminal investigation against Closer magazine and photographer.
Court rules Kate Middleton topless pictures must be handed to her within 24 hours.
Kate Middleton nude pictures were sparked by animosity towards royal house by Silvio Berlusconi.
Valerie Suau is now suspected of taking Kate Middleton topless pictures.
The bastardization of Kate Middleton…
Court will decide tomorrow on Kate Middleton pictures. Closer mag defiant.
Kate Middleton topless pictures published on Italy's Chi magazine. Sales sluggish…
Kate Middleton is greeted by topless dancers and she barely winces. Sort of…
NSFW: Kate Middleton topless pictures. Royals to seek criminal charges against Closer and Italy's Chi magazine.
Kate Middleton topless. Porn company now wants to run sexual pictures said to exist.
Kate Middleton topless. Photographer Valerie Suau said to have taken pictures…
Kate Middleton topless. Italy's Chi magazine plans to run 50 new intimate pictures.
Kate Middleton topless photos now published on Irish Daily Star and Italian gossip site Chi.
NSFW. Kate Middleton topless photos removed from Closer magazine's website. But should they have to?
NSFW: Kate Middleton topless nude photos stir privacy and royal debate.
Pippa Middleton wants to reassure you, you can still find her topless on the web.
NSFW: Kate Middleton's cousin Katrina Darling nearly loses her thong during burlesque striptease.
Kate Middleton has gone from a royal ingenue to a tabloid bombshell…
Italy's Chi Magazine has today defiantly published new images of the Duchess of Cambridge, Kate Middleton under the auspicious headline: "Kate Middleton court scandal – The queen is nude!".
Despite threats of civil and criminal action from the royal house Chi's Editor in Chief, Alfonso Signorini went on tweeter over the weekend to post the following: "Not even a phone-call from the Queen would have stopped us,"
For his mind Signorini has called the images tasteful but hasn't of course discounted the fact that he is running them principally because the person in the images is the future Queen of England.
Offered Mr Signorini: 'I am convinced by this scoop that Chi will be publishing on Monday because that is what we are talking about. These pictures are not offensive or in poor taste, they are not morbid and they do not damage the dignity of anyone.
'Instead the pictures that were published in Britain of Prince Harry were exactly that – if I didn't recognise the journalistic value of what I had then if I did not publish them I would be better off in a market selling artichokes.
'These pictures were taken while the couple were on a terrace and they were taken from a public place so there is no suggestion of an invasion of privacy.'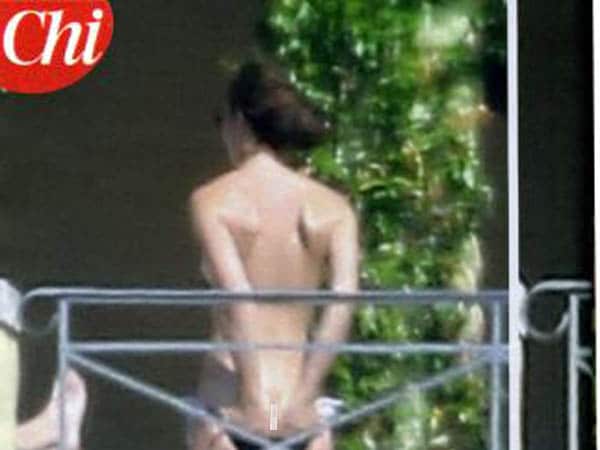 Signorini furthermore has ccused the British tabloid press of hypocrisy, saying the Sun, which has declared the topless photos off-limits, had no qualms running pictures of William's brother Prince Harry cavorting nakedin a Las Vegas hotel last month. Images which had been taken inside a closed hotel room party.
Signorini goes on to say that he had been offered Harry's pictures but had decided not to publish them because they were taken inside a hotel room and were "sexually explicit".
"For years we have been bombarded by the British tabloids that showed no restraint in publishing the content of wiretaps; I remember those between Prince Charles and Camilla Parker Bowles,"
"I understand these newspapers are under pressure now because they are in the eye of the storm … But I don't understand their lecturing us, because they are not in a position to teach anybody, quite the contrary."
Signorini said Berlusconi, who threatened to sue an Italian and a Spanish newspaper for publishing pictures of naked or topless guests at his Sardinian villa, was not involved in the decision to run the photos. Mondadori is chaired by Berlusconi's daughter Marina.
The photographs published themselves are accompanied by what amounts to an anatomical analysis of the duchess's breasts by a plastic surgeon. If that isn't on some level an attempt to thumb at the royal family's face this author has no idea what does, this despite Signorini's claims to show a 'tasteful' collection of naked images of a beautiful woman.
Signorini who personally selected the two dozen photographs printed by Chi from 200 shots, has also gone on to deny withholding more explicit pictures.
Offers Signorini: 'The royal family should have shrugged the pictures off with a "so what?" rather than fighting in court," 
"People would have liked them more. Why do we all have to imagine that the royals wear a burqa or a one-piece swimsuit to sunbathe? They are human beings like everybody else.'
At present Signorini has declined to say how much he paid for the photos. Or for that matter chosen to reveal the identity of the photographer who the royal house are in a haste to file a criminal suit against.
Such are the affairs of the elite amongst us who sometimes are forced to deal with the tawdry and base dispositions of society….