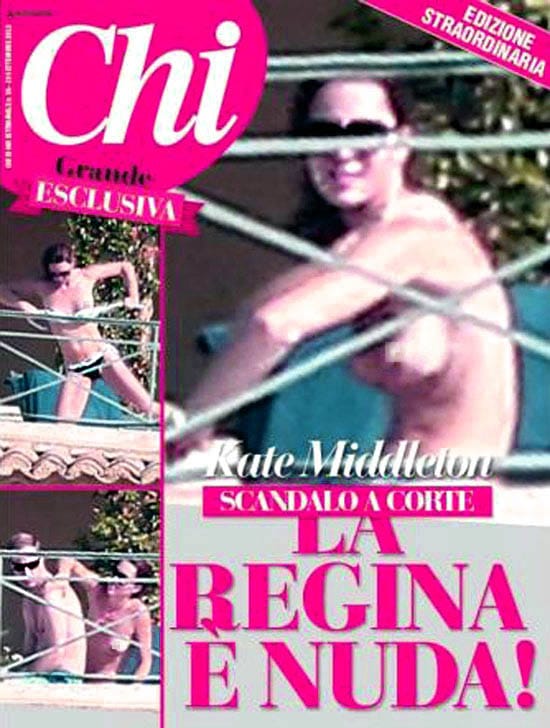 Kate Middleton nude images lead to police raid on Closer mag offices. Overkill?
Danish magazine now set to publish Kate Middleton topless pictures. Suck it up Kate…
Kate Middleton topless pictures. Spoiled, presumptuous and simply asking for it…?
So what! Kate Middleton wins hollow court victory.
Kate Middleton pictures. Court to order criminal investigation against Closer magazine and photographer.
Court rules Kate Middleton topless pictures must be handed to her within 24 hours.
Kate Middleton nude pictures were sparked by animosity towards royal house by Silvio Berlusconi.
Valerie Suau is now suspected of taking Kate Middleton topless pictures.
The bastardization of Kate Middleton…
Court will decide tomorrow on Kate Middleton pictures. Closer mag defiant.
Oh my! Kate Middleton naked pictures: Here they are courtesy of Chi magazine Italy….
Kate Middleton topless pictures published on Italy's Chi magazine. Sales sluggish…
Kate Middleton is greeted by topless dancers and she barely winces. Sort of…
NSFW: Kate Middleton topless pictures. Royals to seek criminal charges against Closer and Italy's Chi magazine.
Kate Middleton topless. Porn company now wants to run sexual pictures said to exist.
Kate Middleton topless. Photographer Valerie Suau said to have taken pictures…
Kate Middleton topless. Italy's Chi magazine plans to run 50 new intimate pictures.
Kate Middleton topless photos now published on Irish Daily Star and Italian gossip site Chi.
NSFW. Kate Middleton topless photos removed from Closer magazine's website. But should they have to?
NSFW: Kate Middleton topless nude photos stir privacy and royal debate.
Pippa Middleton wants to reassure you, you can still find her topless on the web.
NSFW: Kate Middleton's cousin Katrina Darling nearly loses her thong during burlesque striptease.
Arguments were head today in a French courtroom whether to allow an injection against the continued use of duplicitous images of Kate Middleton, Duchess of Cambridge.
The Duke and Duchess believe they have an "open and shut case." However, the court will decide on the injunction tomorrow morning.  If the court rules in the Royals' favor, it would prevent the French magazine, Closer from publishing more pictures of the Duchess and could force them to withdraw copies of the magazine from sale.
The Royal family isn't just after the French publications; they are also searching for the unnamed photographer. The couple believes that the photographer who took the private photos has committed a criminal act under French law and that the offender should be put under criminal investigation.
A St James's Palace source said: "Papers for the criminal complaint have been filed this morning in France. It is now up to the French prosecutors to decide whether to investigate and pursue the complaint." The unidentified paparazzo has been lying low since the release of the photos. "We will find him," the source promised.
The royal couple's lawyer, Aurelien Hamelle, told the French court Monday that he is seeking (EURO)5,000 ($6,550) in damages from Closer and an injunction forcing the magazine to stop publishing the issue with the photos.
He also asked the court to fine Closer (EURO)10,000 ($13,100) a day for each day the injunction is not respected, and (EURO)100,000 ($131,000) if the photos are sold.
Closer lawyer Delphine Pando told the court that the photos are not theirs to sell.
"We are not the owners of these photos," she said. "The photos are out there. If a TV show wants to show an image of this (magazine) edition, it's got nothing to do with us."
With respect to punishing Ireland's Irish Daily Star and Italy's Chi magazinechances are remote.
Told a source to the dailymirror: "We have been advised there is not a realistic chance of bringing successful action in Italy and Ireland so the Duke and Duchess have accepted there is little they can do here" the source said. "We are keeping our options open and haven't ruled out action in other countries but time and resources are an issue."
Of course sometimes nothing does better to keep the paparazzi at bay than the threat of concerted repercussions….