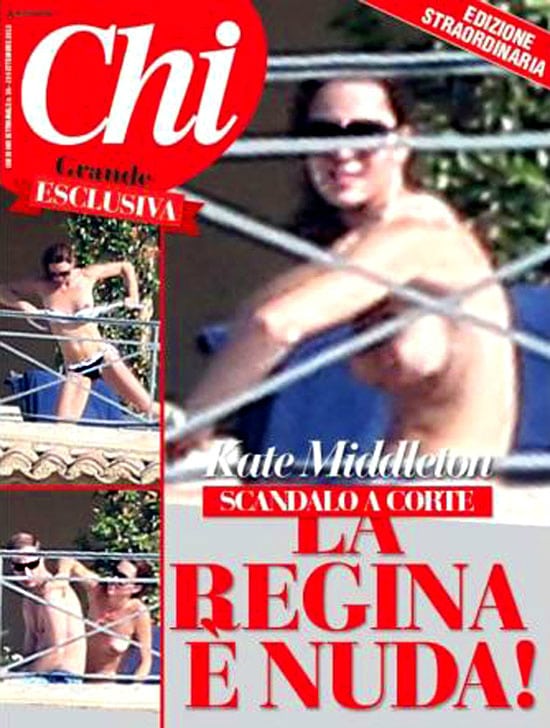 Kate Middleton nude images lead to police raid on Closer mag offices. Overkill?
Danish magazine now set to publish Kate Middleton topless pictures. Suck it up Kate…
Kate Middleton topless pictures. Spoiled, presumptuous and simply asking for it…?
So what! Kate Middleton wins hollow court victory.
Kate Middleton pictures. Court to order criminal investigation against Closer magazine and photographer.
Court rules Kate Middleton topless pictures must be handed to her within 24 hours.
Kate Middleton nude pictures were sparked by animosity towards royal house by Silvio Berlusconi.
Valerie Suau is now suspected of taking Kate Middleton topless pictures.
Court will decide tomorrow on Kate Middleton pictures. Closer mag defiant.
Oh my! Kate Middleton naked pictures: Here they are courtesy of Chi magazine Italy….
Kate Middleton topless pictures published on Italy's Chi magazine. Sales sluggish…
Kate Middleton could have hardly suspected that when she married into the royal family that she would become the tabloid darling that she has become. Then again the signs were there for the taking, she was well spoken, supposedly came from good stock, was well regarded by a genteel crowd and very easy on the eye and she was of course marrying Prince William who had the awful legacy of dealing with the fact that his mother, Princess Di had lost her life to the ever growing glare of the media. Literally.
With the publication of what many consider to be scandalous images of her (although one could just as easily argue the images are quite natural and befitting of any young woman spending time with her husband on summer vacation) the Duchess of Cambridge in a matter of days has gone from an object of affection and curiosity to an object of ogling. Or to be crude an object of sexual vilification.
Across the web, commentators have taken her to task for having too small breasts (must we really?) for being too stupid for having disrobed given her title and the ever glaring opportunistic behavior of paparazzi to that of a dimwit who was simply too presumptuous to think she could behave otherwise and on some level not deserving of our respect because she chose to reveal herself. But then again isn't this what most of us do on any given day and here is Kate Middleton being crucified for playing into her nature.
Going against her has been the less than stellar behavior of her brother in law, Prince Harrywho has fed the paparazzi's appetite and that of her sister Pippa Middleton who has been often criticized for being nothing more than an opportunistic floozy. Then of course there were those images of her brother, James last year parading around half naked too that had the royal family wondering who exactly their William was marrying.
In many ways the royals are like any family, they have their own aspirations, concerns, foibles and day to day tribulations except theirs are magnified ten fold especially as the public crave more and more information and titillation with respect to their affairs.
It is not to say that the royal family is not to be taken seriously but one does wonder to what degree given the unspoken polarization of society of the haves and have nots and the increasing social injustices that continue to exist that on some level the subtext for the royal family has become one that somehow perhaps they are to be taken less seriously and to be examined for whether the actual existence of a monarchy ought to still exist. Then again the media takes delight in such characters as their tribulations and affairs inspire imagination and of course constant gossip for the slightest misbehavior, actual or perceived.
At present the only option for Kate Middleton is to retain her poise and grace and to not publicly show any despair of the matter at hand, of course should she in the future make another unforced error or be found to be in a less than stellar predicament the public courtesy of the media will suddenly wonder out aloud who it is that they have been idealizing. Then again that may be a good thing as one can suspect that Kate Middleton wouldn't mind a break from all the constant attention she is given as she is made into our collective fairy tale story.  Yet even some fairy tale stories come with unhappy endings, case in point Lady Di….
Kate Middleton is greeted by topless dancers and she barely winces. Sort of…
NSFW: Kate Middleton topless pictures. Royals to seek criminal charges against Closer and Italy's Chi magazine.
Kate Middleton topless. Porn company now wants to run sexual pictures said to exist.
Kate Middleton topless. Photographer Valerie Suau said to have taken pictures…
Kate Middleton topless. Italy's Chi magazine plans to run 50 new intimate pictures.
Kate Middleton topless photos now published on Irish Daily Star and Italian gossip site Chi.
NSFW. Kate Middleton topless photos removed from Closer magazine's website. But should they have to?
NSFW: Kate Middleton topless nude photos stir privacy and royal debate.
Pippa Middleton wants to reassure you, you can still find her topless on the web.
NSFW: Kate Middleton's cousin Katrina Darling nearly loses her thong during burlesque striptease.