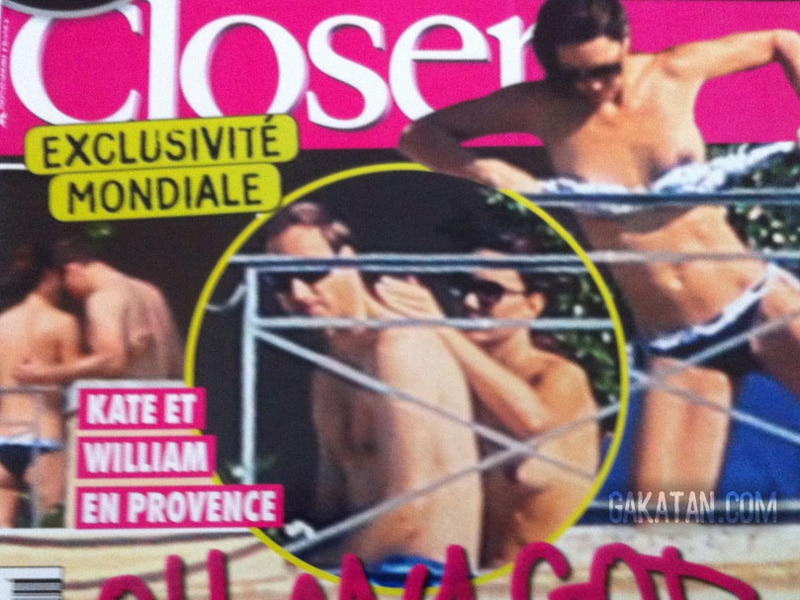 Breaking: Danish mag now denies new Kate Middleton bottomless photos will appear.
NSFW: Kate Middleton bottomless and topless photos here. Will the royal house pursue legal action?
NSFW: Here are Kate Middleton topless and now bottomless pictures courtesy of Danish magazine Se og Hør.
Kate Middleton topless: Only one in five Brits have seen the photos
Kate Middleton nude images lead to police raid on Closer mag offices. Overkill?
Danish magazine now set to publish Kate Middleton topless pictures. Suck it up Kate…
Kate Middleton topless pictures. Spoiled, presumptuous and simply asking for it…?
Kate Middleton's win a French court today may stop the further publication of said images in France but that is about all. The images if anyone cares to look for them have already been published in Italy, Ireland and if anyone cares to look for the nude images of the Duchess of Cambridge they can be found here and here and pretty much anywhere on the web. Those images are hardly going anywhere and it is extremely doubtful that the royal couple can force US entities or other foreign jurisdictions to take them down. It only worked this time because of France's tough privacy laws which mandate permission be given first before images be allowed.
Then there's the notion that going forward Kate Middleton and other royals will now have to be especially vigilant as to how they conduct themselves in any public and perhaps for that matter private arena. Raise your hands if you think Kate Middleton will be rushing to go topless sunbathing in the future. She wont, and she's probably be warned not to. So much for behaving with abandon going forward Kate…
Of course you would think by now that the royals have become acclimated to the idea that their whole existence is  24/7 up for review. You would think that by now that they have learned their lessons, watched Lady Di, Prince William's mother get burned for her constant attention for public approval,  learned by now that acting up like a party boy the way Prince Harryfrequently does hardly yields you too many point (well as a man unfortunately he is given a lot more passes).
If the Queen can keep herself out of the public's eye (really how many times has she been 'caught' for misbehaving or being found in a compromising position?) surely other members of the royals can ask her how she manages. Of course that will require modesty and the idea that sometimes its best to rein it in given the authority and position they enjoy (do they really though?) in society.
Then again maybe the royals can't help but be in the public consciousness at all times and to be blunt that is exactly what their job description requires, especially if the public is asked to foot the bill of your existence. One on some level becomes a hired actor mandated to perform at all times even if one insists on 'privacy.' Privacy when one is on permanent call unfortunately does not exist, and if one seeks it they ought to think twice about accepting the advantages of being a royal.
And what about the media? Will it now back down and be weary of reproaching the royal's privacy going forward? The simple answer judging by the fervent response to the current debacle is a resounding no. There's simply too much public interest not to react and join other media outlets reporting on such fracas'.
If I were Kate Middleton I'd just keep my top on next time and learn to accept that at the end of the day she has but a role to play as much as the media who vigilantly watches her and every other notable's move. The public demand it and so it should.
Kate Middleton pictures. Court to order criminal investigation against Closer magazine and photographer.
Court rules Kate Middleton topless pictures must be handed to her within 24 hours.
Kate Middleton nude pictures were sparked by animosity towards royal house by Silvio Berlusconi.
Valerie Suau is now suspected of taking Kate Middleton topless pictures.
The bastardization of Kate Middleton…
Court will decide tomorrow on Kate Middleton pictures. Closer mag defiant.
Oh my! Kate Middleton naked pictures: Here they are courtesy of Chi magazine Italy….
Kate Middleton topless pictures published on Italy's Chi magazine. Sales sluggish…
Kate Middleton is greeted by topless dancers and she barely winces. Sort of…
NSFW: Kate Middleton topless pictures. Royals to seek criminal charges against Closer and Italy's Chi magazine.
Kate Middleton topless. Porn company now wants to run sexual pictures said to exist.
Kate Middleton topless. Photographer Valerie Suau said to have taken pictures…
Kate Middleton topless. Italy's Chi magazine plans to run 50 new intimate pictures.
Kate Middleton topless photos now published on Irish Daily Star and Italian gossip site Chi.
NSFW. Kate Middleton topless photos removed from Closer magazine's website. But should they have to?
NSFW: Kate Middleton topless nude photos stir privacy and royal debate.
Pippa Middleton wants to reassure you, you can still find her topless on the web.
NSFW: Kate Middleton's cousin Katrina Darling nearly loses her thong during burlesque striptease.