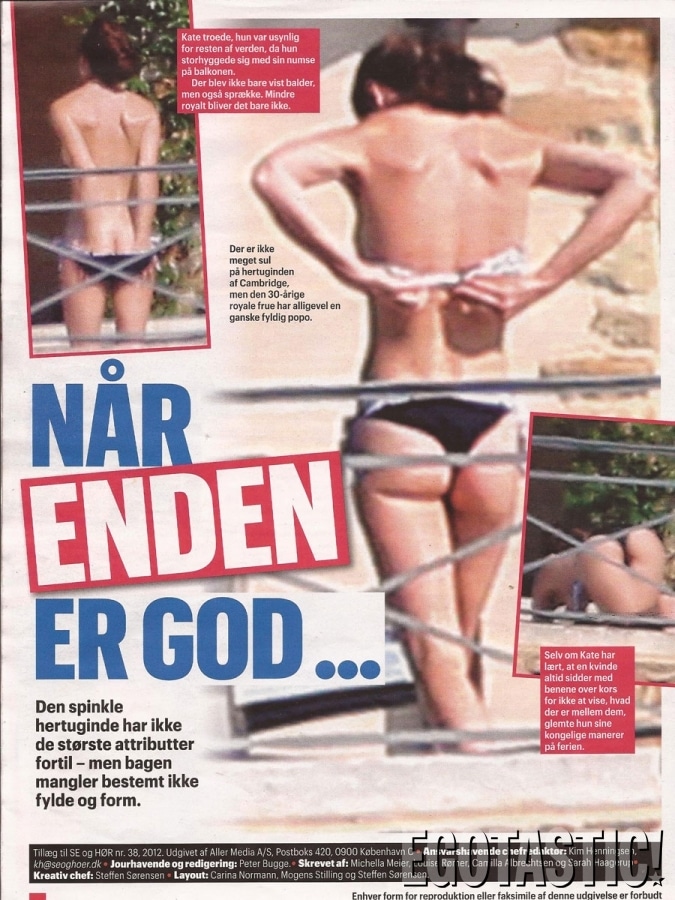 ### Kate Middleton naked butt photographed in Australia. Outraged… 
Just when we all thought the Kate Middleton topless fracas was over now comes Danish magazine Se og Hør which has pushed the line of what counts for proper form and conduct on behalf of the media with the release of new images that now show Kate Middleton not only topless but also bottomless (go to bottom of page to see images) and in some grainy shots one can even make out a fuzzy area where the Duchess' private parts are. Okay let's be adults here, vagina.
Kate Middleton topless pictures now leads to Irish Daily Star editor resigning.
Paparazzo who took nude topless Kate Middleton photos identified. To be imminently arrested….
Breaking: Danish mag now denies new Kate Middleton bottomless photos will appear.
NSFW: Kate Middleton bottomless and topless photos here. Will the royal house pursue legal action?
At present no word from the royal house as to their thoughts on their images (not pleasant one imagines) and what they intend to at this time do about the images. Then again what can the royal house do as they have no jurisdiction over Danish media and for that matter US journals where the images have begun to be shown this morning.
Se og Hør had been promising to print the Kate photos since earlier in the month: "It's a set of unique photos from an A-class celebrity," Se og Hør Editor Kim Henningsen told the Belfast Telegraph. "We are a leading gossip magazine in Denmark, and it is my job to publish them. If the British royal family want to sue us, then it will happen then and we'll deal with it."
The royals may have been able to get French journal Closer to comply because of tough privacy laws in that nation there but it seems for now the Royals will have to bear and grin it and understand that as distasteful as some would deem it they are public figures and the media will attempt at all times to disclose as much about them as possible even if it betrays certain decorum or what is perceived as appropriate media content, then again let's define freedom of speech and whether we would even be making bones about these images if it wasn't Kate Middleton but say a B rated celebrity instead….?
Kate Middleton topless: Only one in five Brits have seen the photos…
Kate Middleton nude images lead to police raid on Closer mag offices. Overkill?
Danish magazine now set to publish Kate Middleton topless pictures. Suck it up Kate…
Kate Middleton topless pictures. Spoiled, presumptuous and simply asking for it…?
So what! Kate Middleton wins hollow court victory.
Kate Middleton pictures. Court to order criminal investigation against Closer magazine and photographer.
Court rules Kate Middleton topless pictures must be handed to her within 24 hours.
Kate Middleton nude pictures were sparked by animosity towards royal house by Silvio Berlusconi.
Valerie Suau is now suspected of taking Kate Middleton topless pictures.
The bastardization of Kate Middleton…
Court will decide tomorrow on Kate Middleton pictures. Closer mag defiant.
Oh my! Kate Middleton naked pictures: Here they are courtesy of Chi magazine Italy….
Kate Middleton topless pictures published on Italy's Chi magazine. Sales sluggish…
Kate Middleton is greeted by topless dancers and she barely winces. Sort of…
NSFW: Kate Middleton topless pictures. Royals to seek criminal charges against Closer and Italy's Chi magazine.
Kate Middleton topless. Porn company now wants to run sexual pictures said to exist.
Kate Middleton topless. Photographer Valerie Suau said to have taken pictures…
Kate Middleton topless. Italy's Chi magazine plans to run 50 new intimate pictures.
Kate Middleton topless photos now published on Irish Daily Star and Italian gossip site Chi.
NSFW. Kate Middleton topless photos removed from Closer magazine's website. But should they have to?
NSFW: Kate Middleton topless nude photos stir privacy and royal debate.
Pippa Middleton wants to reassure you, you can still find her topless on the web.
NSFW: Kate Middleton's cousin Katrina Darling nearly loses her thong during burlesque striptease.
to see more images you can go to egotastic