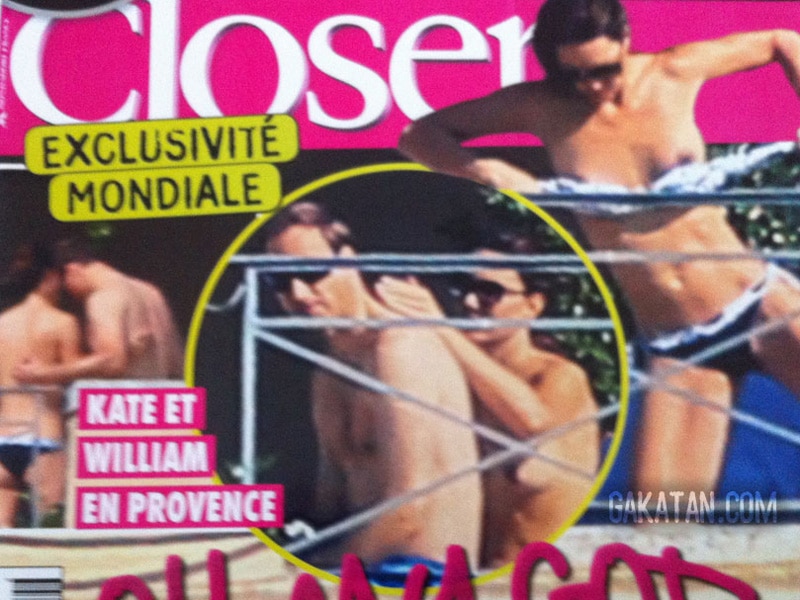 Kate Middleton nude images lead to police raid on Closer mag offices. Overkill?
Danish magazine now set to publish Kate Middleton topless pictures. Suck it up Kate…
Kate Middleton topless pictures. Spoiled, presumptuous and simply asking for it…?
So what! Kate Middleton wins hollow court victory.
Kate Middleton pictures. Court to order criminal investigation against Closer magazine and photographer.
Court rules Kate Middleton topless pictures must be handed to her within 24 hours.
Kate Middleton nude pictures were sparked by animosity towards royal house by Silvio Berlusconi.
Valerie Suau is now suspected of taking Kate Middleton topless pictures.
The bastardization of Kate Middleton…
Court will decide tomorrow on Kate Middleton pictures. Closer mag defiant.
NSFW:Kate Middleton naked pictures: Here they are courtesy of Chi magazine Italy….
Kate Middleton topless pictures published on Italy's Chi magazine. Sales sluggish…
Kate Middleton topless pictures now trading briskly on Ebay.
Kate Middleton is greeted by topless dancers and she barely winces. Sort of…
NSFW: Kate Middleton topless pictures. Royals to seek criminal charges against Closer and Italy's Chi magazine.
Kate Middleton topless. Porn company now wants to run sexual pictures said to exist.
Kate Middleton topless. Photographer Valerie Suau said to have taken pictures…
Kate Middleton topless. Italy's Chi magazine plans to run 50 new intimate pictures.
Kate Middleton topless photos. Closer mag have more 'intimate photos' to release…
NSFW. Kate Middleton topless photos removed from Closer magazine's website. But should they have to?
NSFW: Kate Middleton to sue over naked topless photos.
NSFW: Kate Middleton topless nude photos stir privacy and royal debate.
Pippa Middleton wants to reassure you, you can still find her topless on the web.
NSFW: Kate Middleton's cousin Katrina Darling nearly loses her thong during burlesque striptease.
The media has decided that it will go ahead and publish images that Kate Middleton and her husband Prince William perceive contentious and taken without their approval.
It is now being reported that Irish tabloid mag Irish Daily Star as well Italian gossip site Chi have decided to go ahead and re publish topless images of Kate Middleton.
Reiterated the Irish Daily Star's editor in chief, Mike O'Kane:
'The Duchess would be no different to any other celeb pics we would get in, for example Rihanna or Lady Gaga.'
'She's not the future queen of Ireland so really the only place this is causing fury seems to be in the UK, and they are very very tasteful pictures.'
But not everyone is happy with the Irish Daily Star's decision to publish the images.
dailymail.co.uk: Northern and Shell, the owners of the Irish Daily Star, said they 'abhor' the newspaper's decision to publish topless photographs of the Duchess of Cambridge and 'very much regret the distress it has caused.'
Gareth Morgan, the Editor of the Daily Star Sunday in London today called the move to publish the photos a 'frankly horrible decision.' 
'I only found out this morning along with everyone else when I was contacted to be asked about it. I am absolutely flabbergasted at their decision to go ahead with it.'
But why is Mr Morgan and others like him so horrified by the decision of journals like Closer, the Irish Daily Mail and Chi to publish these images (in fact our journal has on numerous times chosen to republish the images which are widely available on the web if one does their due diligence).
Should we as publishers be offended by the subject matter? Concerned that the images were acquired perhaps illegally? Or should we being deference to individuals who we are told are monarchy and thus deserving of another level of being handled?
Then there's this point of view courtesy of Chi's editor, Chi Alfonso Signori:
'The fact that these are the future rulers of England makes the article more interesting and topical.
'This is a deserving topic because it shows in a completely natural way the daily life of a very famous, young and modern couple in love.'
Of note both Chi and the French edition of Closer are published by the Mondadori media group, which is owned by former Italian prime minister Silvio Berlusconi.
In the interim St. James's Palace has condemned the moves by the Irish and Italian journals as unjustifiable and evidence of pure greed, and said it was considering "all proportionate responses."
Interestingly the British media as well as most US publications have been weary of publishing said images