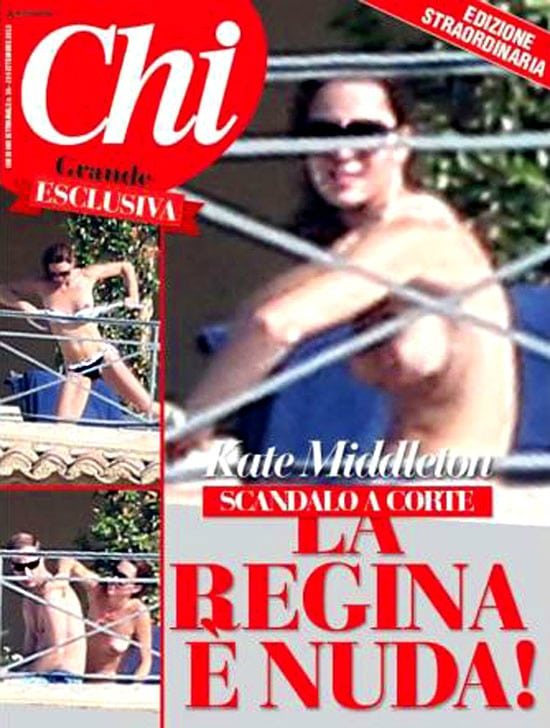 Kate Middleton nude images lead to police raid on Closer mag offices. Overkill?
Danish magazine now set to publish Kate Middleton topless pictures. Suck it up Kate…
Kate Middleton topless pictures. Spoiled, presumptuous and simply asking for it…?
So what! Kate Middleton wins hollow court victory.
Kate Middleton pictures. Court to order criminal investigation against Closer magazine and photographer.
Court rules Kate Middleton topless pictures must be handed to her within 24 hours.
Kate Middleton nude pictures were sparked by animosity towards royal house by Silvio Berlusconi.
Valerie Suau is now suspected of taking Kate Middleton topless pictures.
The bastardization of Kate Middleton…
Court will decide tomorrow on Kate Middleton pictures. Closer mag defiant.
NSFW:Kate Middleton naked pictures: Here they are courtesy of Chi magazine Italy….
Kate Middleton topless pictures published on Italy's Chi magazine. Sales sluggish…
Kate Middleton topless pictures now trading briskly on Ebay.
Kate Middleton is greeted by topless dancers and she barely winces. Sort of…
Kate Middleton topless. Porn company now wants to run sexual pictures said to exist.
Kate Middleton topless. Photographer Valerie Suau said to have taken pictures…
Kate Middleton topless. Italy's Chi magazine plans to run 50 new intimate pictures.
Kate Middleton topless photos now published on Irish Daily Star and Italian gossip site Chi.
NSFW. Kate Middleton topless photos removed from Closer magazine's website. But should they have to?
NSFW: Kate Middleton topless nude photos stir privacy and royal debate.
Pippa Middleton wants to reassure you, you can still find her topless on the web.
NSFW: Kate Middleton's cousin Katrina Darling nearly loses her thong during burlesque striptease.
As Chi magazine is set to unveil a 26 page spread including 50 intimate images of Kate Middleton this morning in various repose some of her reportedly sun bathing completely nude and even smoking Prince William has intimated that he will now not only seek civil damages against Closer mag (who first introduced topless images of  Kate Middleton) as well Chi mag but he now fully intends to pursue criminal charges against the outlets as well.
The journals as owned by Italian publishing house Mondadori ( owned by former disgraced Italian prime minister Silvio Berlusconi and his daughter Marina Berlusconi) has for its part dismissed the lawsuit asserting its freedom and independence to do as it see fits.
The publishing house goes further to say that the photos represent content that is a clear expression of the news depicting a true event and in its estimation do not undermine the individuals photographed.
Offered Chi editor Alfonso Signorini:
"I don't see anything morbid or damaging in them," 
 "Chi pays attention to respecting people's dignity. I don't think they hurt Kate's image."
The royal couple for their part strenuously disagree with Mr Signorini's assertions.
Offered St James Palace:
"The royal couple will take any action they can within the law to seek redress,"
"They've been clear that they will not allow this to intrude on their enjoyment of the tour, or more importantly their work on behalf of the Queen.
"The couple always felt very strongly about privacy and harassment. It's part of a very long-standing and heartfelt position by the Duke and Prince Harry, given their past, to do everything they can to protect themselves."
So incensed is Prince William with the perceived intrusion of his and his wife's privacy he has now resolved to teach the paparazzi a lesson that they will never forget but whether the Prince can actually force the magazines to cease publication of said images or be made to give up the identity of the photographer who took said offending images remains to be seen.
French courts where the case is to be heard today mandate strict guidelines as to privacy issues and theoretically the editors of the journals responsible for publishing offending material as well as the photographer who took the images could see up to a year in jail as well as punitive damages against them.
Although it could take a protracted period before the case goes to court the royals in the interim will seek an order blocking the publication of further images which might be a mute point as the images already in released have gone viral. That of course does not preclude the existence of more contentious images that have been held back in reserve.
With respect to criminal charges against the unidentified photographer(s) St James Palace has intimated that it it would be up to French prosecutors to decide whether to investigate and pursue a criminal complaint for breach of privacy or trespassing.
At present no British publication has run the controversial pictures, (save for the Sun) and Britain's tabloids have lined up to denounce them as an invasion of the duchess' privacy. (Is anyone surprised?) whilst a scattering of publications in the US (including ours) as well as in Germany have chosen to run the images.
At present it is not understood whether the royal couple will plan to sue Irish tabloid outer Irish Daily Star who have already run images as it pursues legal action against publishing house Mondadori today.