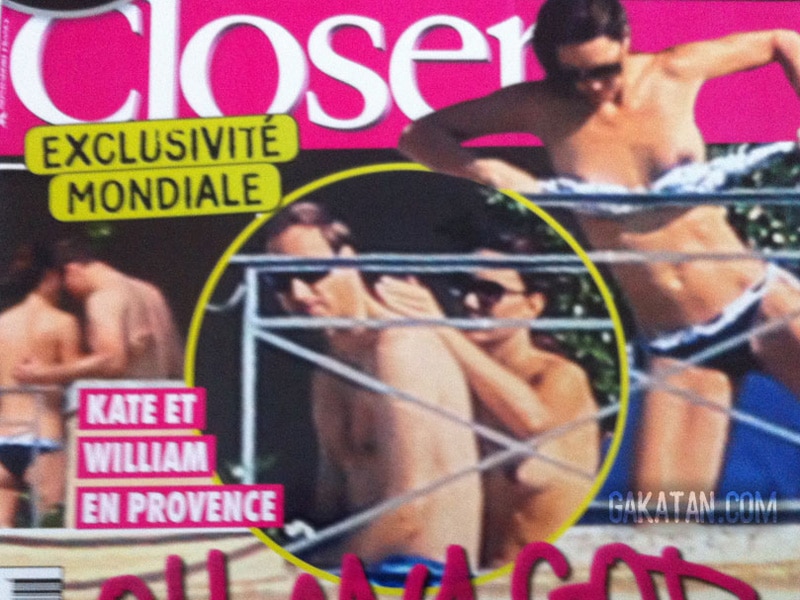 Furore as Kate Middleton lands in Italian Chi magazine bikini pregnant clad.
Chi's Editor in Chief tweets that not even a direct call from the Queen will stop him from running Kate Middleton topless pictures….
More bad news for the royal family is on its way as it strategizes how to handle the latest public relations disaster which has fallen into its lap with the increasing fervor of publications to publish intimate images of Kate Middleton, wife of Prince William.
Whilst the Irish Daily Star followed suit and re published images that French outlet 'Closer'initially published, Italy's Chi magazine has signaled it will go one step further with the publication of a 26 page special edition of Kate Middleton and Prince William whilst releasing an additional 50 'intimate' images to the spread. Hardly the good news the royal family could be hoping for given their repeated claims of displeasure of the photos in circulation and their stated claim to sue any publication who dares run the images (we're still waiting your majesty….)
Not one to be tempered Chi's editor in chief, Alfonso Signorini has adamantly issued a statement that the publication will go ahead and run the images, having gone as far to tweet that not even a direct call from the Queen herself could dissuade him from running the images.
For his part, Mr Signorini has argued that he is not afraid of any legal repercussions (surely the gains in increased revenue would out weigh any punitive damages?) because he believes the images were taken in a public space and there hadn't been an invasion of privacy, something of course the royal house and many commentators in general argue otherwise.
Offered Mr Signorini: 'I am convinced by this scoop that Chi will be publishing on Monday because that is what we are talking about. These pictures are not offensive or in poor taste, they are not morbid and they do not damage the dignity of anyone.
'Instead the pictures that were published in Britain of Prince Harry were exactly that – if I didn't recognise the journalistic value of what I had then if I did not publish them I would be better off in a market selling artichokes. 
'These pictures were taken while the couple were on a terrace and they were taken from a public place so there is no suggestion of an invasion of privacy.' 
Journalistic value? Perhaps public titillation might be the better word but then again with the tenure of most media outlets catering to increasingly base content and less and less contemplative material (this is but the sorry state of affairs of journalism these days as even once eminent journals have been forced to cater to the tawdry simply to keep circulation numbers alive given heightened public taste for such material) most outlets don't have too many choices if they are to stay afloat with heightened competition in the media landscapes and falling ad rates, never mind that most media outlets can't get away with charging subscription rates where they may once done so.
Undeterred, the royal couple are trying to halt the publication of the photographs in Chi as owned by former Prime Minister Silvio Berlusconi, and are struggling to prevent them being printed elsewhere around the world. (that too may already be too late).
At present it is understood that lawyers for the royal couple (law firm Harbottle and Lewis have been retained at a cost of 750 pounds an hour) will appear in court in Paris tomorrow in an effort to prevent further publication of topless photos. Of course what jurisdiction French courts have on the US and other parts of the world remains to be seen. One supposes none actually. At present a smattering of publications in the US (ours included) and Germany have chosen to run the images.
At present St James Palace has offered the decision to run said images of Kate Middleton is motivated by greed which may on one hand be correct but from this journalist's perspective what St James Palace is failing to publicly acknowledge is that the Royal house is founded on greed, acquisition and exploitation over many centuries despite genteel appearances to the contrary.
What St James Palace is also failing to understand is that the royal family has by design and merit become tantamount to no longer the sacred institution it once believed itself to be but a heightened display of nonsensical behavior that hardly registers in most people's real day to day existence but rather a banal exercise in the absurd now reduced to celebrity status despite the unspoken strains of social class division inherent in the existence of the royal family and other elite institutions which have also for the most part exploited situations in order to assume the position they currently hold….so much for greed.
Kate Middleton nude images lead to police raid on Closer mag offices. Overkill?
Danish magazine now set to publish Kate Middleton topless pictures. Suck it up Kate…
Kate Middleton topless pictures. Spoiled, presumptuous and simply asking for it…?
So what! Kate Middleton wins hollow court victory.
Kate Middleton pictures. Court to order criminal investigation against Closer magazine and photographer
Court rules Kate Middleton topless pictures must be handed to her within 24 hours.
Kate Middleton nude pictures were sparked by animosity towards royal house by Silvio Berlusconi.
Valerie Suau is now suspected of taking Kate Middleton topless pictures.
The bastardization of Kate Middleton…
Court will decide tomorrow on Kate Middleton pictures. Closer mag defiant.
NSFW:Kate Middleton naked pictures: Here they are courtesy of Chi magazine Italy….
Kate Middleton topless pictures published on Italy's Chi magazine. Sales sluggish…
Kate Middleton topless pictures now trading briskly on Ebay.
Kate Middleton is greeted by topless dancers and she barely winces. Sort of…
Kate Middleton topless. Porn company now wants to run sexual pictures said to exist.
Kate Middleton topless. Photographer Valerie Suau said to have taken pictures…
Kate Middleton topless photos. Closer mag have more 'intimate photos' to release…
Kate Middleton topless photos now published on Irish Daily Star and Italian gossip site Chi.
NSFW. Kate Middleton topless photos removed from Closer magazine's website. But should they have to?
NSFW: Kate Middleton topless nude photos stir privacy and royal debate.
Pippa Middleton wants to reassure you, you can still find her topless on the web.
NSFW: Kate Middleton's cousin Katrina Darling nearly loses her thong during burlesque striptease.