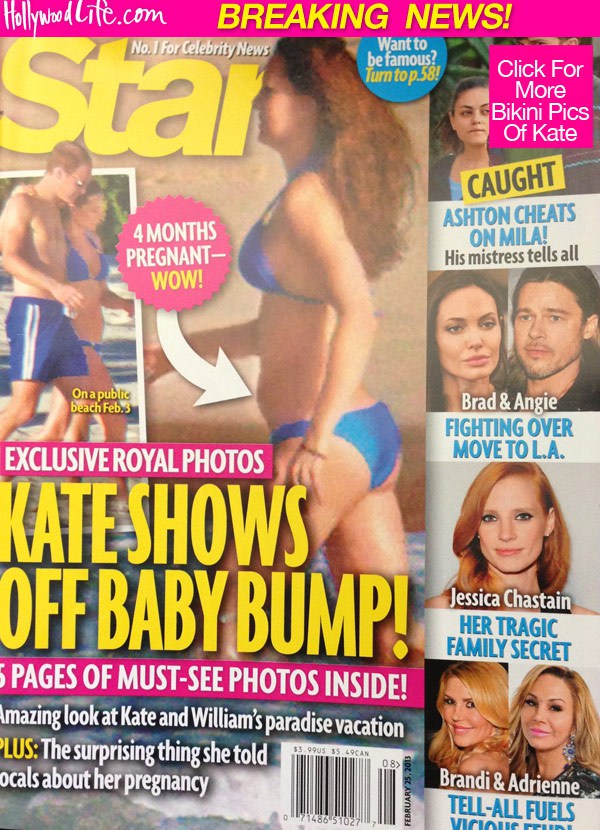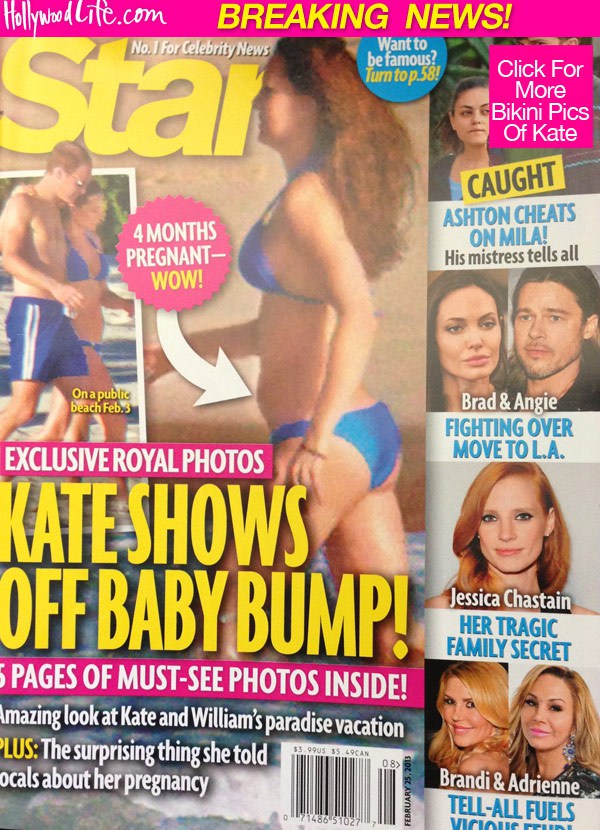 Kate Middleton: The absurdity of the British media refusing to publish pregnant bikini pictures.
Kate Middleton pregnant bikini pictures defended by Chi editor: 'Can't compare it to Diana!'
Kate Middleton pregnant bikini pictures to be published by Australian mag. 'Not intrusive at all.'
Kate Middleton: Should Italy's Chi magazine have published pregnant bikini pictures?
Furore as Kate Middleton lands in Italian Chi magazine bikini pregnant clad.
The tabloid magazines are no longer even bothering to pretend they care about Kate Middleton's purported rights.
As royal furore increases with Italy's Chi magazine's decision to run images of a pregnant Kate Middleton in a bikini other journals from all over the world are now following suit.
Joining Chi magazine are also Australia's Woman's Day and America's Star magazine which has an unabashed history of running tawdry images of celebrities and gossip fodder. Whether Kate Middleton likes it or not falls she surely falls squarely in the gossip/celebrity fodder section even if she may think herself of a royal and deserving of more privileges. Something that most media outlets outside of the UK are not in the mood to pay too much attention to.
And perhaps to underscore the public's willingness to view the images (and hence the tabloids rushing to acquire the images and present them) are the following comments I came across the web which this time round seem to be in overwhelming support of showcasing the latest images of a pregnant bikini clad Kate Middleton. See what you think…
From the UK's telegraph: My opinion is that everyone deserves some privacy, and the more private you are as an individual, the more privacy you should be able to demand. The problem with "privacy" in relation to the Royal family is that they are in the public eye, they live on public money, but they also want personal privacy, and perhaps you cannot have both.
Perhaps you should not have both. Zara Phillips is a case in point: she has deliberately renounced her Royal titles and makes her own way in the world. She therefore has the right to as much privacy as she likes. The moment Harry, William and Kate do the same, they too should be able to stamp their feet and send the cameras running.  
And from the web:
This time I don't feel sorry for the royal couple. They are fully aware, and she was aware before marrying him, that they are the worlds most sought after couple for pictures. If it upsets them then don't go naked or even wear a bikini anywhere that the relentless photographers might snap you. Kate and will are to blame this time.
Supermarket tabloids love to post photos of stars without makeup or with cellulite. It's gross, but you don't hear a lot of outrage about it, like the current "LEAVE HER ALONE!" about Kate Middleton. Is it because she's a "princess"? It does seem a bit hypocritical to bash the baby bump photos, especially since any mention of them seems to get fans interested. That interest in everything she does is exactly why the photos were taken.
Good thing these entitled people are not America's problem. Sheesh, their country pays the family the equivalent of hundreds of millions of dollars a year for them to complain that people are watching them?
This is part of the trade-off of being famous in this modern age. You get money, fame, and fan worship, but you have to put up with the increased interest in your life. 
Sorry, she was a holiday with her husband and deserves some privacy. If she was out doing a royal duty then I would expect photographs being taken of her but not when she's on holiday.
Good for the paps, what hypocracy from this already freeloading parasite, she cancelled all her overseas visits until 2014, Mustique must not be overseas. Does her gormless husband ever turn up to the RAF and does he collect his full salary.
 Glad to see the rest of the world has some backbone and are not intimidated by the grey suits at the Palace. Whoever took the pictures probably thought 'anything goes' when they saw the trolly dolly and her brood, on the beach!
Paparazzo who took nude topless Kate Middleton photos identified. To be imminently arrested….
Kate Middleton topless pictures now leads to Irish Daily Star editor resigning.
Breaking: Danish mag now denies new Kate Middleton bottomless photos will appear.
NSFW: Kate Middleton bottomless and topless photos here. Will the royal house pursue legal action?
NSFW: Here are Kate Middleton topless and now bottomless pictures courtesy of Danish magazine Se og Hør.
Kate Middleton topless: Only one in five Brits have seen the photos…
Kate Middleton nude images lead to police raid on Closer mag offices. Overkill?
Danish magazine now set to publish Kate Middleton topless pictures. Suck it up Kate…
Kate Middleton topless pictures. Spoiled, presumptuous and simply asking for it…?
So what! Kate Middleton wins hollow court victory.
Kate Middleton pictures. Court to order criminal investigation against Closer magazine and photographer.
Court rules Kate Middleton topless pictures must be handed to her within 24 hours.
Kate Middleton nude pictures were sparked by animosity towards royal house by Silvio Berlusconi.
Valerie Suau is now suspected of taking Kate Middleton topless pictures.
The bastardization of Kate Middleton…
Court will decide tomorrow on Kate Middleton pictures. Closer mag defiant.
Oh my! Kate Middleton naked pictures: Here they are courtesy of Chi magazine Italy….
Kate Middleton topless pictures published on Italy's Chi magazine. Sales sluggish…
Kate Middleton is greeted by topless dancers and she barely winces. Sort of…
NSFW: Kate Middleton topless pictures. Royals to seek criminal charges against Closer and Italy's Chi magazine.
Kate Middleton topless. Porn company now wants to run sexual pictures said to exist.
Kate Middleton topless. Photographer Valerie Suau said to have taken pictures…
Kate Middleton topless. Italy's Chi magazine plans to run 50 new intimate pictures.
Kate Middleton topless photos now published on Irish Daily Star and Italian gossip site Chi.
NSFW. Kate Middleton topless photos removed from Closer magazine's website. But should they have to?
NSFW: Kate Middleton topless nude photos stir privacy and royal debate.