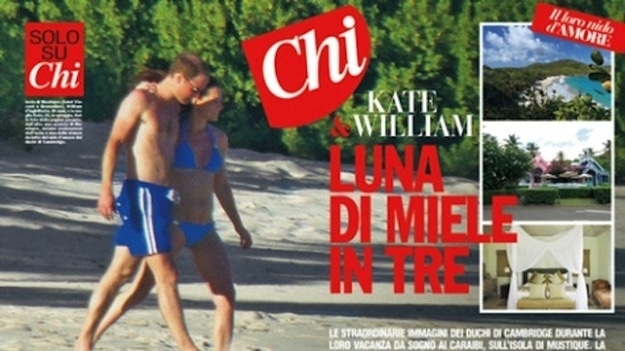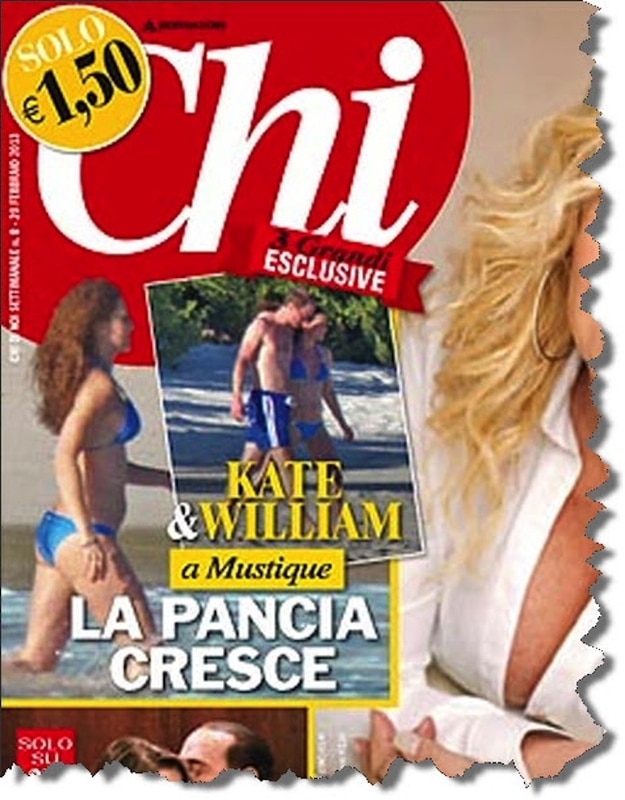 The absurdity of why media is refusing to publish pregnant Kate Middleton bikini pictures.
Kate Middleton pregnant bikini pictures now published by America's Star magazine.
Kate Middleton pregnant bikini pictures to be published by Australian mag. 'Not intrusive at all.'
Furore as Kate Middleton lands in Italian Chi magazine bikini pregnant clad.
Whist the British media might be nervously viewing discussions of proprietary with respect to the latest images of Kate Middleton sauntering on a public beach on the Caribbean island of Mustique, most media outlets outside of the UK have begun furiously outbidding each other in order to get a chance to run the images.
That said, Chi magazine, part of the Italian media clan Mondadori as owned by the brash and often flamboyant Silvio Berlusconi has gone on to publicly affirm why he has chosen to run what some deem as contentious images, while interestingly most do not.
Offered the tabloid's head editor, Alfonso Signorini:
"The article features photos of a young couple in love as they happily walk along the shore.
"They are images of such unexceptional normality that there is only limited mention of them on the cover of the magazine."
"The photographs, which can in no way be considered scandalous, were bought from an international photo agency, do not harm the image of the protagonists and the reaction of the media seems to me wholly over the top.
"Moreover, the photographs can hardly be considered an invasion of privacy when the subjects are public figures in a public place, in the open air; specifically on a beach surrounded by other bathers."
"It is also true that the Italian press is not a party to the gentlemen's agreement between the British press and Buckingham Palace."
"What our readers will see is simply a moment of joyful relaxation being enjoyed by a smiling, happy couple.
"Where's the scandal in that?"
Signorini told Italian news website Corriere.it : "You can't compare it with the media persecution of Lady D (Diana, Princess of Wales). I repeat: the photos were taken in a public place."
St James's Palace would not comment on whether William had been informed about the issue or if they were considering any form of legal action against the magazine.
At present no word whether the Royal house would attempt to bring litigation agains the outlet as an avalanche of public support for the media outlets choosing to run the images outside the UK begins to mount.
via mirror.co.uk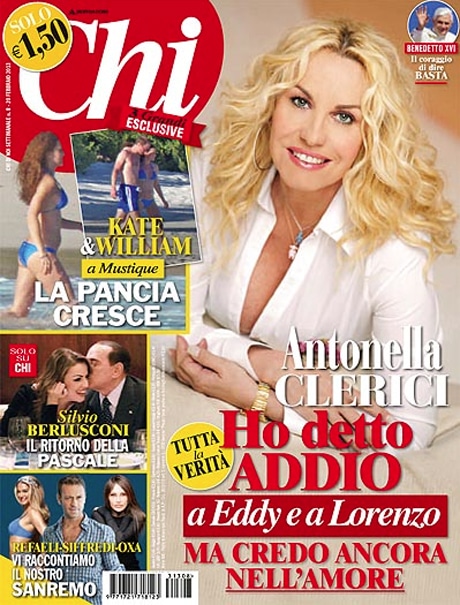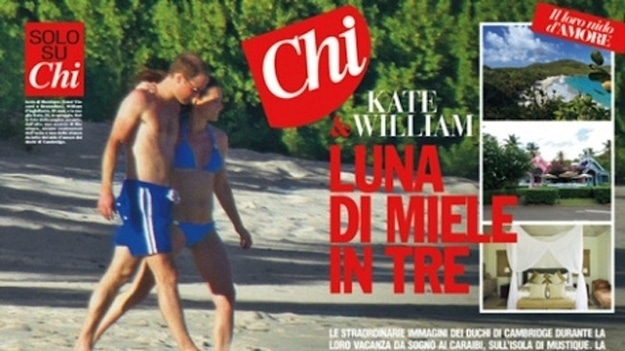 Paparazzo who took nude topless Kate Middleton photos identified. To be imminently arrested….
Kate Middleton topless pictures now leads to Irish Daily Star editor resigning.
Breaking: Danish mag now denies new Kate Middleton bottomless photos will appear.
NSFW: Kate Middleton bottomless and topless photos here. Will the royal house pursue legal action?
NSFW: Here are Kate Middleton topless and now bottomless pictures courtesy of Danish magazine Se og Hør.
Kate Middleton topless: Only one in five Brits have seen the photos…
Kate Middleton nude images lead to police raid on Closer mag offices. Overkill?
Danish magazine now set to publish Kate Middleton topless pictures. Suck it up Kate…
Kate Middleton topless pictures. Spoiled, presumptuous and simply asking for it…?
So what! Kate Middleton wins hollow court victory.
Kate Middleton pictures. Court to order criminal investigation against Closer magazine and photographer.
Court rules Kate Middleton topless pictures must be handed to her within 24 hours.
Kate Middleton nude pictures were sparked by animosity towards royal house by Silvio Berlusconi.
Valerie Suau is now suspected of taking Kate Middleton topless pictures.
The bastardization of Kate Middleton…
Court will decide tomorrow on Kate Middleton pictures. Closer mag defiant.
Oh my! Kate Middleton naked pictures: Here they are courtesy of Chi magazine Italy….
Kate Middleton topless pictures published on Italy's Chi magazine. Sales sluggish…
Kate Middleton is greeted by topless dancers and she barely winces. Sort of…
NSFW: Kate Middleton topless pictures. Royals to seek criminal charges against Closer and Italy's Chi magazine.
Kate Middleton topless. Porn company now wants to run sexual pictures said to exist.
Kate Middleton topless. Photographer Valerie Suau said to have taken pictures…
Kate Middleton topless. Italy's Chi magazine plans to run 50 new intimate pictures.
Kate Middleton topless photos now published on Irish Daily Star and Italian gossip site Chi.
NSFW. Kate Middleton topless photos removed from Closer magazine's website. But should they have to?
NSFW: Kate Middleton topless nude photos stir privacy and royal debate.