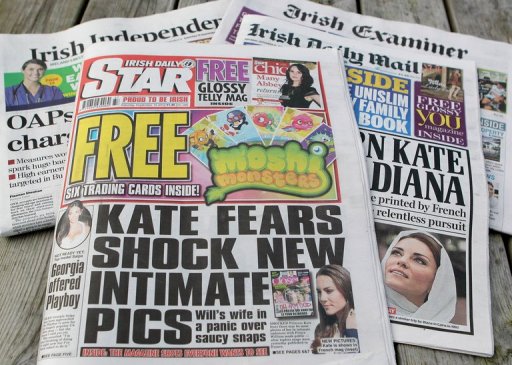 It seems recent pictures of Kate Middleton topless has led to another fall out with the announcement this weekend that the Irish Daily Star's editor, Michael O'Kane has resigned after his decision to run the pictures of a disrobed Kate Middleton September 15th.
The decision to run the images came against most UK publications reluctance to run said images, although that didn't stop Danish, French, Italian, Scandinavian and various US press outlets (including this journal) from deciding to run said images.
At the time it was thought by some running such images was tantamount to abusing Kate Middleton's right to privacy versus the question that as a public figure she should expect to be portrayed no matter how flattering or not in the media when opportunities or public discussion arose. As many argued this is the lot of celebrities and by extension the royal house who consistently court public approval and with whom they need in order to pull in their large fortunes and popularity.
When Mr O'Kane initially chose to publish said images this is the accompanying statement that followed:
'The Duchess would be no different to any other celeb pics we would get in, for example Rihanna or Lady Gaga.'
'She's not the future queen of Ireland so really the only place this is causing fury seems to be in the UK, and they are very very tasteful pictures.'
Nevertheless, Mr O'Kane's decision to be the stand alone UK publication to show the images it seems caused some dissent in the UK and what one is willing to bet some arm wrestling courtesy of the palace who was in a rush to tell the media what it will or will not tolerate. Yes, so much for democracy one might argue…?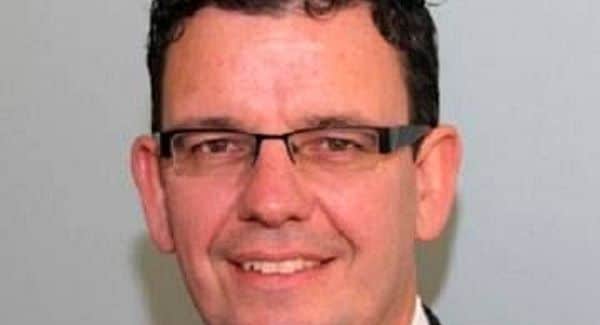 Reports the irishexaminer: Michael O'Kane had been suspended from his role in September while an internal investigation was carried out into the tabloid's decision to rerun pictures of Middleton and Prince William sunbathing on a private holiday in France.
Media tycoon Richard Desmond, whose Northern and Shell group co-owns the newspaper with the Irish-based Independent News and Media, had threatened to shut the Dublin operation down.
In a statement today, the Irish Daily Star said: "As a result of the publication on 15 September 2012, issues arose with the shareholders of Independent Star Limited.
"Having considered those issues in tandem with Mr O'Kane, it is Mr O'Kane's decision to resign as editor of the Irish Daily Star, effective immediately."
Resigned or be pushed out of a moving vehicle? Which raises bolder questions, should editors have their autonomy controlled lest they offend the subject matter in question? Or should we be deferential to individuals who we are told are monarchy and thus deserving of another level of media representation…? Of course one has to wonder how much the Royals were able to influence O'Kane's ouster and what we really mean by freedom of the press…?
Paparazzo who took nude topless Kate Middleton photos identified. To be imminently arrested….
What a shame! Pippa Middleton's career being ruined by Kate Middleton topless pictures crises.
Breaking: Danish mag now denies new Kate Middleton bottomless photos will appear.
NSFW: Kate Middleton bottomless and topless photos here. Will the royal house pursue legal action?
NSFW: Here are Kate Middleton topless and now bottomless pictures courtesy of Danish magazine Se og Hør.
Kate Middleton topless: Only one in five Brits have seen the photos…
Kate Middleton nude images lead to police raid on Closer mag offices. Overkill?
Danish magazine now set to publish Kate Middleton topless pictures. Suck it up Kate…
Kate Middleton topless pictures. Spoiled, presumptuous and simply asking for it…?
So what! Kate Middleton wins hollow court victory.
Kate Middleton pictures. Court to order criminal investigation against Closer magazine and photographer.
Court rules Kate Middleton topless pictures must be handed to her within 24 hours.
Kate Middleton nude pictures were sparked by animosity towards royal house by Silvio Berlusconi.
Valerie Suau is now suspected of taking Kate Middleton topless pictures.
The bastardization of Kate Middleton…
Court will decide tomorrow on Kate Middleton pictures. Closer mag defiant.
Oh my! Kate Middleton naked pictures: Here they are courtesy of Chi magazine Italy….
Kate Middleton topless pictures published on Italy's Chi magazine. Sales sluggish…
Kate Middleton is greeted by topless dancers and she barely winces. Sort of…
NSFW: Kate Middleton topless pictures. Royals to seek criminal charges against Closer and Italy's Chi magazine.
Kate Middleton topless. Porn company now wants to run sexual pictures said to exist.
Kate Middleton topless. Photographer Valerie Suau said to have taken pictures…
Kate Middleton topless. Italy's Chi magazine plans to run 50 new intimate pictures.
Kate Middleton topless photos now published on Irish Daily Star and Italian gossip site Chi.
NSFW. Kate Middleton topless photos removed from Closer magazine's website. But should they have to?
NSFW: Kate Middleton topless nude photos stir privacy and royal debate.
Pippa Middleton wants to reassure you, you can still find her topless on the web.
NSFW: Kate Middleton's cousin Katrina Darling nearly loses her thong during burlesque striptease.