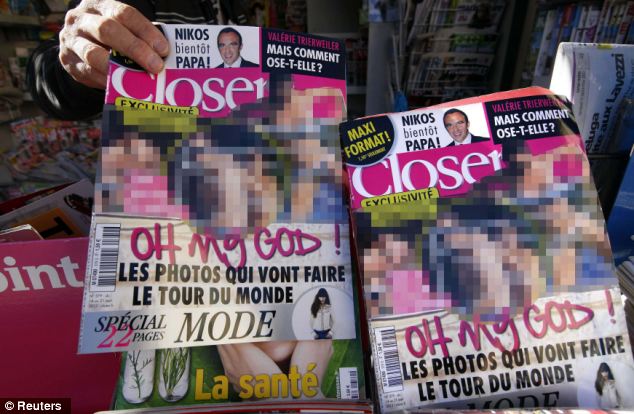 Kate Middleton topless pictures now leads to Irish Daily Star editor resigning.
Law enforcement officials have finally claimed to have identified the photographer said to have taken photos of Kate Middleton topless pictures as they appeared in Closer Mag which caused international furor when French mag Closer's editor in chief Laurence Pieau decided to publish them despite the royal house's great dismay and insistence that the photos be taken down immediately.
The nude photos, circa 200 of them are said to be the result of a commission that Ms Pieau enforced when she hired an as of yet publicly revealed identity photographer to take photos of the royal couple as they holidayed at Chateau d'Autet, in Provence France this past September.
Under France's strict privacy laws images said to be taken in transgression of the subject matter's immediate privacy in private quarters are a violation with the media outlet who commissioned them subjected to legal punitive damages. That said as part of that country's confidentiality agreements, the identity of the photographer involved needn't be disclosed publicly.
That said the royal house was able to invoke court proceedings to have the pictures taken down and the media outlet fined, but now they want to take the case further and wish to punish the individual photographer responsible as well in the hopes of making an example of them and to have other media outlets think twice in the future of invading the royal's privacy.
Offered St James palace: "William and Kate are determined to bring the person who took those photos to justice and they're pushing hard for a custodial sentence. They want to make an example of this person."
If the paparazzo who took the photos is convicted of the crime, he or she may face jail time up to one year and a hefty fine of over $57,000.
Offered a source close to the investigation: "A name has been offered. The photographer is expected to be held for questioning imminently."
Once again the issue of arresting the photographer raises contentious issues of when the media has crossed the line and whether the royal couple should accept as public figures that will forever be sought by the public who has an ever expanding curiosity with the royal family as their identity continues to morph into that of celebrities as opposed to a once gilded secluded aristocratic family who only painfully came out to appease the public….
As we have opined in previous articles did the media really go too far, were the royals being presumptuous in assuming that they were not being watched and what kind of message are we now sending in a free society that now allows special interest groups like the royal house  to wail that their privacy has been impeached (when their whole existence to begin with whether they like it or not is a public spectacle) and now lodge criminal cases against journalists? What will the royals and other powerful groups in the future be tempted to criminally indict journalists for in the future? Welcome to a dangerous world where the media is now being reduced to second fiddle to the interests of the very elite…
What a shame! Pippa Middleton's career being ruined by Kate Middleton topless pictures crises.
Breaking: Danish mag now denies new Kate Middleton bottomless photos will appear.
NSFW: Kate Middleton bottomless and topless photos here. Will the royal house pursue legal action?
NSFW: Here are Kate Middleton topless and now bottomless pictures courtesy of Danish magazine Se og Hør.
Kate Middleton topless: Only one in five Brits have seen the photos…
Kate Middleton nude images lead to police raid on Closer mag offices. Overkill?
Danish magazine now set to publish Kate Middleton topless pictures. Suck it up Kate…
Kate Middleton topless pictures. Spoiled, presumptuous and simply asking for it…?
So what! Kate Middleton wins hollow court victory.
Kate Middleton pictures. Court to order criminal investigation against Closer magazine and photographer.
Court rules Kate Middleton topless pictures must be handed to her within 24 hours.
Kate Middleton nude pictures were sparked by animosity towards royal house by Silvio Berlusconi.
Valerie Suau is now suspected of taking Kate Middleton topless pictures.
The bastardization of Kate Middleton…
Court will decide tomorrow on Kate Middleton pictures. Closer mag defiant.
Oh my! Kate Middleton naked pictures: Here they are courtesy of Chi magazine Italy….
Kate Middleton topless pictures published on Italy's Chi magazine. Sales sluggish…
Kate Middleton is greeted by topless dancers and she barely winces. Sort of…
NSFW: Kate Middleton topless pictures. Royals to seek criminal charges against Closer and Italy's Chi magazine.
Kate Middleton topless. Porn company now wants to run sexual pictures said to exist.
Kate Middleton topless. Photographer Valerie Suau said to have taken pictures…
Kate Middleton topless. Italy's Chi magazine plans to run 50 new intimate pictures.
Kate Middleton topless photos now published on Irish Daily Star and Italian gossip site Chi.
NSFW. Kate Middleton topless photos removed from Closer magazine's website. But should they have to?
NSFW: Kate Middleton topless nude photos stir privacy and royal debate.
Pippa Middleton wants to reassure you, you can still find her topless on the web.
NSFW: Kate Middleton's cousin Katrina Darling nearly loses her thong during burlesque striptease.