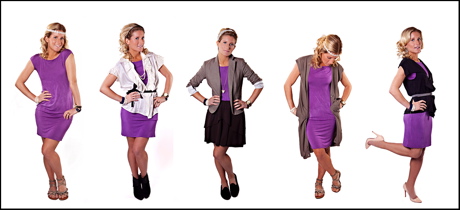 I was invited to attend close friend and eco-friendly designer Christine Marchuska's photo shoot at Haven to kick-off a busy "Earth" week; featuring Christine Marchuska in the EcoLux pop-up boutique in Grand Central and a variety of trunk shows in NYC.
After being introduced to model Jules Kirby "High Society" and "google alert media mess" (see Observer, Huffington Post, Gawker,Guest of a Guest, NY Post, Scallywag and Vagabond) I quickly learned that she is incredibly misunderstood (I will make my own decisions upon meeting someone, if that's alright) and if it wasn't mentioned at least a dozen times, she is not a "insert National Enquirer headline," although she certainly seems tough enough on the outside to handle the bashing she continues to receive. She reviewed a slew of negative comments on her blackberry while sitting for hair and make-up- evidently trading fame for scrutiny.
Kirby was styled to show 5 looks for the versatile "monika" and "leslie" dresses, available to purchase at The GreenShows EcoLux pop-up boutique in Grand Central's Vanderbilt Hall April 19th – April 24th.
SCV: How did you and Jules end up collaborating for c. marchuska?
CM: Jules is actively involved in the green movement; extremely eco-conscious and into eco-fashion, so we decided to join forces.  Today, we're trying to show the versatility of a few pieces in my collection because they can be worn many different ways; you can dress them up and you can dress them down.
JK: I love Christine's line. I have an ethological store (Jolika) located in France and her collection works along the same lines in terms of what we are both passionate about. I will be joining Christine in Times Square to listen to Mayor Bloomberg speak about Earth Day and will also put information and photos from the shoot on my blog.
SCV: Tell me more about your involvement with Earth Week
CM: In addition to the eco lux pop-up shop, we have 4 trunk shows going on this week (Monday-Thursday) at Pure Yoga boutiques.  April is just as busy as September (Fashion Week) for eco-designers.
In the end I had to give Jules her space as she contended with the busy influx of messages on her Blackberry, my eyes watching a slightly nervous Christine Marchuska.
Go to page 2 for more 'interesting' pictures of Jules.
The inside leak. Jules Kirby gets betrayed by her supposed best friends.
Diva Malik So Chic can no longer stand his co star Jules Kirby- the leaked memo.
The hot mess between Guest of a Guest and Jules Kirby continues…
The inside email exchanges that CW's 'High Society' doesn't want you to see. Jules Kirby and Malik so Chic confidential.
The trouble with Jules Kirby and 'Pest of a Guest.'