Robert Pattinson said to change number, wants nothing to do with Kristen Stewart.
Robert Pattinson fans hostilely respond to assertions that he is cheating behind Kristen Stewart's back.
Robert Pattinson not likely to discuss Kristen Stewart affair on Daily show.
Robert Pattinson wants to confront Rupert Sanders: 'You ruined my life!'
Robert Pattinson busted cheating behind Kristen Stewart's back. The proof here..
Robert Pattinson might reconcile with Kristen Stewart despite allegations he is now cheating.
Will Liberty Ross take Rupert Sanders back? Still not wearing wedding ring…
What?! Liberty Ross calls Kristen Stewart a downgrade for husband.
Kristen Stewart too ashamed to show face. Drops out of 'On the Road,' premiere.
Kristen Stewart now seen fighting in car park. The stress is unbearable.
No, Kristen Stewart did not surface from hiding to work out at the gym.
Rupert Sanders and Liberty Ross make up. A day after she shows up without wedding ring.
It seems the disillusionment at the hands of twilight fans (and anyone else who just wants to come along for the ride) is reaching a furious pace with reports that many of Kristen Stewart's previous fans (yes they all now hate her because she has refused to live up to the Virgin Mary complex of beauty, sanctity and purity that we expect of our matinee idols).
sugarscape: "Kristen's getting it from all angles," a gossipy pal told Grazia.
"On Twitter and on fan sites they're calling her a Trampire, and she's getting vile things in the post too, like pictures of her and Rob with her eyes burnt out with cigarettes.
"It's awful."
Jeez, we thought it was bad that we kept getting all those letters from the Spanish Lottery, but we guess we'll let Kristen win on this one.
"Kristen is in such a dark place right now," said another snitchy so'n'so.
Whilst Robert Pattinson has wisely kept quiet (why give the media ammunition?) Kristen Stewart's apology and rampant desire to make up with Rob have only inflamed her (ex) fans who are essentially calling out for her blood. How ironic, that one of Hollywood's most desirable well paid actresses has in such a short time gone from most beloved to most wretched. Then there were reports of the actress receiving death threats for being a slut via twitter too
What's the saying, a man can screw around and he's a hero where as  a woman on the other hand is a slut. Or in this case a 'trampire.' Such folly in a society that refuses to be honest with itself and passes off its own guilt and latent fantasies onto others. For now Ms Stewart will be forced to carry the crucifix of our collective sins until another actress or celebutante misbehaves. Lindsay Lohan must be so relieved….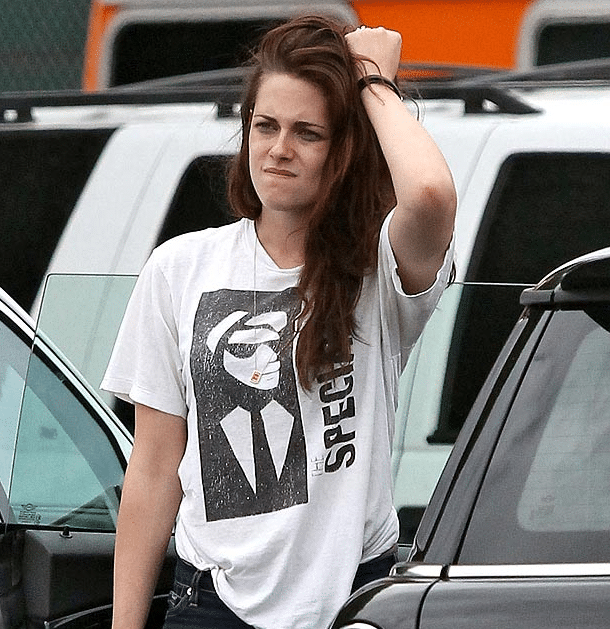 Kristen Stewart affair: Liberty Ross emerges without her wedding ring…
Robert Pattinson goes out partying hard to forget Kristen Stewart problems. 'The Brits were out of hand.'
Robert Pattinson to give his first post Kristen Stewart affair interview. What will he reveal?
Are Kristen Stewart and Robert Pattinson planning on 'Isle of Wight' emergency meeting? Don't bet on it!
Kristen Stewart finally explains why she cheated on Robert Pattinson.
Robert Pattinson accuses Kristin Stewart of having a new affair. Threatens producer.
Kristen Stewart is banned from Robert Pattinson's NYC Cosmopolis premiere. Is this a joke?
Kristen Stewart photos released. Do they show her cheating? Bra strap, kissing and groping….
Kristen Stewart hiding in producer's house crying hysterically. Hasn't showered in days.
Kristen Stewart's adulterer Rupert Sanders hasn't seen his wife since news of affair.