Kristen Stewart t shirts hit at all time low as actresses is dumped on.
Kristen Stewart and Robert Pattinson are given permission not to attend Twilight conventions.
Is Kristen Stewart mutilating herself? Said to be living on Red Bull and cigarettes…
Kristen Stewart to remain in hiding. Refuses to speak about Robert Pattinson.
Kristen Stewart dropped from the Snow White and the Huntman sequel.
Robert Pattinson appears on Good Morning America: 'The press is like a theme park ride.'
Robert Pattinson says that he 'disassociated' to get past Kristen Stewart affair….
Robert Pattinson parties at NY Premiere of 'Cosmopolis but doesn't take John Stewart bait….
Robert Pattinson said to change number, wants nothing to do with Kristen Stewart.
Robert Pattinson fans hostilely respond to assertions that he is cheating behind Kristen Stewart's back.
Robert Pattinson not likely to discuss Kristen Stewart affair on Daily show.
Robert Pattinson wants to confront Rupert Sanders: 'You ruined my life!'
Robbert Pattinson busted cheating. The complete breakdown right here. 
It just keeps getting crazier and crazier day and day. What to believe what to think. According to Radar Online R-Patz has noticeably cooled down over the past couple days and is now starting to talk about whether or not to give it another go with Kristen. He's reportedly been sharing his thoughts with several close friends, some of whom think he needs to move on as quickly as possible and some of whom think he shouldn't discount all the wonderful and happy times he had with Stewart over the past few years.
mercurynews: Last week, Pattinson allegedly stopped giving Stewart the silent treatment and began to answer her "tearful texts" and multiple phone calls. But according to In Touch magazine, Pattinson has only called Stewart after he's had a few too many drinks.
"He's been drunk dialing Kristen. Rob had been avoiding her calls, but now they're talking … well, they're barely talking. There's a lot of dead silence on the phone because there's not a lot to talk about," a friend of the actor told the magazine, who claims Rob has been "drinking like crazy" to numb his pain.
Since the cheating scandal broke a few weeks back, Pattinson has been spending time away from the watchful eye of the paparazzi, and with the exception of a recent night out with friends at an a bar in Ojai, he has stayed out of sight.
But that might be wishful thinking pursuant to a note that has been making the rounds, both jezebel and myself (I don't know who else yet?) received a dossier outlining purported cheating escapades at the hands of Robert Pattinson with various leading ladies, models, and even barmaids.
Then again if Rob and Kristen can get past it all and have an honest discussion what does it matter what happened in the past? Or does it?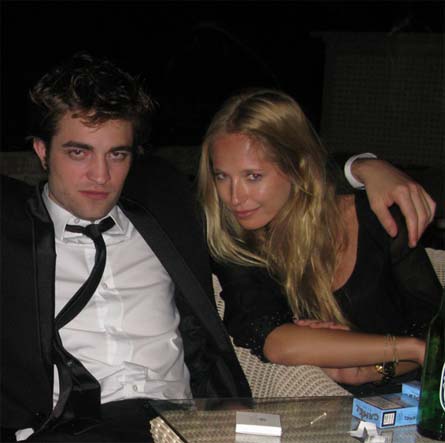 Will Liberty Ross take Rupert Sanders back? Still not wearing wedding ring…
What?! Liberty Ross calls Kristen Stewart a downgrade for husband.
Kristen Stewart too ashamed to show face. Drops out of 'On the Road,' premiere.
Kristen Stewart emerges as Trampire. Now receiving images of herself with her eyes burnt out.
Rupert Sanders and Liberty Ross make up. A day after she shows up without wedding ring.
Kristen Stewart now seen fighting in car park. The stress is unbearable.
No, Kristen Stewart did not surface from hiding to work out at the gym.
Kristen Stewart affair: Liberty Ross emerges without her wedding ring…
Robert Pattinson goes out partying hard to forget Kristen Stewart problems. 'The Brits were out of hand.'
Robert Pattinson to give his first post Kristen Stewart affair interview. What will he reveal?
Are Kristen Stewart and Robert Pattinson planning on 'Isle of Wight' emergency meeting? Don't bet on it!
Kristen Stewart finally explains why she cheated on Robert Pattinson.
Robert Pattinson accuses Kristin Stewart of having a new affair. Threatens producer.
Kristen Stewart is banned from Robert Pattinson's NYC Cosmopolis premiere. Is this a joke?
Kristen Stewart photos released. Do they show her cheating? Bra strap, kissing and groping….
Kristen Stewart hiding in producer's house crying hysterically. Hasn't showered in days.
Kristen Stewart's adulterer Rupert Sanders hasn't seen his wife since news of affair.