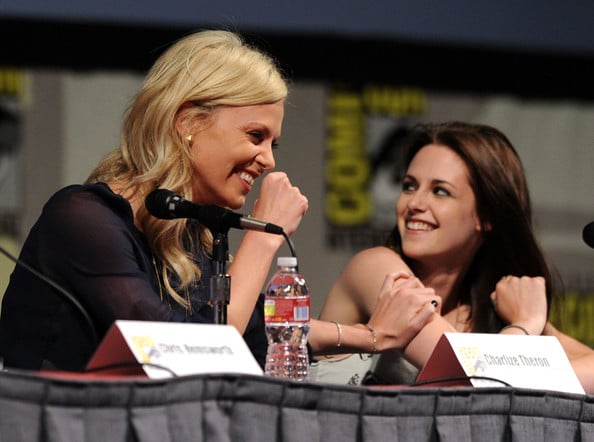 Kristen Stewart might be pregnant but she doesn't who the father is….
Kristen Stewart photos. Are the photos really just part of publicity set up?
Kristen Stewart and Robert Pattinson in custody dispute over their dog.
Kristen Stewart never had an affair says Liberty Ross' brother.
Kristen Stewart cheating photos with Rupert Sanders. How the paparazzi pulled it off.
Kristen Stewart apology thought to be career suicide reckon insiders.
Kristen Stewart did not have sex with Rupert Sanders insists producer Giovanni Agnelli.
Should Kristen Stewart have to apologize about having sex or not?
Robert Pattinson is urged to give up Kristen Stewart.
Robert Pattinson seeking comfort over Kristen Stewart affair with strangers
Robert Pattinson death hoax surfaces.
Robert Pattinson refuses to do any Twilight promo appearances with Kristen Stewart.
Kristen Stewart affair with Rupert Sanders went on for more than 6 months says Liberty Ross brother.
Did Robert Pattinson's friendship with Emilie de Ravin inspire Kristen Stewart to cheat?
Twilight bosses are panicking now that Kristen Stewart and Robert Pattinson have called it off.
Kristen Stewart and Robert Pattinson only communicating via heated texts.
Kristen Stewart's lover Rupert Sanders is forgiven by his wife, Liberty Ross
Kristen Stewart begs Robert Pattinson to have crises talks in NYC this week.
Kristen Stewart receives death threats via twitter for being such a slut…
Kristen Stewart cheating scandal; Robert Pattinson wants man to man talk with Rupert Sanders.
Kristen Stewart parodied in Snow White cartoon after cheating on Robert Pattinson
Did Kristen Stewart actually have sex with Rupert Sanders?
Charlize Theron is furious with Kristen Stewart for having an affair with Rupert Sanders. Or is she?
Was Rupert Sanders fixated with the young ingenue Kristen Stewart because she reminded him of a young Liberty Ross ?
Heartbroken Robert Pattinson was getting ready to propose to cheating Kristen Stewart.
Liberty Ross claims that she had to raise the kids all by herself, husband Rupert Sanders never there in the first place
Twilight mega fan Emma Clark leaves a memorable youtube response to Kristen Stewart caught cheating on Robert Pattinson.
Did Kristen Stewart cheat on boyfriend Robert Pattinson with married director Rupert Sanders?
Kristen Stewart begs her boyfriend Robert Pattinson to take her back after cheating on him
It's now Charlize Theron's turn to have a hissy fit!
Seems when it rains it pours and with the revelation that actress Kristen Stewart and 'Snow White and the Huntsman' director Rupert Sanders had a dalliance of sorts it's now time for the movie's co star,Charlize Theron to come out and express her appalled she is with Kristen Stewart.
Reports radaronline: The South African-born beauty, who struck up a friendship with K-Stew during filming of Snow White and the Huntsman, is also close pals with Liberty Ross, the wife of Sanders!
And Kristin's actions have left Charlize, 36, in a difficult position. 
And the melodrama continues….
"Charlize is absolutely fuming with Kristen for having an affair with Rupert," an insider revealed.
"She is very tight with Liberty, has often socialized with the family over dinner and cannot believe Kristin has done this.
"When they were filming Snow White and the Huntsman, Charlize felt like an older sister to Kristin, and they were always sharing advice.
Older sister, sharing advice? Hmm what kind of advice? How to steal married wife's husbands? For her part Charlize maintains that she had no idea that the two had been carrying on and feels simply betrayed by the incident.
Adds the source:
"It's certainly left Charlize between a rock and a hard place, because she feels great sympathy for Liberty and the kids and yet, she has a sisterly love for Kristen."
Yet according to gossipcop, the site is adamantly standing by its claim that Theron for her part has no feeling one way or the other about their dalliance and has emphasized that it has nothing to do with her
But more importantly, while this is an unfortunate situation for all parties, Theron is NOT involved and has NOT voiced her feelings on the subject.
A source close to the actress tells Gossip Copexclusively that Theron has been busy filming a movie in Africa, stressing, "This has nothing to do with her."
There's plenty of actual, legitimate emotion in this story already — there's no reason for outlets to make up rumors (with unrelated people) to further stir the pot.
No reason to make up rumors? Hmm that's another article all together.
So what do you think kids, is Charlize Theron really livid with Kristen or is just staying on the sidelines (at least publicly)?