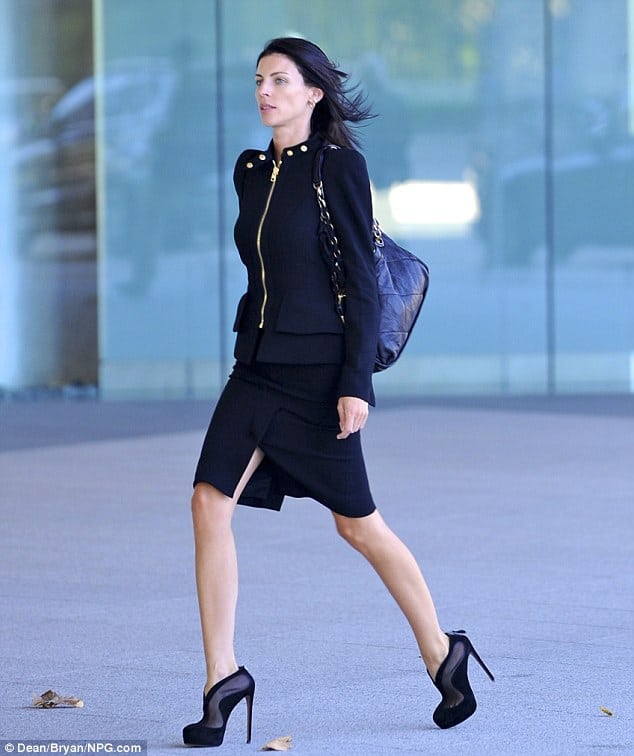 Robert Pattinson goes out partying hard to forget Kristen Stewart problems. 'The Brits were out of hand.'
Robert Pattinson to give his first post Kristen Stewart affair interview. What will he reveal?
Are Kristen Stewart and Robert Pattinson planning on 'Isle of Wight' emergency meeting? Don't bet on it!
All bets might be off now…
Looks like things are starting to get dicey in the Rupert Sanders/Liberty Ross household as pictures have now emerged with the scorned wife of the 'Snow White and the Huntsman,' director Rupert Sanders without her wearing her wedding ring. Ouch!
Dressed to kill in a designer navy suit with her wedding ring finger bare, it's now becoming apparent that Liberty Ross will not sit and just take it all, as she has thought to show a stiff lip to the assertions that her husband has been involved with Hollywood actress Kristen Stewart. Despite denials from both Sanders and Stewart that there was nothing more than just a momentary indiscretion (in other words no sex or long timed relationship) it appears that things now might be to the contrary as Liberty Ross makes her defiant statement.
Then there's this via hollywoodlife:  "When Liberty first found out about the affair she wanted to go to couple's therapy and save the marriage for the sake of her children. But now she believes it wasn't just a momentary fling. Liberty thinks Rupert fell in love with Kristen and is STILL in love with her. No amount of therapy is going to change the way Rupert feels about Kristen," a source close to Liberty tells us EXCLUSIVELY.
"Liberty is devastated that Rupert would do this to her and the kids. Her main priority is the welfare of her kids and all of her decisions have and will continue to be been made with this in mind."
The rebuff is the clearest sign yet that the model/actress might now leave Sanders despite initial assertions to the contrary. In fact so wracked with guilt is the director he has now gone out to say that he fears he has made the worst mistake in his life and now fears his wife might leave him. Walking amongst paparazzi today without her wedding band hasn't certainly alleviated those fears.
Her being in public without her wedding band also comes off the back off assertions that she hasn't allowed her husband to see since images of him with Kristen Stewart first appeared and that she had forbid Sanders of ever working with the actress ever again.
A source told RadarOnline: 'Liberty is not making this easy for Rupert.
'She is refusing to see him right now and has not spoken to him about if they have a future together or not.'
The 41-year-old filmmaker is allegedly so terrified Ross will refuse to forgive his infidelities, that she may even file for divorce.
The insider added: 'Rupert is willing to do absolutely anything and everything he can to save his marriage.
Of course the question remains what can the director do to save his marriage now that he has virtually gone and thrown all trust out the window?
For his part, Rupert Sanders was first seen in public on July 30th wearing his wedding band, perhaps as a sign to his wife that he repented but also an attempt to deflect negative attention towards himself as the press corps asked openly whether he was a goner.
Kristen Stewart finally explains why she cheated on Robert Pattinson.
Robert Pattinson accuses Kristin Stewart of having a new affair. Threatens producer.
Kristen Stewart is banned from Robert Pattinson's NYC Cosmopolis premiere. Is this a joke?
Kristen Stewart photos released. Do they show her cheating? Bra strap, kissing and groping….
Kristen Stewart hiding in producer's house crying hysterically. Hasn't showered in days.
Kristen Stewart's adulterer Rupert Sanders hasn't seen his wife since news of affair.