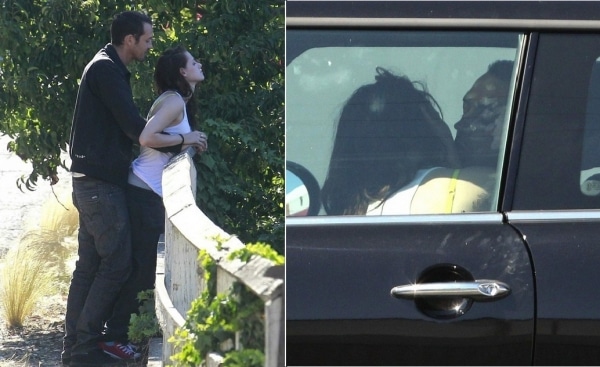 Liberty Ross bans Rupert Sanders from directing sequel to Snow White and the Huntsman starring Kristen Stewart.
Kristen Stewart is a fine actress. She is also a cheat and a liar.
Kristen Stewart and Robert Pattinson to promote Twilight film together
Kristen Stewart is not pregnant. Just a false alarm.
Kristen Stewart and Robert Pattinson are back to talking. Studio heads are now pressuring the couple to find resolution.
Kristen Stewart's parents take her back in whilst agreeing Robert Pattinson has every right not to take her back.
Robert Pattinson wants to talk to Liberty Ross to find out if Kristen Stewart actually had an affair.
Robert Pattinson hiding from Kristen Stewart at Reese Witherspoon's house.
Kristen Stewart might be pregnant but she doesn't who the father is….
Kristen Stewart photos. Are the photos really just part of publicity set up?
Kristen Stewart and Robert Pattinson in custody dispute over their dog.
Kristen Stewart never had an affair says Liberty Ross' brother.
Kristen Stewart apology thought to be career suicide reckon insiders.
Kristen Stewart did not have sex with Rupert Sanders insists producer Giovanni Agnelli.
At first they didn't recognize the man making out with the Hollywood starlet, but when they got back to the office that's when all hell broke loose…
When a paparazzo initially set out to follow Kristen Stewart he had no idea what waited for him. All he knew was that she had gone and collected a man in her Mini Cooper and by now were acting conspicuously as they made concerted efforts not to be seen. Knowing he was onto something the paparazzo followed the pair when suddenly they started kissing. It was then that he saw payola and called his agency. FameFlynet Pictures for reinforcement as he knew he had a live one.
It wasn't until after they returned to the agency to closely look at the photos did they realize that the man she had been kissing was 'Snow White and the Huntsman' director Rupert Sanders.
"Oh, my God, she's not just cheating on Rob — this guy is married and has kids," Scott Cosman, the owner of FameFlyNet, thought upon seeing the photos. "It was pretty scandalous, and it had so many different angles to it."
According to hollywoodlife, Melanie Bromley, a former West Coast bureau chief for Us Weekly, estimated the photos to be worth $250,000 — an amount the magazine likely spent on the exclusive images!
Dina Sansing, Us Weekly's entertainment director, added, "There was no question when we saw those pictures that this was going to be one of the biggest stories of the year — if not the biggest. And I'm not sure the 'Twilight' fans would have believed the news without the undeniable photographic evidence."
According to Melanie, US Weekly likely informed Kristen's and Rupert's publicists about the photos and impending story on July 23, before it was leaked online the next day.
"Usually, you go to the reps and they'll say, 'If you don't run those pictures, I'll give you this scoop instead,'" said Melanie. "But in this case, there was nothing the reps could barter."
It might in the end might be the pictures that damned Kristen Stewart as this was now undeniable evidence something was going on. To date she may have forever lost her boyfriend of 3 years, Robert Pattinson when he bailed out of their relationship and quite possibly her career as fans now begin to question the legitimacy of their demi god Kristen Stewart.
Should Kristen Stewart have to apologize about having an affair or not?
Robert Pattinson is urged to give up Kristen Stewart.
Robert Pattinson seeking comfort over Kristen Stewart affair with strangers
Robert Pattinson death hoax surfaces.
Robert Pattinson refuses to do any Twilight promo appearances with Kristen Stewart.
Kristen Stewart affair with Rupert Sanders went on for more than 6 months says Liberty Ross brother.
Did Robert Pattinson's friendship with Emilie de Ravin inspire Kristen Stewart to cheat?
Twilight bosses are panicking now that Kristen Stewart and Robert Pattinson have called it off.
Kristen Stewart and Robert Pattinson only communicating via heated texts.
Kristen Stewart's lover Rupert Sanders is forgiven by his wife, Liberty Ross
Kristen Stewart receives death threats via twitter for being such a slut…
Did Kristen Stewart have sex with Rupert Sanders?
Kristen Stewart begs Robert Pattinson to have crises talks in NYC this week.
Kristen Stewart cheating scandal; Robert Pattinson wants man to man talk with Rupert Sanders.
Kristen Stewart parodied in Snow White cartoon after cheating on Robert Pattinson
Charlize Theron is furious with Kristen Stewart for having an affair with Rupert Sanders. Or is she?
Was Rupert Sanders fixated with the young ingenue Kristen Stewart because she reminded him of a young Liberty Ross ?
Heartbroken Robert Pattinson was getting ready to propose to cheating Kristen Stewart
Liberty Ross claims that she had to raise the kids all by herself, husband Rupert Sanders never there in the first place
Robert Pattinson humiliated moves out of house shared with Kristen Stewart after she is caught cheating on him.
Kristen Stewart begs her boyfriend Robert Pattinson to take her back after cheating on him