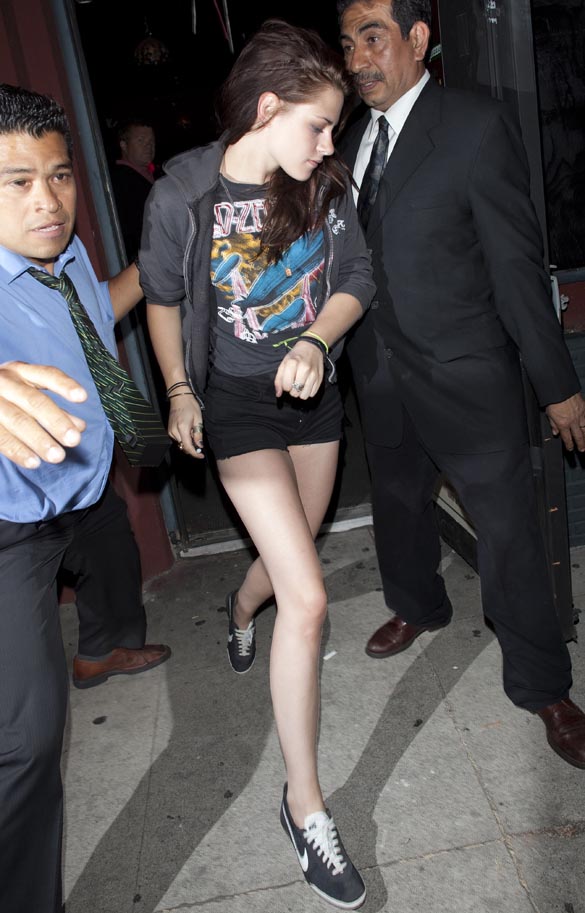 Robert Pattinson accusing Kristin Stewart of having a new affair. Called at 4am begging him to end it.
Kristen Stewart is banned from Robert Pattinson's NYC Cosmopolis premiere. Is this a joke?
Kristen Stewart photos released. Do they show her cheating? Bra strap, kissing and groping….
Kristen Stewart hiding in producer's house crying hysterically. Hasn't showered in days.
Kristen Stewart's adulterer Rupert Sanders hasn't seen his wife since news of affair.
Kristen Stewart might be pregnant but she doesn't who the father is….
Kristen Stewart photos. Are the photos really just part of publicity set up?
Kristen Stewart and Robert Pattinson in custody dispute over their dog.
Kristen Stewart never had an affair says Liberty Ross' brother.
Kristen Stewart cheating photos with Rupert Sanders. How the paparazzi pulled it off.
Kristen Stewart apology thought to be career suicide reckon insiders.
Kristen Stewart did not have sex with Rupert Sanders insists producer Giovanni Agnelli.
Should Kristen Stewart have to apologize about having sex or not?
Robert Pattinson is urged to give up Kristen Stewart.
Robert Pattinson seeking comfort over Kristen Stewart affair with strangers
Robert Pattinson death hoax surfaces.
Robert Pattinson refuses to do any Twilight promo appearances with Kristen Stewart.
Kristen Stewart affair with Rupert Sanders went on for more than 6 months says Liberty Ross brother.
Did Robert Pattinson's friendship with Emilie de Ravin inspire Kristen Stewart to cheat?
Twilight bosses are panicking now that Kristen Stewart and Robert Pattinson have called it off
Kristen Stewart and Robert Pattinson only communicating via heated texts.
Kristen Stewart's lover Rupert Sanders is forgiven by his wife, Liberty Ross
Kristen Stewart begs Robert Pattinson to have crises talks in NYC this week.
Kristen Stewart cheating scandal; Robert Pattinson wants man to man talk with Rupert Sanders.
Kristen Stewart parodied in Snow White cartoon after cheating on Robert Pattinson
Did Kristen Stewart have sex with Rupert Sanders?
It seems for some people the bounds of reality and fantasy are not easily distinguishable. Case in point the current drama involving Kristen Stewart  who has been implicated in an ongoing affair with 'Snow White and the Huntsman,' director Rupert Sanders.
For most people being caught in a web of lies would lead to some degree of admonishing from those who have directly and personally suffered from there. Not so when you are Kristen Stewart carrying the mantle of 'teen idol and virtuous barbie doll' that knows no right and can only ever behave like the princess she's suppose to be. Transgressing against your supposed obligations as a celebrity will in most cases here in America will lead to a bevy of javelins and bombs (metaphorically of course) being aimed at your skull for the sheer inconvenience of having disrupted some fan's bizarre illusion of immortality, morality, virtuousness and the thing that they too were desperately hoping for one day too.
I did come across this via huffpo which made me wonder:
In today's media climate, being a celebrity means that your life is on display as much as your work. We don't just judge people's talents, but also the personal brand they create for themselves. Their persona impacts their career just as much as their ability. It is hard to empathize with celebrities for having their dirty laundry (including their underwear) displayed for the world to sniff, because this what they signed up for. They get all their successes promoted to millions of people, so inevitably their failures will be just as interesting, if not more so. But there is something absurd about tearing apart a young woman because of her sexcapades.
So with no further ado let's examine some of the death threats streaming at Kristen's way (cause as we all know a woman is a dirty whore slut when she cheats, just ask anyone, right?)
via jezebel:
Of course for those of you curious why you animals do this shit, huffpo came up with some reasons, but personally I think it comes down to being insane, projecting your own insecurity and insanity onto others, and most probably because most people are bat shit stupid and fear having to actually come to terms with their own torpid identity.
Here's huffpo's take:
I think the true anger comes from the fact that they aren't rich and famous, with a rich famous boyfriend. Everyone could adore Rob and Kristen as a couple because they represented an ideal, something girls could wish for. But now Kristen has become easy to hate, for she is not only dating Rob, but also has the audacity to treat him like a *gasp* regular guy! How dare she!?
Because they aren't rich or famous? Hmm, how about because they're not brave or courageous to look at the empty thing that floats inside their rib cages….sucking at anything that doesn't belong to them to cover the stinking pool of self hate and self loathing. Can I be even more clearer you little wenches for sending death threats to movie teen idols?
Charlize Theron is furious with Kristen Stewart for having an affair with Rupert Sanders. Or is she?
Was Rupert Sanders fixated with the young ingenue Kristen Stewart because she reminded him of a young Liberty Ross ?
Heartbroken Robert Pattinson was getting ready to propose to cheating Kristen Stewart
Liberty Ross claims that she had to raise the kids all by herself, husband Rupert Sanders never there in the first place
Robert Pattinson humiliated moves out of house shared with Kristen Stewart after she is caught cheating on him.
Kristen Stewart begs her boyfriend Robert Pattinson to take her back after cheating on him
Twilight mega fan Emma Clark leaves a memorable youtube response to Kristen Stewart caught cheating on Robert Pattinson.
Did Kristen Stewart cheat on boyfriend Robert Pattinson with married director Rupert Sanders?