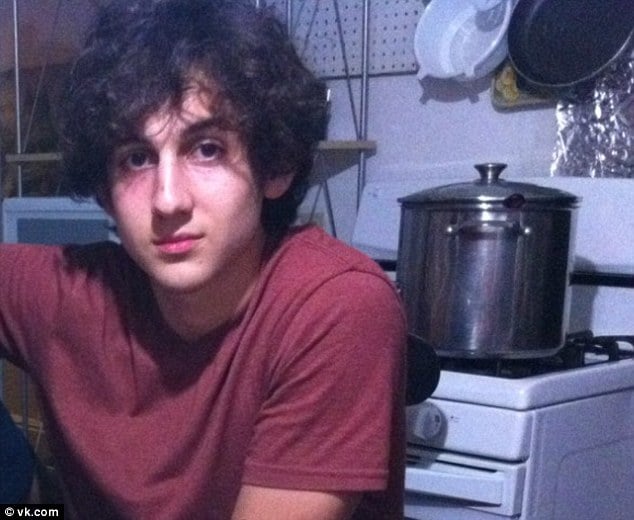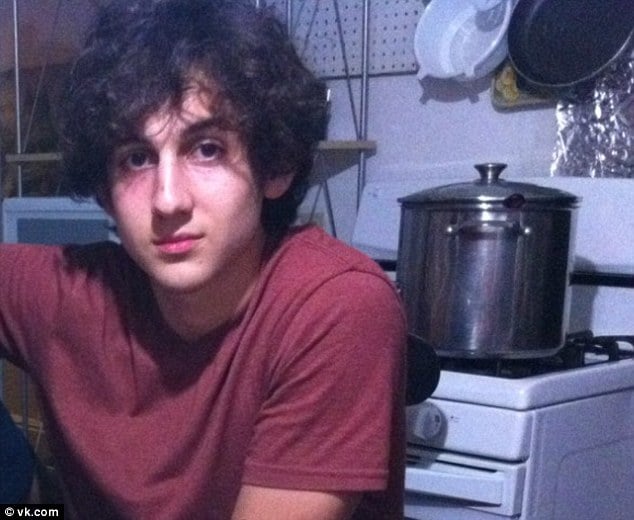 Why did Dzhokhar Tsarnaev delete his Instagram account before bombing?
Did Dzhokhar Tsarnaev and his brother act alone?
Tamerlan Tsarnaev called his wife a slut and prostitute.
Dzhokhar Tsarnaev: Why denying his rights should concern us.
Dzhokhar Tsarnaev planned more bombings according to new proof.
Dzhokhar A. Tsarnaev manhunt leads to reporter saying 'I don't know shit' live on NBC.
Dzhokhar A. Tsarnaev partied his ass off Wednesday night.
Dzhokhar A. Tsarnaev barely clinging on to life. Might die.
Dzhokhar A. Tsarnaev an 'angel' who lost his way.
Dzhokhar A. Tsarnaev now gets busy with twitter. Tweeting updates.
Dzhokhar A. Tsarnaev manhunt leads to false leads and media chaos.
In a new chilling revelation, it has been now revealed that Boston Marathon bombing suspect Dzhokhar Tsarnaev tweeted (with tweeter handle @J_tsar) the following the day of the blasts: 'Lol those people are cooked.'
The tweet since deleted once again shows the duplicitous nature of the 19 year old who many friends have had a hard time believing was involved in the bombing whilst his tweeter feed on the other hand has shown a capacity for the venomous and sadistic.
Less than three hours the attack, Dzhokhar also took to Twitter to post the following message at 5:05pm that Monday :'Ain't no love in the heart of the city, stay safe people.'
But just a few hours later he began an exchange with a friend, with the Twitter handle @MelloChamp, in which the 19-year-old which presumably referenced the bombing; 'lol those people are cooked.'
It has been difficult to ascertain the nature of the conversation as @MelloChamp has since deleted his profile on the micro blogging website, as have many of the other users linked to the suspect's account.
Ironically the last tweet Dzhokhar Tsarnaev wrote was on Tuesday at 10:43pm, 'I'm a stress free kind of guy.'
At present Dzhokhar Tsarnaev faces multiple charges including using and conspiring to use a weapon of mass destruction resulting in death and malicious destruction of property resulting in death, in connection to the bombings.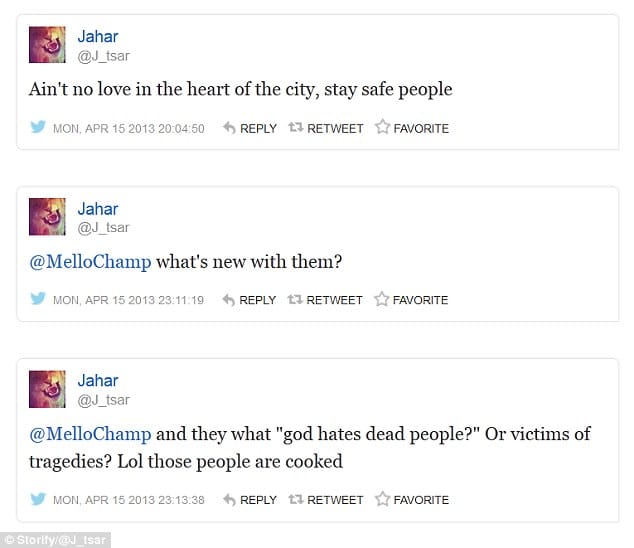 Dzhokhar A. Tsarnaev and his brother Tamerlan Tsarnaev foreign terrorists?
Dzhokhar A. Tsarnaev. Boston Marathon Bombing suspect- part of a terrorist cell?
Boston Marathon Bombing suspects. One dead one still on the loose.
Boston Marathon bombing Morrocan suspects denies involvement after lynched by the NY Post.
NY Post Editor Col Allan is a douche bag reckons gawker.
Boston Marathon Explosion. Media eyes two backpack carriers as suspects.
Boston Marathon Bombing. Police insist no suspect or arrest made.
Boston Marathon Bombing Conspiracy theory now includes left and right wing assaults.
Boston Marathon bombing. No suspects no leads, man of interest sought.
Boston Marathon Bomb. 2 dead, 64 injured with missing limbs.