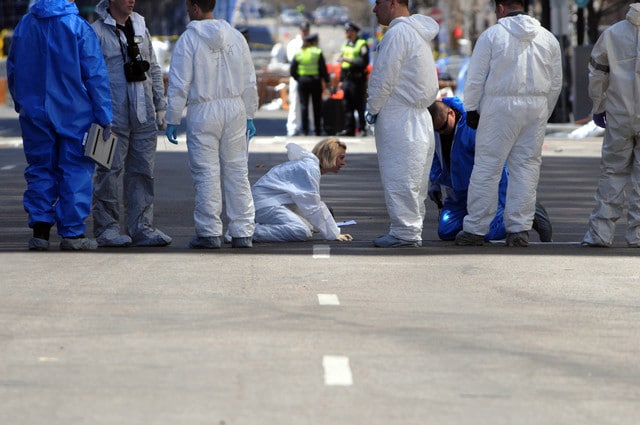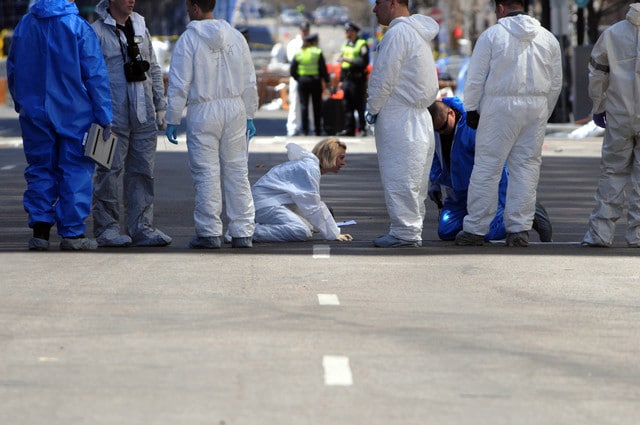 Boston Marathon Bombing suspects. One dead one still on the loose.
Boston Marathon bombing Morrocan suspects denies involvement after lynched by the NY Post.
Boston Marathon Bombing. Police insist no suspect or arrest made.
Boston Marathon Bombing Conspiracy theory now includes left and right wing assaults.
Boston Marathon bombing. No suspects no leads, man of interest sought.
Boston Marathon Bomb. 2 dead, 64 injured with missing limbs.
In the rush to bring to justice the perpetrator(s) of Monday' Boston Marathon explosion media reports are now suggesting that video footage courtesy of a local department store may lead authorities closer to an arrest.
Tells the latimes: U.S. counter-terrorism and law enforcement officials told The Times that a department store video caught images of one man leaving a backpack near the finish line. A second federal official said he has been told that authorities believe a second video or photo showed "two men with two backpacks."
A counter-terrorism official said the men were picked out because they were carrying black backpacks, as well as because of their demeanor and how they reacted to the bomb blasts. That official said authorities do not yet know the identities of those in the videos.
The report comes after an initial report earlier this afternoon that a suspect had been arrest and being brought forward by afp which led to an avalanche of speculation courtesy of the media, who were then forced to backtrack when the FBI publicly disclosed indeed no suspect had been brought forward what so ever.
"Contrary to widespread reporting, there have been no arrests made in connection with the Boston Marathon attack," the FBI said.
"Over the past day and a half, there have been a number of press reports based on information from unofficial sources that has been inaccurate. Since these stories often have unintended consequences, we ask the media, particularly at this early stage of the investigation, to exercise caution and attempt to verify information through appropriate official channels before reporting,"
The latest point of interest of query now lends itself to vague sightings that some wonder is simply at best no different than clutching at straws as the public and the media rush to bring to justice the violator of our collective dreams. In the interim hundreds of investigators in Boston and Washington continue to comb through more than 2,000 video and still images of the race route, searching for clues that might help determine whether the bombings were an act of domestic or foreign terrorism, planned by an organized enemy or a lone actor.
One can only imagine how fast the media will be to triumphantly tell us when the next possible suspect is found, assuming it all happens whilst public interest remains high…