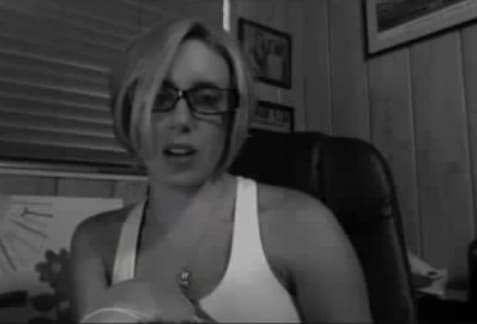 BOMBSHELL TONIGHT! In the ongoing saga known as who actually leaked images and videos of Casey Anthony at the beginning of the year and why, chief suspect and presumed mouth piece for Ms Anthony, Holly Briley has this evening provided another piece of evidence as to the actual identity of the leaker.
Promising to once and for all let the cat out of the bag Holly Briley took to identifying the identity of the individual who "gave" her and husband Jon Briley the first video diary of Anthony. But dare we believe her? The tweets below…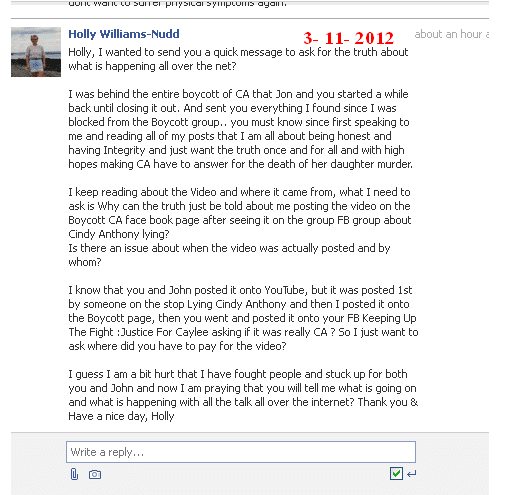 Why not just tweet the name and be done with it? No, of course not. Holly had to perfect her photoshopping skills before her big reveal.
As most know by now, the Briley's have been known to photoshop many a thing in the past. And wait! If you go back to Briley's appearance on Nancy Grace, Holly states that they found the video on a "Pay Per View" site – now all of a sudden a woman by the name of Holly Nudd gave it to them?! Yeah…not buying it. These folks certainly need a lesson in lying.
With that discrepancy, one can only assume that "Holly Nudd" is a figment of Holly Briley's colorful imagination; a weak attempt by Ms. Briley to get hits on her pathetic blog and another made-up name in attempt to get the heat off of herself and her husband, much like "Amelia Sobel" who was later found out to be the work of the Briley's son, Brittian Sanders. I'm afraid it's looking like the only "person" who gave anyone permission to reveal anything was the voice in Ms. Briley's head.
There's medication for that kind of disorder, you know.
Sidenote: the definition of "nudd" is a rather interesting one. According to Urban Dictionary, "A person who when competing would rather take the easy, no skill involved way of winning and then talk a lot of smack about it rather than relying on skill for the victory." Sounds about right in this case!
The public meltdown of Casey Anthony mouthpiece Holly Briley
Casey Anthony: "I'm really happy" in new video diary
Breaking: More new Casey Anthony photos emerge.
Latest probation report shows Casey Anthony is still jobless but at least off drugs and alcohol.
Casey Anthony- Unloved and disavowed. How one woman became a nation's punching bag…
A portrait of Casey Anthony: Hello God, it's me Casey? Who will save me?
Casey Anthony leaker, Holly Briley caught attempting to extort high profile lawyer Kim Picazio.
A morbid fascination with the Casey Anthony saga and why it still persists.
Busted: Evidence shows up that Casey Anthony herself is complicit in recent video leaks.
 Leads point to Casey Anthony back door deal.
'Source: Casey Anthony making multiple visits to family home, tensions sky high.'
Shocking: Holly Briley aka Ameliasobel the Casey Anthony leak now begins a campaign of threats.
Breaking: Casey Anthony said to receive police escort off church grounds as angry residents gather.
Team Casey Anthony comes hitting after twitter handler. Are they hiding something?
Casey Anthony offered $1 million blood money interview.
Breaking: Casey Anthony could be going back to jail.
Local strip club offers Casey Anthony a job as a stripper
Mystery leaks continue anew with fresh photos 4 days after Casey Anthony lawyer resigned. Suspicious?
Breaking: New photos of Casey Anthony leaked on twitter. Mystery leaker intensifies.
Casey Anthony claims Caylee was conceived after she passed out drunk.
Baez & Sims to Casey: "We QUIT!"
Casey Anthony is now set to dump her lawyer big cheese Jose Baez.
Breaking: Paul Francisco, mystery Florida record producer comes forward to insinuate that he knows who leaked Casey Anthony tapes.
Casey Anthony reportedly offered $350 000 for blood money interview.
Are these topless photos of Casey Anthony real?
Breaking: Leaks of Casey Anthony's supposed new boyfriend rampant on twitter.
Casey Anthony video. Did the bixch leak it or was she hacked? Dating new lover.
Would you pay $25,100 for a Casey Anthony latex rubber mask? The things they're bidding for EBAY right now.
Media outlets said to be bidding up to $1.5 million for Casey Anthony's story. Kiss goodbye to ethical journalism.
AMERICA'S MOST HATED 'MOTHER' SET FREE AT APPROXIMATELY 12.13AM SUNDAY MORNING.
Looking like Casey Anthony this weekend just might get you killed. One woman's near death experience.
How the Casey Anthony case came to expose the trauma of living in modern day America.
Casey Anthony pulls off the impossible: NOT GUILTY.
THE STAKES JUST GOT HIGHER. JUDGE RULES AMERICA'S FAVORITE BABY MURDERER IS FIT TO STAND TRIAL.