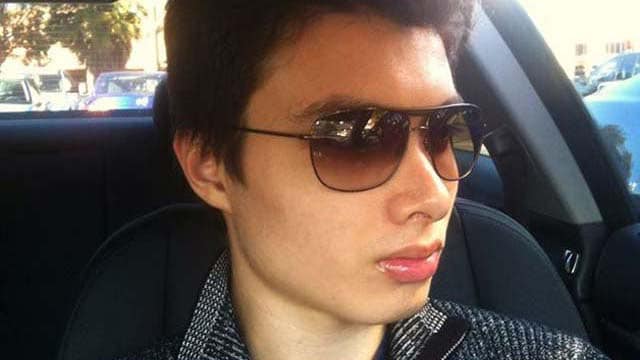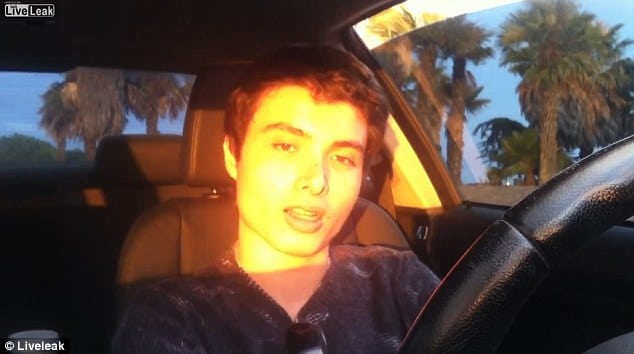 Elliot Rodger, a Californian 22 year old man last night wreaked havoc on the college town of Isla Vista, shooting dead 6 individuals as he roamed in a black BMW shooting bystanders all because women had rebuffed his sexual advances.
Along with killing 6 individuals during the drive by shootings, Elliot Rodger also came to injure 7 other individuals before losing his own life. At present it is not understood whether he was killed during a shoot out with authorities or whether he took a gun to himself.
Elliot Rodger planned to kill his 6 year old step brother and step mother 
Will Peter Rodger agree to meet Richard Martinez? Demands meeting. 
Philip Bloeser: 'Elliot Rodger wanted to rape women,' avoids being murdered too 
Elliot Rodger gay says Fox news psychotherapist Dr. Robi Ludwig 
Mahbod Moghadam fired for saying Elliot Rodger's sister is 'smoking hot.' 
Monette Moio is the model that teased Elliot Rodger that made him hate women. 
Elliot Rodger hailed a hero on PUAHate, women hating pick up artist site. 
Elliot Rodger's parents read manifesto and rushed to call cops 
According to Santa Barbara County Sheriff Bill Brown Rodger, the youth exchanged gunfire with deputies before driving off and crashing into a parked car. Rodger would be found by detectives dead with a mortal shotgun wound to the head.
Offered Brown of the calamity: '…this was the work of a madman.'
Just days and hours ahead of the shoot out, Elliot Rodger had posted a youtube video (see below) ominously titled 'Elliot Rodger's Retribution,' where he promises to unleash lethal venom as a result of being romantically rejected.
Tells the young man in the 7 minute video: 'I'm 22 years old and I'm still a virgin. I've never even kissed a girl,' 
'College is the time when everyone experiences those things such as sex and fun and pleasure. But in those years I've had to rot in loneliness. It's not fair. You girls have never been attracted to me. I don't know why you girls aren't attracted to me. But I will punish you all for it,' 
During the course of the video, Elliot Rodger repeatedly promises to 'punish' women and lays out his plan for 'retribution.'
'I'm going to enter the hottest sorority house of UCSB and I will slaughter every single spoilt, stuck-up, blonde s**t that I see inside there. All those girls that I've desired so much, they would've all rejected me and looked down on me as an inferior man if I ever made a sexual advance towards them,' 
And then the warning that he is about to strike:
'This is my last video. … It has come to this. Tomorrow is the day of retribution. … My life is so lonely and mundane. I have no friends, no girlfriends, no love, no sex.'
'… I'm not allowed to enjoy life in this world, because I've been cast out. No one likes me. No one accepts me.'
Rodger's twitter account has only two tweets, posted on April 19 and 20. Both of which allude to his sexual frustrations and rejection at the hands of the opposite sex.
'Why are girls sexually attracted to obnoxious, brutish men instead of sophisticated gentlemen such as myself? #girls #perverted #sex #unfair,' reads the first.
'Why do girls hate me so much?' posted the youth on April 20, along with a now-deleted YouTube video.
His facebook account had an array of selfies of himself posted just hours before his rampage but no warnings or hint of what lay ahead later that evening.
Asked to reflect on the video, Santa Barbara County Sheriff Bill Brown Rodger told the following: 'We have obtained and are currently analyzing both written and videotaped evidence that suggests this atrocity was a premeditated mass murder,' 
To date what is known about the youth is that he is believed to be the the son of Peter Rodger, assistant director of the Hollywood film franchise The Hunger Games as well as a Santa Barbara City College student and Isla Vista resident.
Brown would tell during early Saturday morning press statements that the shootings occurred at several sites in the town, resulting in nine crime scenes.
Santa Barbara County sheriff's spokeswoman Kelly Hoover told KEYT-TV the gunfire broke out around 9:30 p.m. Friday in the Isla Vista neighborhood.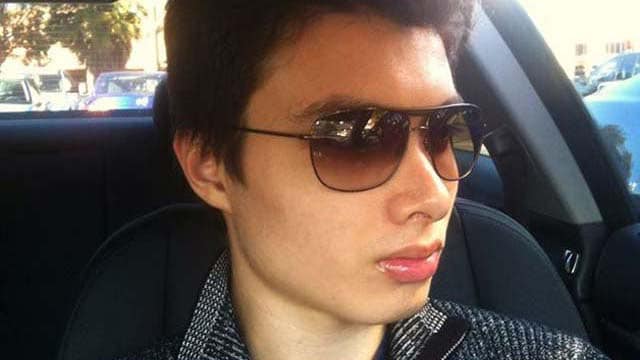 A student told the station he saw shots fired from a BMW, fatally striking one woman and critically injuring another woman.
'I heard shots, scream, pain,' Michael Vitak said. 'All emotions. I hope she is going to be fine.'
The station said a black BMW slammed into as many as two cars.
The shooting prompted officials to issue alerts urging people to stay indoors.
Isla Vista is known for parties, including an annual spring bash that turned into a violent blowout last month as young people clashed with police and tossed rocks and bottles. A university police officer and four deputies were injured and 130 people were arrested.
Elliot Rodgers murdered roommates identified. George Chen, Weihan Wang, Chen Yuan Hong. 
The priviliged life of Elliot Rodger: Private first class flights and $40K BMW coupe gift 
Did Elliot Rodger really kill cause he was a misogynist? Feminists fallacies… 
Elliot Rodger friends thought he was a serial maker in the making 
Are cops to blame for missing Elliot Rodger plot? Found him polite… 
Who were Katie Cooper and Veronika Weiss victims of Elliot Rodger? 
Elliot Rodger tried storming sorority, mutilated 3 roommates and had 410 rounds of ammo left 
Elliot Rodger three bodies found in his apartment. Lured and stabbed. 
Elliot Rodger manifesto, 'My twisted world' found. 140 pages 
Elliot Rodger posted on male virgin site of plans. Users begged him to stop. 
Elliot Rodger was so mentally ill his father called the cops on him 
Elliot Rodger posted 'Why do girls hate me so much video' before shoot out. 
Elliot Rodger hated women, belonged to 'Anti Pickup Artist Movement.'