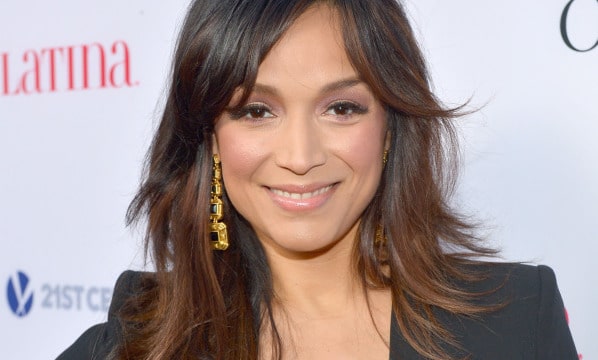 Mayte Garcia Prince ex wife: How the musician left a promising dancer forever starstruck and perplexed during their bizarre and heart breaking love affair.
Mayte Garcia, Prince's first wife has told of her heartbreak upon learning of her former husband, Prince Roger Nelson's death Thursday morning at his Paisley Park estate.
In a statement with people the now 42 year old woman, of Puerto Rican descent, who was just 22 when she married the iconic singer on Valentines day in 1996 told of her belief that he was now with their baby son in heaven.
The comment comes after the former couple's child died a week after being born with a Pfeiffer syndrome, a rare disorder that does not allow the head of a baby to grow properly due to premature fusion in the womb.
Told the Los Angeles based Mayte Garcia: 'I can't even think of the words of what I'm feeling. This man was my everything, we had a family. I am beyond deeply saddened and devastated.'
Adding: 'I loved him then, I love him now and will love him eternally. He's with our son now.'
Despite great hope for the future the couple would split come 1999, annulling their marriage on their third wedding anniversary.
According to a report via the dailymail, the pair met after Mayte Garcia's mother submitted a video of the then 16-year-old dancing to Prince's team in 1990 and soon after she was hired to be a part of his Diamonds and Pearls Tour.
She was still a teenager two years later when she became the focus of Prince's 1992 album whose title was an unpronounceable symbol and later became known as Love Symbol.
Prince also wrote his 1995 hit song 'The Most Beautiful Girl in the World' about Garcia.
After their divorce Garcia had a two-year relationship with drummer Tommy Lee, but has said in multiple interviews that she will always love her ex-husband.
'He wasn't a junkie' L. Londell McMillan Prince lawyer slams drug rumors
Prince criminal murder probe not ruled out as hunt for rogue doctor begins
Tyka Nelson: 'Prince had no will,' files to be executor of estate
'It's going to kill him' Prince had problem with cocaine, percocet half siblings told
Prince stayed awake for six days prior to death. What was he on?
Prince business affairs chaos: Lawyers scrambling after death
Tyka Nelson not competent to manage Prince music rights says former manager
Prince funeral cost $1645. Ashes taken to secret resting place
Why was Prince cremated hours after autopsy?
Prince drug dealer: 'He spent $40K at a time for Dilaudid and Fentanyl'
Prince: How Jehovah's Witness saved him. The contradiction of a pansexual
Who will inherit Prince's $300m fortune?
Was Prince killed by painkiller addiction, Percocet? A growing statistic of drug mortality in America
Prince Rogers Nelson dead: Unresponsive inside elevator at Paisley Park
Prince's ex-wife and the mother of his only child Mayte Garcia says, 'He's with our son now' https://t.co/LOhD9bbvjK pic.twitter.com/BXB3kyMY9I

— Daily Mail Celebrity (@DailyMailCeleb) April 21, 2016
Prince's ex-wife Mayte Garcia comments on the icon's passing: He was "my everything": https://t.co/tOaD9Y0O92 pic.twitter.com/6nZkCpM9J2

— Entertainment Weekly (@EW) April 21, 2016
Conceding she could never get her relationship with Prince out of her head, Mayte Garcia in an interview with the mirror last year told how her love affair with Prince had forever left her screwed.
Told Garcia: 'When we met I was a virgin and had never been with anybody.
'I'd always been a very focused dancer and very protected.
'Prince was my first crush, and my first love, but we didn't start to get serious until I turned 18. He was very respectful.'
Of their first kiss, Garcia told: 'I remember our first kiss, and thinking, 'Oh God, oh wow, this is not happening!'
'I remember it being overwhelming and weird. Our entire time together was amazing and surreal, and he showed me some incredible things and introduced me to incredible people.'
Of the love songs the singer had dedicated to her, Mayte Garcia mused: 'All the songs he wrote for me, that's a pretty hard act to follow. I've dated a couple of guys, musicians, who have written me poems or songs and I'm like, 'Seriously, don't even go there. You can't compete!'
Adding: 'But I think I'm now screwed for life because my first relationship was the most bizarre relationship ever and I'm not normal any more. I've kind-of been spoiled and I guess I am kind-of screwed-up now.'
Yet it in the end it was the death of their child which Garcia argues is what led to their demise of their relationship.
Told Garcia: 'I believe a child dying between a couple either makes you stronger or it doesn't.
'For me, it was very, very hard to move forward and for us as a couple I think it probably broke us.'
That said the couple were still able to maintain civility with each other.
Told Garcia: 'We last spoke about five years ago when I reached out to him. There is no animosity or bad blood, and he was my husband and the father of my child. So although I am not actively in love with him, I will always love him – he's a great guy.'
Since breaking up with Prince in 2000, and dating Mötley Crüe rocker Tommy Lee for two years, Mayte Garcia these days successfully pursues an acting career, along with running a rescue mission for animals, called Mayte's Rescue. Two years ago she adopted her daughter, Gia, now three-and-a-half.
Prince to Kim Kardashian: 'Get off the stage bitch, this is America'
Prince autopsy: Will toxicology results reveal opiate addiction?
Tyka Nelson, Prince's musician sister: 'I never asked him for favors'
Did drug overdose kill Prince? Flu stopover was really for opiate heroin fix
'Crack cocaine addict' Vanity Prince's ex girlfriend Denise Matthews also died aged 57 this year
Manuela Testolini Prince's ex wife: 'Im not okay'
.@maytegarcia and #Prince on the cover of @VogueSpain's October1999 issue. https://t.co/vV1CcmNUUE pic.twitter.com/KKpducYkpi

— Latina Magazine (@Latina) April 21, 2016
Who is Mayte Garcia, Prince muse and ex-wife who called their relationship bizarrely… https://t.co/BM6VaxbOYp pic.twitter.com/lAaxNuNWVM

— IBTimes UK (@IBTimesUK) April 21, 2016