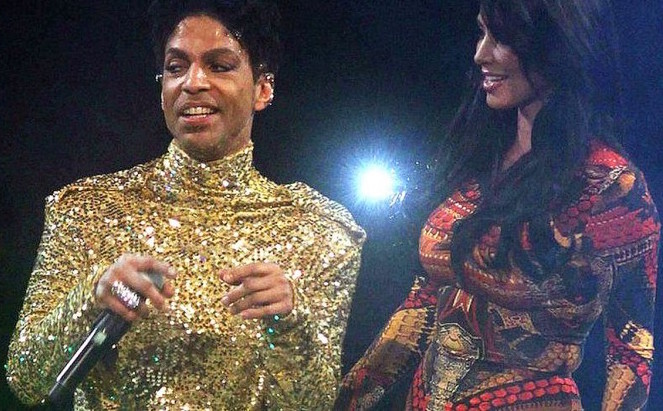 Prince Kim Kardashian: Cause a cultural icon will never let a make believe marketing tool ever throw shade on him. How a creative force threw shade on a pretender.
While Kim Kardashian might be living under the delusion that she actually means anything to America, notable music legend, Prince set the record straight for the media whore during one performance in 2011 where he let the reality starlet know that the buck/charade stopped with him when he kicked her off stage.
The nostalgic walk back comes courtesy of a video clip unearthed (see below) in the days after Prince's death (yes eventually we were all resigned to go back to talking about Kim Kardashian or at the very least somehow linking her irrelevancy to that of an icon's passing- 'dailymail I hate you!') in which Prince paid shade on the great marketing pretender.
The incident took place at Madison Square Garden during Prince's Welcome 2 Tour, where at the time, according to a report via rollingstone, 'Prince hunts for a lady in one of the front rows to join him on stage, flirting and lightly chiding his audience members.'
It's at that moment, Prince spots Kim Kardashian in the front row (are you surprised?) and relishing in her presence asks the reality starlet to get up and join him.
From there the artist begins dancing around the reality starlet, yet here's the catch. Kim can't dance. Kim doesn't want to dance. The entreaty is too impulsive, not staged correctly and then there's the added inconvenience that Kim is simply an overpaid vapid ornament, and asking her to evoke a patina of savior faire, spunk is presumably just wishful thinking.
'Love letters to Kim Kardashian I do not write….'
Standing there, not particularly impressed with being put on the spot ('I'm an ornament God damn' it, not a rock star like you') Kim begins to laugh nervously, even putting her hand on Prince's shoulder as to get him to stop.
'Stop bitch. Just smile. Take a selfie with me at least.'
But this is the stage, and this is what the audiences have come to see, a real performance, a legend, an icon who can resonate, evoke, inspire and challenge. This in short is the wrong stage for Kim and she needs to get off now. And just like that, Prince turns his back on the reality starlet and tells her to 'Get off my stage,' adding 'This is America'
And with the passing of iconic idol Prince, a death that has hit so many of us so hard, cause deep down he really is/was one of the last rock starts standing, there are so many few left, and Kim Kardashian for all her (and her extended family's) marketing and social media cache, will never sadly have the spunk, the verve and the creative genius which used to see notables get up on the stage and stay there.
At least Prince had it right, didn't he?
'He wasn't a junkie' L. Londell McMillan Prince lawyer slams drug rumors
Prince criminal murder probe not ruled out as hunt for rogue doctor begins
Tyka Nelson: 'Prince had no will,' files to be executor of estate
'It's going to kill him' Prince had problem with cocaine, percocet half siblings told
Prince stayed awake for six days prior to death. What was he on?
Prince business affairs chaos: Lawyers scrambling after death
Tyka Nelson not competent to manage Prince music rights says former manager
Prince funeral cost $1645. Ashes taken to secret resting place
Why was Prince cremated hours after autopsy?
Prince drug dealer: 'He spent $40K at a time for Dilaudid and Fentanyl'
Prince: How Jehovah's Witness saved him. The contradiction of a pansexual
Who will inherit Prince's $300m fortune?
Was Prince killed by painkiller addiction, Percocet? A growing statistic of drug mortality in America
Prince autopsy: Will toxicology results reveal opiate addiction?
Tyka Nelson, Prince's musician sister: 'I never asked him for favors'
Did drug overdose kill Prince? Flu stopover was really for opiate heroin fix
Mayte Garcia Prince ex wife: 'My love for him screwed my life'
'Crack cocaine addict' Vanity Prince's ex girlfriend Denise Matthews also died aged 57 this year
Manuela Testolini Prince's ex wife: 'Im not okay'
Prince Rogers Nelson dead: Unresponsive inside elevator at Paisley Park