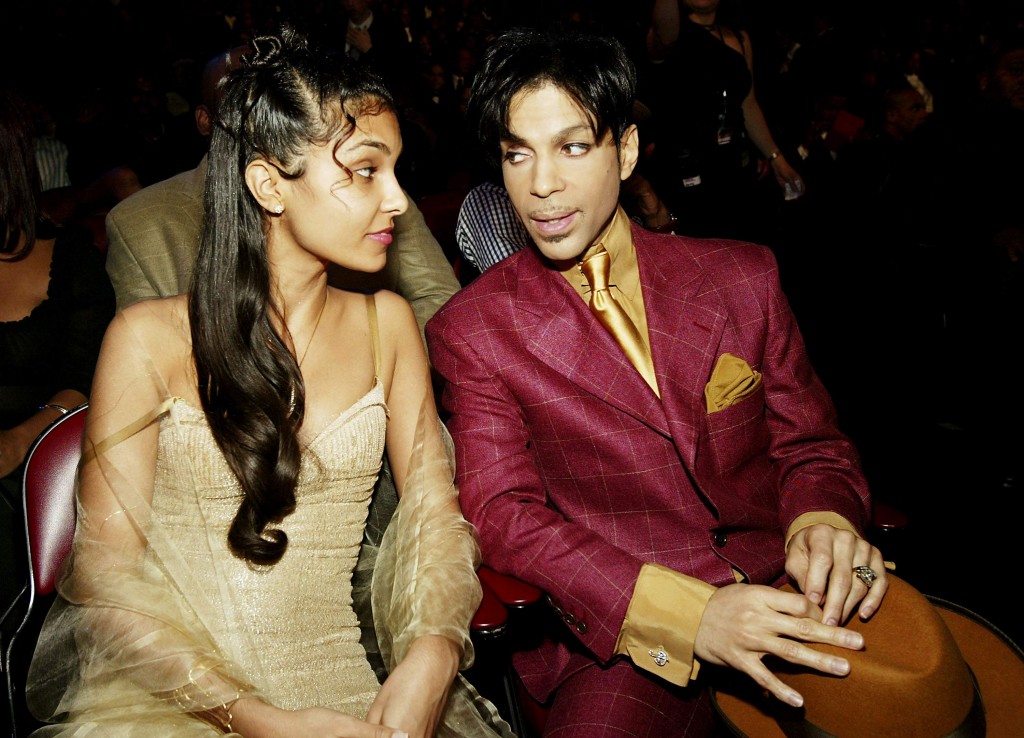 Manuela Testolini Prince's ex wife confides that she is struggling to take in her ex husband's death. How love left the singer broken hearted after divorce.
Manuela Testolini a Canadian business woman formerly married to deceased musician entertainer Prince for five years before their divorce in 2006 has told of her deep loss after new of Prince Rogers Nelson's death Thursday morning.
Told Prince's former wife via a report via radaronline: 'I'm not okay.'
Her five year marriage to Prince would leave the singer devastated when in 2006, five years after marrying in 2001, Testolini walked away from her marriage.
In the end, her marriage to the iconic entertainer proved to be too much for Manuela Testolini who craved anonymity and living a simple life unlike her larger than life husband. 
'He wasn't a junkie' L. Londell McMillan Prince lawyer slams drug rumors
Prince criminal murder probe not ruled out as hunt for rogue doctor begins
Tyka Nelson: 'Prince had no will,' files to be executor of estate
'It's going to kill him' Prince had problem with cocaine, percocet half siblings told
Prince stayed awake for six days prior to death. What was he on?
Prince business affairs chaos: Lawyers scrambling after death
Tyka Nelson not competent to manage Prince music rights says former manager
Prince funeral cost $1645. Ashes taken to secret resting place
Why was Prince cremated hours after autopsy?
Prince drug dealer: 'He spent $40K at a time for Dilaudid and Fentanyl'
Prince: How Jehovah's Witness saved him. The contradiction of a pansexual
Who will inherit Prince's $300m fortune?
Was Prince killed by painkiller addiction, Percocet? A growing statistic of drug mortality in America
At the time when the pair married, she was 24 and he 43, having fallen for each other after meeting the entertainer while working for his charitable foundation.
During the tenure of their marriage, the native Canadian largely avoided the spotlight, focusing on her charitable endeavors as well as her production company Gamillah, Inc., which she used to help promote non-profit organizations.
It was her decision to leave the singer and file for divorce in 2006, and at the time, Prince made no attempt to hide how hurt he was to lose his wife of five years.
Testolini would go on to marry Halle Berry's ex-husband Eric Benet in 2011 and the couple now has two daughters.
Prince's 2nd ex-wife is Manuela Testolini. They divorced after 5 years together. She's now married to Eric Benèt. pic.twitter.com/zCiiXWbHNj

— Makho Ndlovu (@makhondlovu) April 21, 2016
Talking about her marriage to Prince, she told Toronto Star  in 2006: 'It was a roller-coaster,'
'It was a very eye-opening experience to see what show business was all about. It was never my desire to be in the spotlight, but it was a great experience because it allowed me to start my own business.'
A report via People Magazine at the time quoted Manuela Testolini's attorney, Edward Winer who told:
'Deciding to end the marriage was a very difficult decision for Ms. Nelson,'
'She is seeking a cooperative resolution of this case and hopes the proceeding will be resolved quickly and respectfully. Ms. Nelson continues to be focused on her charitable work and her business, which remain her top priority.'
Told Prince's  lawyer, Patrick Cousins at the time: 'His wife filed for divorce. This isn't something that he wanted. There isn't anything else [to say]. He didn't counter sue. He is just trying to get it resolved.'
In the end, Manuela Testolini would be the last woman Prince ever married as he chose to stay single while continuing to date sporadically, presumably wounded and love bitten and weary to the end.
Prince to Kim Kardashian: 'Get off the stage bitch, this is America'
Prince autopsy: Will toxicology results reveal opiate addiction?
Tyka Nelson, Prince's musician sister: 'I never asked him for favors'
Did drug overdose kill Prince? Flu stopover was really for opiate heroin fix
Mayte Garcia Prince ex wife: 'My love for him screwed my life'
'Crack cocaine addict' Vanity Prince's ex girlfriend Denise Matthews also died aged 57 this year
Prince Rogers Nelson dead: Unresponsive inside elevator at Paisley Park