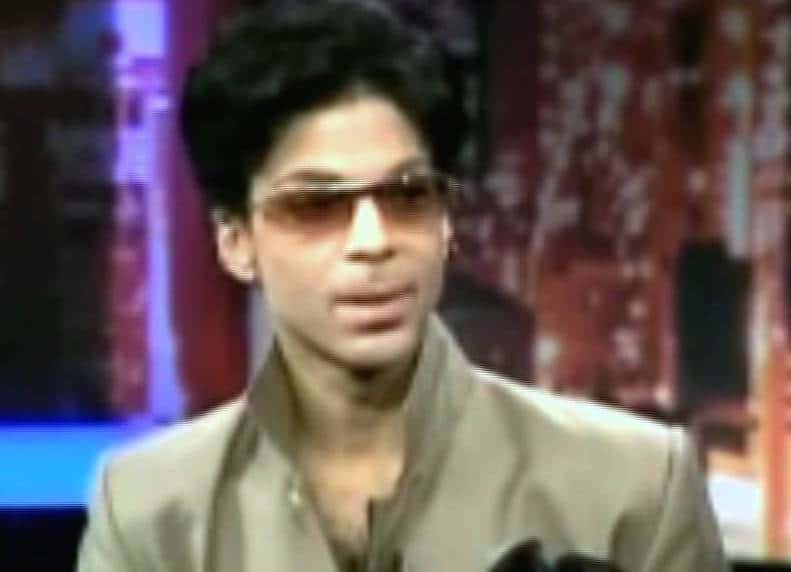 Prince Jehovah's Witness: How the musician's faith served to diffuse him and deal with the paradox of his being and what ironically made him an iconic force.
Prince like most rarified artists lived through his artwork. It was his springboard to consciousness, subconsciousness, grief, the subversive, the sublime, and the overtly sexual. But it also nearly killed him. Until that is he eventually came to find faith and religion in the form of Jehova's Witness.
For the ordinary person, making sense of the contradiction of an amorphous man, who once bellowed, 'I am not a woman, I am not a man, I am something you will never understand,' with that of a deeply pious man, seems afar and amiss. But that only betrays a lack of understanding of the late musician's upbringing and how because of that and in spite of that, he always came back to God.
With his parents divorcing by the age of two, and the singer living an impoverished existence with his father (he told of standing outside McDonald's just to smell the food since they couldn't afford it) and struggling with epilepsy, a young Prince Rogers Nelson grew up a tortured soul.
But it was religion the musician once told that saved him from epilepsy. Raised a Seventh Day Adventist, the young Prince frequented an African- American congregation in Glendale City, where he came to be exposed to the soulful singing of church members.
Finding success in the 1980's with his music, his showmanship and pansexual identity, the musician would over the next two decades immerse himself in hedonism, rumored drug use, the creation of art, the struggle to retain and define his own unique identity (even so far as to change his name to that of an indecipherable symbol) and then finally marry.
Yet his first marriage to Mayte Garcia would end tragically, with the loss of the couple's newborn child only seven days old to a rare disorder. The pain led to the couple breaking up and the musician once again looking for answers.
'He wasn't a junkie' L. Londell McMillan Prince lawyer slams drug rumors
Prince criminal murder probe not ruled out as hunt for rogue doctor begins
Tyka Nelson: 'Prince had no will,' files to be executor of estate
'It's going to kill him' Prince had problem with cocaine, percocet half siblings told
Prince stayed awake for six days prior to death. What was he on?
Prince business affairs chaos: Lawyers scrambling after death
Tyka Nelson not competent to manage Prince music rights says former manager
Prince funeral cost $1645. Ashes taken to secret resting place
Why was Prince cremated hours after autopsy?
Prince drug dealer: 'He spent $40K at a time for Dilaudid and Fentanyl'
Was Prince killed by painkiller addiction, Percocet? A growing statistic of drug mortality in America
Prince to Kim Kardashian: 'Get off the stage bitch, this is America'
Prince autopsy: Will toxicology results reveal opiate addiction?
Tyka Nelson, Prince's musician sister: 'I never asked him for favors'
By 2001 he sought the sanctity of Jehovas Witness and with the aid of songwriter Larry Graham, Prince began a 2 year conversation, that the musician described as an awakening which led to him adopting the faith as his own.
Notes a report via the dailybeast: But Prince surely behaved like a convert: his religious permeated every aspect of his life. He not only attended meetings at a local Kingdom Hall, he occasionally knocked on doors proselytizing to others. A Jewish couple in Eden Prairie, Minnesota, once reported that they found Prince on their doorstep clutching a Bible.
Prince's adoption of Jehova's Witness altered his worldview, gone was the hedonism, the adoption of being a vegan along with his once over the top sexuality to that of a devout follower of the Church. A sensibility that Prince maintained following his separation with second wife, Canadian business woman, Manuela Testolini in 2006.
Perhaps no longer openly sexual, or a sexual carnivore the singer chose to blacklist singing former hits that he deemed too explicit, all the while veering conservatively, even to the point of offending the lgbt community after comments he once made.
Yet perhaps what may have in the end haunted the singer was Jehovah's Witness opposition to the use of blood transfusion, which preempted the musician getting a much needed hip replacement injury. A situation that saw Prince resorting to pain medication, percocet on which he overdosed on days past and which ultimately may have led to his early demise.
A demise Prince spent a lifetime seeking refuge from and from which his best work came ….
In the days since Prince's death, Jehovah's Witness released a statement which told of the singer having  'found fulfillment as a Witness and in sharing his faith with others.'
Told the statement in part: 'We are saddened to hear about the death of Prince Rogers Nelson, who was baptized as one of Jehovah's Witnesses in 2003.'
'We do not have any details regarding his medical condition or the cause of his death. Our thoughts are with his family and friends, particularly his fellow worshippers in the Saint Louis Park congregation of Jehovah's Witnesses in Minnesota. We hope that all find comfort in the Bible's promise of a future time when death, pain, and tears will be no more.—Revelation 21:3, 4.'
In the days ahead, the world will discover how much his new found faith meant to him as it's thought that the late musician may have left a vast portion of his estate to the faith that saved him from himself….
Did drug overdose kill Prince? Flu stopover was really for opiate heroin fix
Mayte Garcia Prince ex wife: 'My love for him screwed my life'
'Crack cocaine addict' Vanity Prince's ex girlfriend Denise Matthews also died aged 57 this year
Manuela Testolini Prince's ex wife: 'Im not okay'
Prince Rogers Nelson dead: Unresponsive inside elevator at Paisley Park