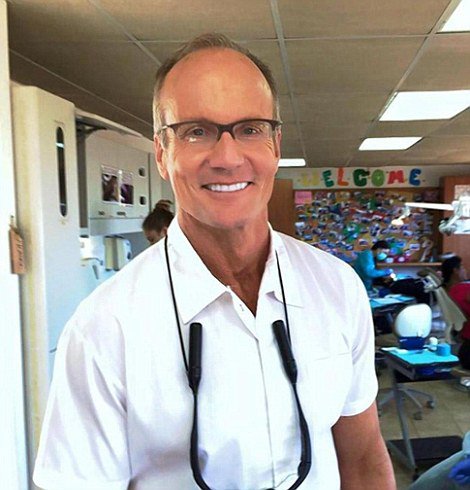 Minneapolis dentist, Dr Walter Palmer has today returned back to work after he found himself the subject of deep recrimination after hunting down, Zimbabwe wild life animal, Cecil the lion.
News of the lion's agonizing death, (it would take 48 hours before the lion was finally killed after initially injured) would spread after Oxford researchers found the lion's collar discarded in brushes, it's head decapitated.
In turn the dentist would be revealed to have paid a hunting party $50 000 to bring about the hunt, with questions as to the legality of the hunt amidst a rising tide of antipathy towards the game hunting of prized wildlife.
Soon after the dentist would admit to having taken down the lion, after the lion's discarded carcass was discovered, leading to an avalanche of recrimination agains the hunter here in the United States.
Walter Palmer dental practice reopens: 'I dare you suckers'
Walter Palmer hires armed security guards: 'Your attacks have gone too far!'
Walter Palmer hunting guide dismisses case: 'Walter is a good man'
Walter Palmer's Florida vacation home vandalized: Lion Killer and orange pig's feet.
Zimbabwe demands Walter Palmer's extradition: Still in hiding
During the weeks after being identified as the hunter involved in the felling of iconic lion, Cecil the lion, the dentist faced death threats, the gathering of protesters at his River Bluffs Dental practice along with protesters at his home and the vandalization of his luxury Florida holiday home.
Of question was would the dentist come to face charges by Zimbabwe authorities  unlike the hunting guide and the landowner in whose property the lion was lured on, with US authorities also taking matters into their hands. Despite claims that the dentist would be held accountable for the lion's death, authorities have yet to have sought the extradition of the dentist. 
Returning to work this morning at 7 am and making his first public appearance in months,  the dentist intimated contrary to accusations that he had gone into hiding, he had simply decided to keep a low profile as he sought to make his first appointment with patients this morning.
Along with a phalanx of media personnel, the stone faced dentist was greeted by the visage of cut out typed notes stuck to his door, with some notes saying, 'Others have been charged for Cecil's death. You should too', Only 1 in 8 male lions make it to adulthood, 'So you think having dead animals in your house makes you cool?' '#gross' and 'That lion had children. Now they don't have a dad'.
Also there to greet the dentist were animal rights activists, with some chanting, 'Walter we will never forget' and 'Extradite Palmer'.
Shielding the dentist was private security that the dentist has since been forced to hire to protect himself and to keep the public at bay as threats against the dentist's life continue with the public at large insisting that the dentist be held criminally liable for one early July hunting trip. The dentist in turn has insisted that the hunt was legal and that he would never have taken down the lion had he been aware that the lion was part of a research project and prized iconic lion, Cecil. Assertions that rain on deaf ears as demands to hold Palmer culpable continue unabated …
Walter Palmer: I panicked when I discovered Cecil's collar and hid it in a tree
Tammy Brevik: 'Walter Palmer sexually harassed me.'
Gutless: Mia Farrow tweets Walter Palmer's address
Walter Palmer hunter dilemma: Has the internet gone too far in punishing him?
Cecil the lion hunting dilemma: Is the Zimbabwe government to blame?
Cecil the Lion poachers free on bail: 'We did nothing illegal'
Walter Palmer hires public relations firm: 'It's not my fault'
Walter Palmer protesters lock off dentist office: 'You are a coward and killer'
Walter Palmer extradition: Will he be charged with poaching?
Walter Palmer sexual harassment suit: 'I paid $127K fine'
Walter Palmer dentist: 'I regret killing Cecil but it's not my fault'
Walter Palmer Cecil lion hunter on the run. Closes dentist as internet explodes
NSFW: Walter Palmer Minnesota dentist hunting photos.
Walter Palmer, dentist bribed gamekeepers to kill Cecil iconic lion