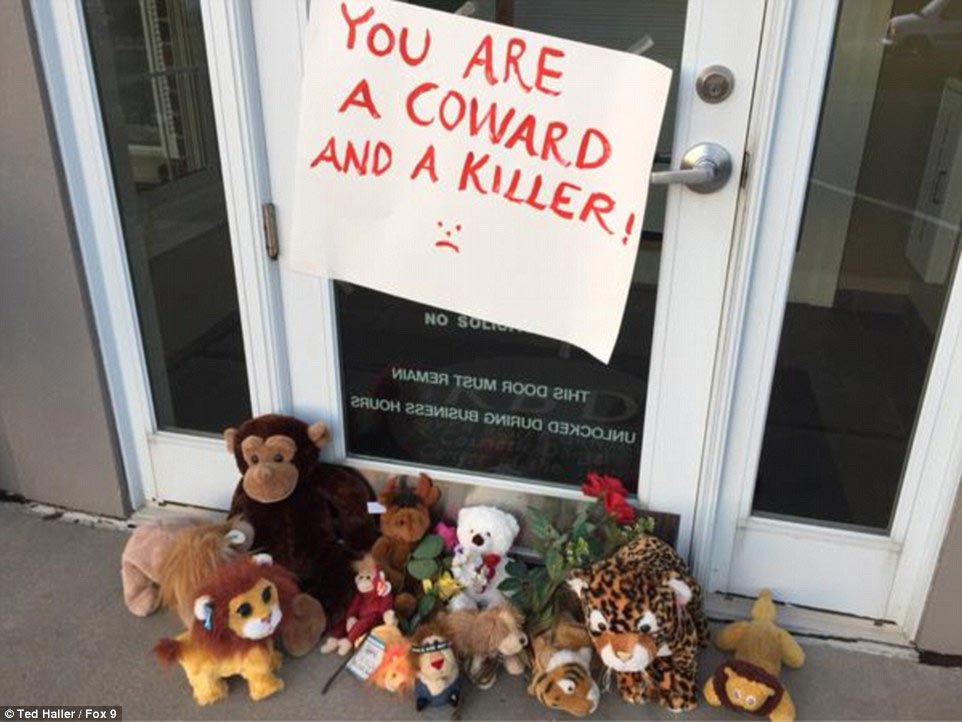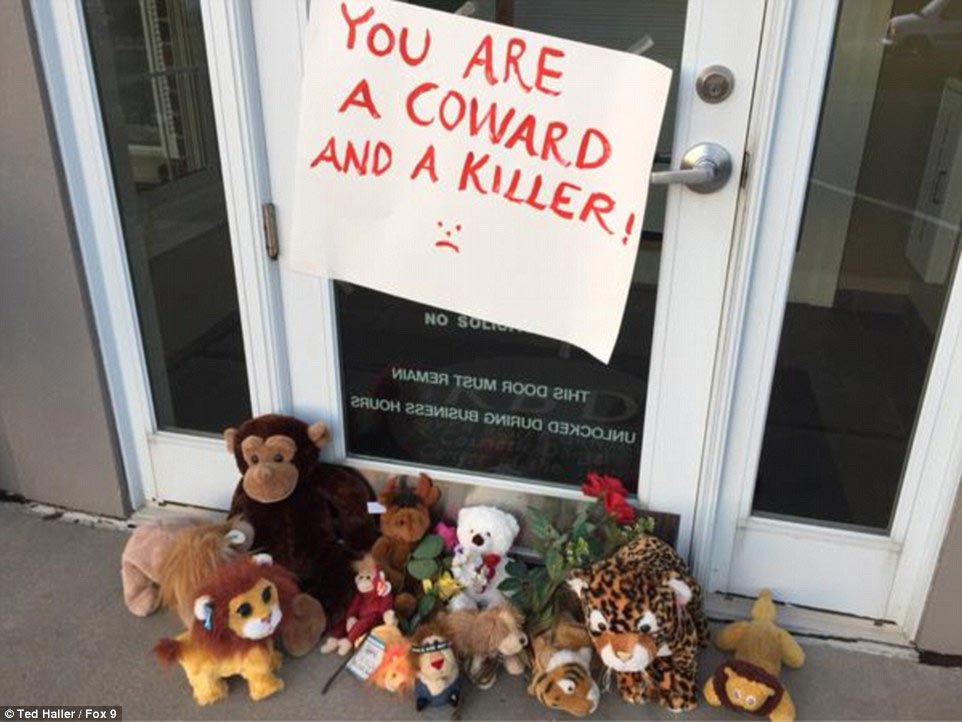 Dr Walter James Palmer the Minnesota dentist uncovered to be the big game hunter who illegally took down iconic Zimbabwe lion Cecil has in the space of 24 hours come to find his once thriving business at a virtual standstill, his freedom in jeopardy (if charges are brought against him) as well as the most loathed man in America.
The disdain towards the dentist believed to have bribed guides $55 000 shows no sign of letting up as protesters have now amassed around the man's dental practices, River Bluff Dental demanding the man's head. Literally.
Zimbabwe demands Walter Palmer's extradition: Goes into hiding
Walter Palmer: I panicked when I discovered Cecil's collar and hid it in a tree
Tammy Brevik: 'Walter Palmer sexually harassed me.'
Gutless: Mia Farrow tweets Walter Palmer's address
Walter Palmer hunter dilemma: Has the internet gone too far in punishing him?
Cecil the lion hunting dilemma: Is the Zimbabwe government to blame?
Cecil the Lion poachers free on bail: 'We didn't do anything illegal'
Walter Palmer extradition: Will he be charged with poaching?
Walter Palmer hires public relations firm: 'It's not my fault'
Walter Palmer sexual harassment suit: 'I paid $127K fine'
Walter Palmer protesters lock off dentist office: 'You are a coward and killer'
Walter Palmer dentist: 'I regret killing Cecil but it's not my fault'
Walter Palmer Cecil lion hunter on the run. Closes dentist as internet explodes
NSFW: Walter Palmer Minnesota dentist hunting photos.
Walter Palmer, dentist bribed gamekeepers to kill Cecil iconic lion
Since being widely condemned on yelp, social media and with an avalanche of signatures of various petitions, including DEMAND JUSTICE FOR CECIL THE LION IN ZIMBABWE seeking to have the hunter charged (signatures top at 333K this morning) the well to do dentist is also now negotiating death threats.
In the face of speculation that the dentist along with the guides had lured the big game out of the park so as to shoot him, animals rights activists have insisted the man needs to be extradited and charged. With some calling for the dentist to be 'hanged.'
The man's office have come to be surrounded by placards declaring the man to be a 'coward and killer,' while reviews of Walter Palmer's dental practice have shown an avalanche of negative criticism of the man, with many calling the man devoid of ethics and morals necessary in order to practice medicine.
Offered animals right activist group, PETA: ''Hunting is a coward's pastime. To get a thrill at the cost of life this man gunned down loved 'w/ a high-powered weapon'.
'All wild animals are beloved by their own, but to hunters like this overblown, over-privileged little man, they're merely targets.
'The photograph of this dentist, smiling over the corpse of another animal, will disgust every caring soul in the world'. 
The hunt that took place on July 1 off Hwange National Park before the big game was tricked on to a landowner's property took place after Palmer allegedly paid/bribed $55,000 for a big game permit on the trip, with the hunter insisting that he did not know that the 13-year-old lion was protected. 
However, since the depth of involvement in Cecil's death has been uncovered, outraged netizens continue to pour  wrath at the individual who had a history of blatant disregard for the law as well as instances of sexual predatory behavior which saw the dentist neither concede or deny a former patients claims of sexual harassment when he paid her $127K in 2009.