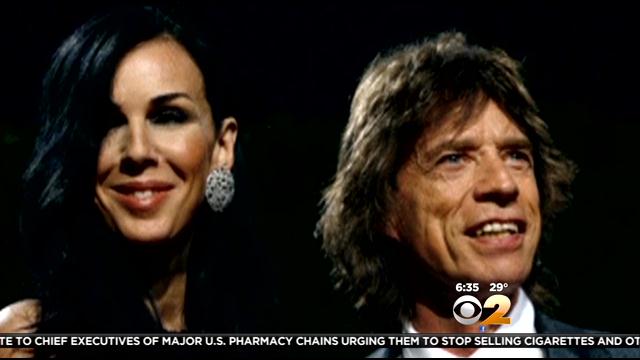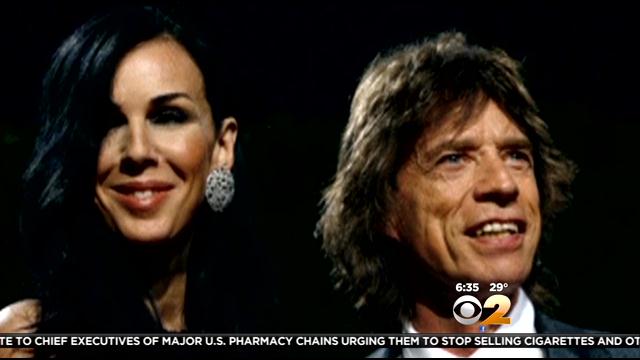 An ominous posting on blog site Crazy Days and Nights, posted on March 13, four days prior to L'Wren Scott's suicide death is beginning to raise eyebrows.
The posting inexplicably told of how a C list celebrity who was heavily linked to a permanent A list celebrity and who has in the weeks prior had disappeared and was going through a very rough patch with the permanent A lister's  shorter 'permanent A-lister ' boyfriend.
Though the claims were first posted as a blind item- and the name of the subject in question was left out of the post- the author later updated it after Scott's death was confirmed on Monday and claimed that she was the subject.
'They used to be inseparable. Now they are not only separated but he is having his way with groupies and celebrities and other people taller than him,'
Though Jagger's cheating has been cited as the cause for his two previous marriages, his representative said that 'of course' the Rolling Stones frontman and the designer were still together at the time of her death.
No sources were revealed for the post nor is it clear how the anonymous blogger would have any inside knowledge to substantiate the claims.
One of the most tangible connections in the blind item alludes to the fact that Scott cancelled her London Fashion Week show a few months before her death. At the time, she cited delayed fabric orders but her financial filings have shown that the U.K. end of her luxury brand was in debt.
'There are reports she had a breakdown because he was cheating on her. She canceled a huge event she was working on and has retreated into a hospital to get help although some people say she is hiding out at her home with medical professionals,' the item reads
Did Mick Jagger get away with L'Wren Scott's murder?
L'Wren Scott sister Jan Shane accuses Mick Jagger of fake funeral. 
Mick Jagger inherits L'Wren Scott's will. What will he do with $9 million? 
L'Wren Scott's celebrity friends ditched her. 
L'Wren Scott frantically texted her celebrity friends before suicide 
L'Wren Scott funeral bitter feud. Where will she buried? 
L'Wren Scott deceived Mick Jagger. I'm not your money machine 
Mick Jagger health fears as singer under round the clock surveillance.
L'Wren Scott killed herself two days before she was to publicly shut her line. 
Why didn't Mick Jagger pay off L'Wren Scott's debts? 
Mick Jagger speaks on L'Wren Scott's death: I'm struggling to understand 
L'Wren Scott housekeeper, Lupe Montufar: Mick cheated on her but she kept quiet. 
Did Mick Jagger cheating on L'wren Scott cause her suicide? 
L'Wren Scott depression: harmed herself only a few weeks ago. 
L'Wren Scott instagram: fake glam life despite $6 million debts. 
L'Wren Scott owed $6 million and could no longer paid employees wages 
Why was L'Wren Scott's assistant called moments before her suicide? 
L'Wren Scott suicide. Business woes to blame? 
L'Wren Scott dead. Suicide? Troubles with Mick Jagger?