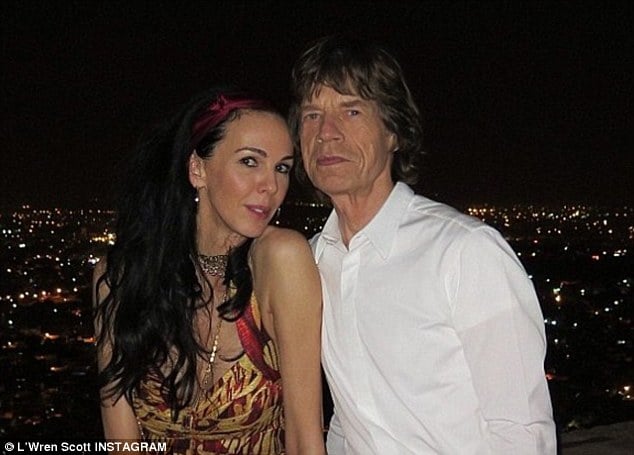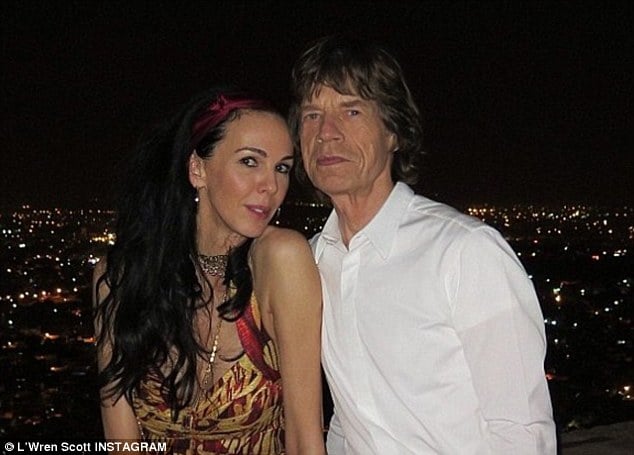 It seems there may have been more disunity between Mick Jagger and his late girlfriend, designer L'Wren Scott than the rock idol is letting on.
Of concern is whether the couple were actually a couple anymore to which a spokesperson for Mick Jagger assertively told: 'A split between Mick Jagger and L'Wren Scott is 100 percent untrue.'
'There is absolutely no basis in fact to this story. It is a horrible and inaccurate piece of gossip during this very tragic time for Mick.'
Nevertheless a variety of tabloid sites (and I hold my breath) including the nypost tell that the couple (via an unnamed source) were in fact no longer together and had recently split, sending the morose L'Wren Scott into an emotional tailspin.
And assuming that the pair were actually still an item, they weren't necessarily the type of item the childless and desperately unwed L'Wren Scott may have wanted it.
Via the UK's dailymail (yes I am going to have to hold my breath again, welcome to trash tabloid journalism circa 2014).
A source told that, 'L'Wren was really quite troubled and there were some issues over Mick and her standing in the family. It seems she suffered from depression.' 
She wasn't, it was noted, invited to the baby shower that Jerry Hall hosted for Jade Jagger and daughter Assisi in London at the weekend. She was also reportedly frustrated at being apparently consigned to the role of girlfriend rather than wife — not that she ever let on.
Whilst the designer may have been patiently waiting for her rocker boyfriend to pivot into a more steadfast role in his life, the waiting may along with her recent financial woes may have been just too much for L'Wren Scott.
One who knew her said L'Wren was 'one of those people who likes perfection,' citing her designer glass bathroom and the impeccably furnished house she had created for Mick in Paris.
That said the rocker was not necessarily as committed to her as the designer would have envisaged, with suggestions of impropriety and extra curricular affairs that the girlfriend was forced to bear.
Did Mick Jagger get away with L'Wren Scott's murder?
L'Wren Scott sister Jan Shane accuses Mick Jagger of fake funeral. 
Mick Jagger inherits L'Wren Scott's will. What will he do with $9 million? 
L'Wren Scott frantically texted her celebrity friends before suicide 
L'Wren Scott funeral bitter feud. Where will she buried? 
L'Wren Scott deceived Mick Jagger. I'm not your money machine 
L'Wren Scott killed herself two days before she was to publicly shut her line. 
Mick Jagger health fears as singer under round the clock surveillance. 
Why didn't Mick Jagger pay off L'Wren Scott's debts? 
Mick Jagger speaks on L'Wren Scott's death: I'm struggling to understand 
L'Wren Scott housekeeper, Lupe Montufar: Mick cheated on her but she kept quiet. 
L'Wren Scott depression: harmed herself only a few weeks ago. 
L'Wren Scott instagram: fake glam life despite $6 million debts. 
L'Wren Scott owed $6 million and could no longer paid employees wages 
Why was L'Wren Scott's assistant called moments before her suicide? 
L'Wren Scott suicide. Business woes to blame? 
L'Wren Scott dead. Suicide? Troubles with Mick Jagger? 
And there's this report via celebrity blog, (I'll let the name speak for itself), celebdirtylaundry:
He was allegedly farther away from girlfriend L'Wren Scott emotionally, however, than he was in actual distance we are learning. While a spokesperson for Mick claims they were still together at the time of her suicide, other reports claim that they had split with Mick"having dumped L'wren."
The journal goes on to tell via the UK's sun (the ultimate sinner in tabloid land) that,  'L'Wren had begun bringing up the subject of marriage to the legendary rocker, but it seems her requests fell on deaf ears. Perhaps L'Wren, knowing Jagger would soon begin a world tour, wanted a more official commitment from him before he left with The Rolling Stones for a lengthy tour that would take them all over the world.'
But if we are to perhaps get a sense of how patchy things actually were between the pair there's this write up via The New York Times Style T magazine on December 3 which had me wincing:
Jagger described his relationship with L'Wren as "kind of dating," adding, "I don't really subscribe to a completely normal view of what relationshipsshould be." He went on with a real stinger, "To be honest, I don't really think much of marriage. I'm not saying it's not a wonderful thing and people shouldn't do it, but it's not for me. And not for quite a few other people too, it would appear. I just think it's perhaps not quite what it's cracked up to be. I know it's an elaborate fantasy."
And in an eerie blind post on March 14, 2014, just three days before L'Wren Scott's death, many speculate that the post from crazydaysandnights was written about L'Wren and Mick. The post reads:
She is not dead, or at least don't think she is dead. I think people would say something if she died although she has disappeared from the face of the earth and no one is saying much of anything right now. She is a C list celebrity but is A list in her own little corner of the celebrity world. Her boyfriend is a permanent A lister and has been cheating on her almost everyday for the past month which also adds fuel to the fire. They used to be inseparable. Now they are not only separated but he is having his way with groupies and celebrities and other people taller than him. There are reports she had a breakdown because he was cheating on her. She canceled a hug event she was working on and has retreated into a hospital to get help although some people say she is hiding out at her home with medical professionals. You would think people would be talking by now but just the whispers getting louder. I think when her boyfriend gets back home the whispering will be much louder.