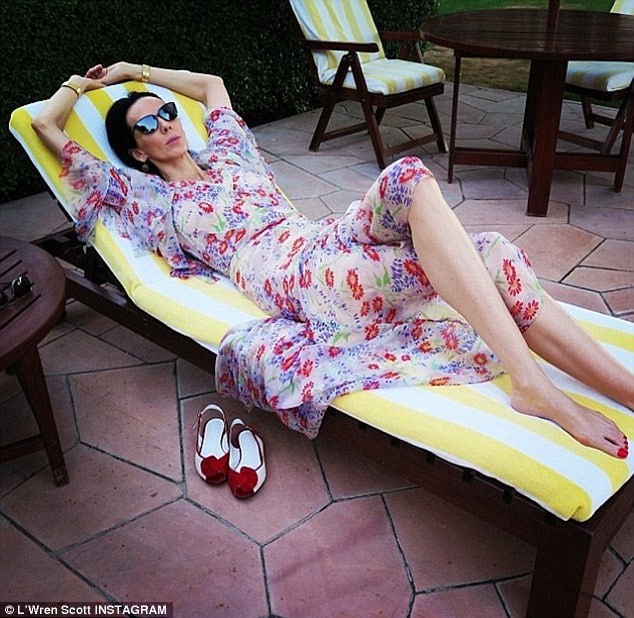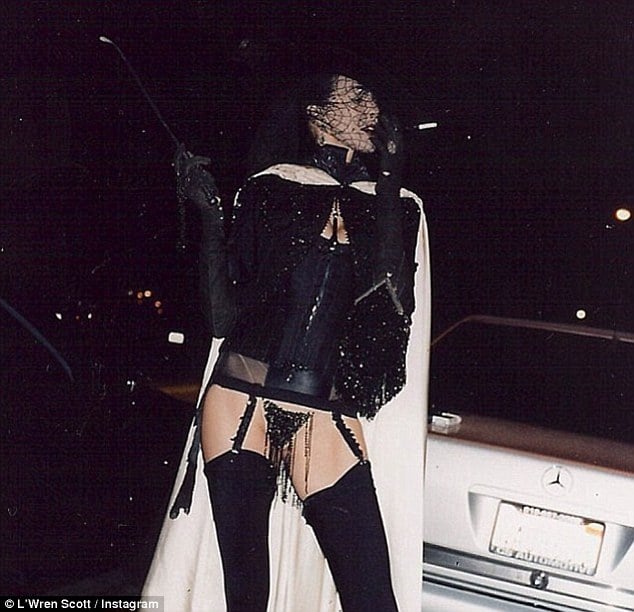 It seems it all became too unbearable for L'Wren Scott who in the public eye lived an exulted glam lifestyle but who privately was deep in financial arrears and a staggering commercial flop.
Despite all the exotic vacations and glamor-filled Instagram images with Mick Jagger, her partner of ten years, Scott was facing mounting financial pressure and was $6million in debt.
Told the former model, turned celebrity stylist and now designer to The Sunday Times in November last year: 'I always say luxury is a state of mind,' 
'Because, for me, it really is. It's legroom, it's a beautiful view, it's great food at a great restaurant you've discovered because you obsessively read Zagat as I do.' 
The Über glam celeb only first showed signs of financial turmoil just last month after she axed her London Fashion Week show.
Scott — who usually showed at New York Fashion Week — at the time blamed fabrics that arrived too late for samples to be sewn in time for the event. However her company, LS Fashion LTD, had a deficit of $5,899,548 (4,237,164 Euros), with the designer owning creditors $7.641 million (euros 5,488,125). Meaning she was unable to pay for her base wares, let alone even put on a show.
Whilst L'Wren happily zipped away at the happy life she was living for the cameras, one wonders in the end what was really going on for the former fashion heavy weight who had magically become the darling of various celebrities but paradoxically a mainstay commercial flop unable to support herself or those whom she owed copious amounts of money too.
In recent weeks, the designer ominously hinted at her state of mind when she told on instagram: 'Fashion is the armor to survive the reality of everyday life.'
L'Wren Scott's instagram page was dismantled earlier this afternoon.
Did Mick Jagger get away with L'Wren Scott's murder?
L'Wren Scott sister Jan Shane accuses Mick Jagger of fake funeral. 
Mick Jagger inherits L'Wren Scott's will. What will he do with $9 million? 
L'Wren Scott frantically texted her celebrity friends before suicide 
L'Wren Scott funeral bitter feud. Where will she buried? 
L'Wren Scott deceived Mick Jagger. I'm not your money machine 
L'Wren Scott killed herself two days before she was to publicly shut her line. 
Mick Jagger health fears as singer under round the clock surveillance. 
Why didn't Mick Jagger pay off L'Wren Scott's debts? 
Mick Jagger speaks on L'Wren Scott's death: I'm struggling to understand 
L'Wren Scott housekeeper, Lupe Montufar: Mick cheated on her but she kept quiet. 
Did Mick Jagger cheating on L'wren Scott cause her suicide? 
L'Wren Scott depression: harmed herself only a few weeks ago. 
L'Wren Scott owed $6 million and could no longer paid employees wages 
Why was L'Wren Scott's assistant called moments before her suicide? 
L'Wren Scott suicide. Business woes to blame? 
L'Wren Scott dead. Suicide? Troubles with Mick Jagger?