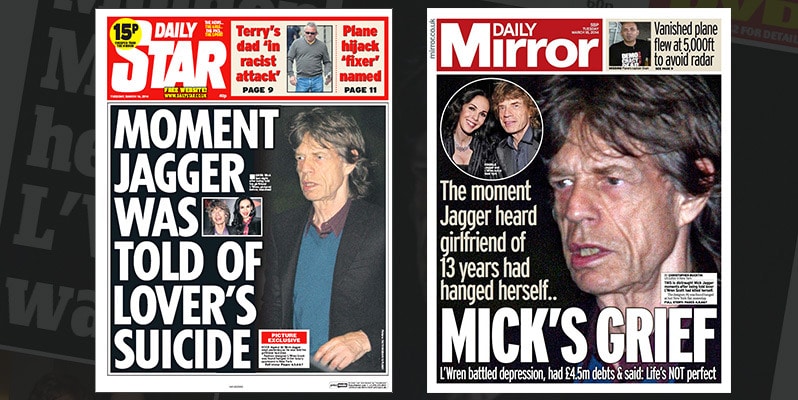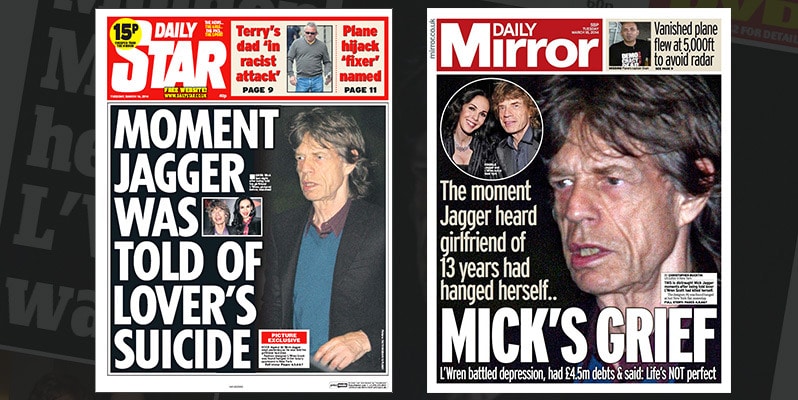 News of the death of long term girlfriend, L'Wren Scott has led to grave health concerns for rock legend Mick Jagger who some now wonder if the band will ever regroup.
Since learning of his partner of 13 year's surprise and horrific death, Jagger who remains in deep shock has failed to sleep in days as well as even speak.
In fact so dire have things become, Jagger who has been rendered incomprehensible and utterly devastated has been assigned a crew of emergency medicals to survey him around the clock as he absorbs the news of the personal tradedy.
Holed up in a Perth, Australia, Hyatt hotel, the rock scion who is purportedly set to return back to NYC has now been joined by his two daughters, Elizabeth, 30 and Georgia May, 22 so as to keep a vigil over their 70 year old father.
A source close to the rocker says friends have never seen him in such despair.
Told a source via the UK's Mirror:
'He is totally devastated and just wants to be surrounded by his family. We have never seen him so despondent and are extremely worried about him.
'He didn't sleep after being told the news. How could you? Like anyone, he is wrestling with how it happened and if he could have prevented it.
'Of course, there is nothing he could have done but that doesn't stop him feeling utterly tormented by the turn of events. Every waking moment he's been thinking of their last hours and days together and if he could have spotted any warning signs. It's all terribly sad.'
L'Wren Scott killed herself two days before she was to publicly shut her line. 
Why didn't Mick Jagger pay off L'Wren Scott's debts? 
Mick Jagger speaks on L'Wren Scott's death: I'm struggling to understand 
L'Wren Scott housekeeper, Lupe Montufar: Mick cheated on her but she kept quiet. 
Did Mick Jagger cheating on L'wren Scott cause her suicide? 
L'Wren Scott depression: harmed herself only a few weeks ago. 
L'Wren Scott instagram: fake glam life despite $6 million debts. 
L'Wren Scott owed $6 million and could no longer paid employees wages 
Why was L'Wren Scott's assistant called moments before her suicide? 
L'Wren Scott suicide. Business woes to blame? 
L'Wren Scott dead. Suicide? Troubles with Mick Jagger? 
With the Hyatt Regency surrounded by cameras since news emerged of L'Wren Scott's death, Jagger was reportedly 'smuggled' from the premises for several hours of quiet reflection on Tuesday at North Cottesloe beach and a nearby island, where he had a swim.
Told fellow bandmate, Keith Richards: 'No-one saw this coming. Mick's always been my soul brother and we love him. We're all feeling for the man.'
Offered Ronnie Wood: 'This is such terrible news and right now the important thing is that we are all pulling together to offer Mick our support.'
Wood's sentiments were echoed by drummer Charlie Watts who said the band are 'completely shocked' by the tragic news but 'have to do what is right in these sad circumstances.'
The Rolling Stones entourage is said to be waiting to see about a possible clearance in lieu of Mick Jagger's health before they fly off back to NYC where one imagines the rock scion has more up close grieving to absorb and a hostile media to fend off.
Friends have told the singer has yet to summons the courage to return to NYC despite it having been his initial response.
Whilst the Rolling Stone's Australian and NZ tour has been cancelled, time will tell if the legendary singer and group may regroup and play again. Bets for the time being are that the band will never publicly play again.