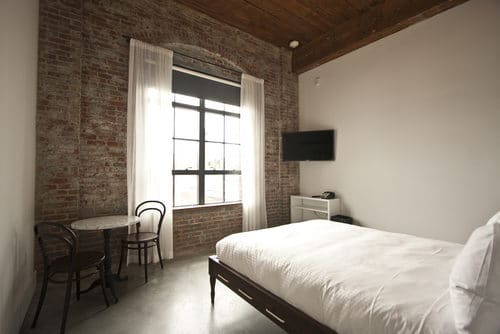 Long are the days gone that Williamsburg was once an artist's colony and now are the days it's fast becoming a congregation for the upwardly mobile. Case in point, the Whythe Hotel which opened on May 1st.
curbed: Photographer Will Femia went along to check out some of the hotel rooms, event spaces, and still-in-progress amenities, including a basement movie theater with an entrance from the outside. We already knew about the band rooms, and the tour taught us a few other fun Wythe Hotel facts.
The non-band rooms are named for views and bed sizes—so one that faces Brooklyn and has a queen size bed is called a "Brooklyn Queen" room. The cement floors are heated and, according to hotel reps, easier to clean, so that they don't develop the usual musty hotel carpet smell over time
Cement floors? It seems like only yesterday that I used to sleep on a cement floor in my 1000 square foot studio space just off Berry st. Nevermind, (for a measly $600 a month) I'm still a hipster at heart. How about you?
Go to curbed to check out images of the Whythe Hotel and salivate. Let's hope you can afford it.
Artist arrested after planting plastic bag on tree confused for bomb.
It's confirmed. Living the dream of a Williamsburg artist is dead.
Being a white male hipster from Williamsburg has now become a miserable occupation.
It's time to meet the latest fad of Williamsburg, Brooklyn: Neo Nazis.
Beware hipsters. There's a man trap waiting for you…
The scientific reason revealed of why you're a hipster.
The definition of hipster suddenly became apparent…
Failed musician/hipster explains why selling Christmas trees is still an ironical existence
Cybe®Punks '2013: Just another hot bitch party full of Hipsters.
Can it actually be true? Hipsters are now attending church in South Williamsburg.
Fashion forward or fashion faux pas on the streets of hipper than thou Williamsburg, Brooklyn?
The reinvigoration of the Bushwick Hipster.
Trying to make it as a hipster on the Gowanus canal.
How the Ipad killed the hipster.
What your hipster sunglasses say about you?
Observations on the L train. NYC.
The arrival of the Bushwick hipster.
Learning to love the 'hipster.'
What do hipsters like to do in their spare time?
The etiquette of Smoking crack. The last crack hipster.
Rumor mill; Hipsters planning on getting real jobs sometime in the next century.
Hipster paradise goes bust- let's go back to being working class!
Can a hipster still be a hipster if he takes him or herself seriously?
Ritual Slaughter: How Matt Timms has Bobby Flay'd the Hipster Movement.
Hanging out with Hipsters. What they do, Where they hang out and Why being one isn't always Ironic.