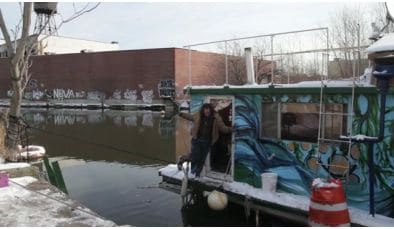 On one level it's all just an experiment and then the interviewee later reflects that it in fact it's all just fun. This deep personal reflective should open our collective eyes as to the ambivalent nature of being a hipster, let alone living as one.
This week NY Mag does an interesting job of featuring the hapless life of Raymond Howell and his small entourage who have decided against common sense, expensive water side lofts and the rite of passage that most hipsters endure- squatting, to live on a makeshift boat house. Whether it's illegal or not is of little concern. But then again, one is left with the impression that these hipsters endure their lot so as to alleviate themselves with the inconvenient deign of having to come up with a job- which hopefully should translate to more time for drinking Pabst, reading Emerson and rolling American Spirit cigarellos, as well as of course of having to sell one self to a lopsided corporate landscape that does a thorough job of eating most people's souls. This wonderful life is of course yours as long as you don't mind denying yourself self respect living in toxic quarters.
nymag: Williamsburg lofts have apparently gone the way of the Misshapes; the new waterfront mecca for hipsters are houseboats on the Gowanus Canal. Undeterred by a warning from the EPA that merely falling into the canal can be toxic — perhaps due to raw sewage, PCBs, and gonorrhea found therein — a group of new bohemians have been living on four houseboats there for the past year. City agencies have yet to rule on the legality of the living arrangement, but that hasn't stopped twenty-somethings, docked behind a truck lot off President and Bond Streets, from calling it home sweet home. Although considering the "late-night canal parties and pretty girls sunbathing on the decks," perhaps it's more like Brooklyn's own budding Lake Havasu.
To be sure late night parties and skimpy bikinis are also a rite of passage for today's adolescents. Whether it's a designer or retro bikini should help those of us casually walking by to decipher whether tonight's festivities are being chaperoned by the jet set or the retro hipster set. Either way, one should hope there is a measure of money involved (either from one's parents or somehow made through the sale of a brilliant idea one afternoon- working a nine to five nine is to be deplored). Money after all is very necessary when it's time to buy another six pack of Pabst.
The Off-Gridder from Yardena Schwartz on Vimeo.
And how do residents feel about their new neighbors aspirations to reinvent the Western frontier here in the outskirts of downtown Brooklyn?
Residents responses are mixed. Raymond Howell, co-founder of the Gowanus Dredgers Canoe Club, thinks safety concerns are overblown: "I've fallen in 12 times the past 10 years, and I'm still here!" But others reported "an eyeful" as they biked over the Union and Carroll Street bridge and caught the eye of a female boater in a black bra and orange thong.
It's true, when this author as his own rite of passage chose to continue living his own hipster existence in a Williamsburg squat being slowly over run by the  local heroin dealer (every squat comes with one just in case you didn't know) even he was forced to deal with the inequity of addicts banging on his door at odd hours of the day in desperate search of the heroin dealer squatter room mate. So one should be prepared to deal with a smidgen of floating toxic turd- it does after all build backbone. And frankly who can resist orange thongs?