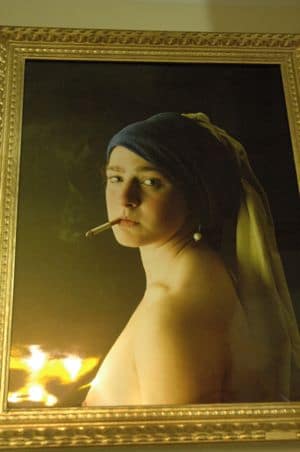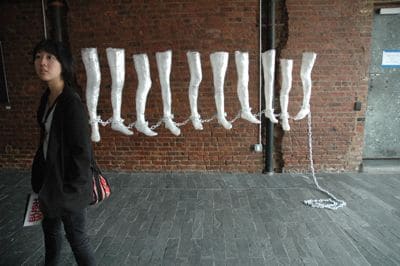 Mark my words kids- Bushwick is now the epicenter of hipsterdom. That place down the road- Williamsburg, it's old hat. Really. That said, me and the Scallywag crew spent the weekend gallivanting the hood, the parallel junction that makes Morgan ave (yes- no more Bedford Ave- blah!) and Bogart the hot dog equivalent of Williamsburg's North 7th and Bedford.
From schmoozing with gypsy clothed truck drivers (who live there of course), brainy geek dj's, vixen hawt girls who wear canvas jumpsuits smoking Marlboro Lights whilst sitting on the hood of some car (in Williamsburg it's American Spirits and some glitzy pedestal that they would be sitting against- trust me) and a hodge podge of well meaning individuals who feel confident (curious might be the better word) to show and see each others work. Never mind the deep cavernous lofts these people actually live in and are so happy to show off to you, minus the faux hipster attitude that's made strutting the slopes of Whythe, Berry, Kent and Bedford avenues a busy bore. Go back to Minneapolis say I. (Oops- did I just say that…?)
That said- Bushwick Open studios celebrated its 5 year anniversary and the kids were hawt. You were all hawt. Here's Zac's take…. Love Scallywag- The Editor.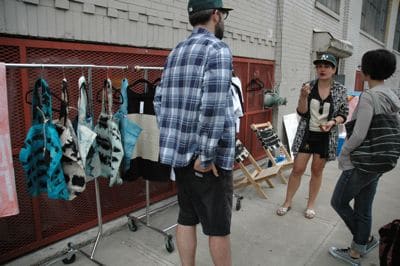 This weekend saw the fifth annual opening of Bushwick Open Studios, a neighborhood arts festival coordinated by Arts in Bushwick, an all-volunteer organization.  Bushwick, with its (relatively) cheap rent and pervasive warehouse spaces, has become the new Williamsburg and thus hipster haven, but also remains home to many working artists' studio spaces.  Bogart Street between Harrison Place and Moore Street acted as the unofficial hub.  L train service be damned, the neighborhood was pulsing with pretty BOS program-toting aesthetes, walking their wacko-selves to concentrated exhibitions of visual art, paintings, screen prints, video installations, live music, and performance art.
ARTICLE & IMAGES CONTINUE TO PAGE 3.