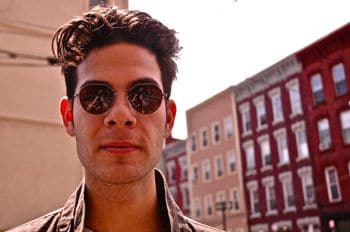 If you ever thought wearing sunglasses was all about simply keeping the sun out of your eyes- the joke is on you. That said, we sent out Coco (Colleen Chisholm) to investigate the latest trends that are defining a motley bunch intent on using irony and anything they can get their hands on to define their burgeoning uprise in the counter culture known as hipster. Did they succeed? – Scallywag
Tap into your inner mod beatnik this summer with some classic round, boho chic sunglasses. With a gentle, minimal frame, and simple, bold, round eye design, they're the perfect choice for getting that Andie Walsh or Phil "Duckie" Dale look just right… without trying too hard.
All the cool kids on Bedford Avenue and in McCarren Park have been spotted rocking round frames, in black, white, tortoiseshell, thin wire, and the flip-up Mickey Mouse version.  As you channel the great, late John Lennon, remember that it's hot and sun never sets on cool. The moral of this fashion story is by going round with your shades, you'll not only avoid excessive eye exposure to the sun, but more importantly, you'll do it without being square.
But really isn't being square the inside fashion joke or just another slightly nuanced way to say you're cooler than thou?